Hey Sugas!!!
Back today with the October HHC Roundup!
**All swatches are done using liquid latex peel off base coat, glossy, QDTC and Matte Topcoat. Swatch photos are taken using artificial lights.**
77 Nail Lacquer – Free To Be
Theme: Punk Rock
Description: A grey crelly base with a black and white matte glitter mix, blue to green to purple shifting shimmer and blue to purple to red shifting shimmer.
Price: $13 / Cap: NONE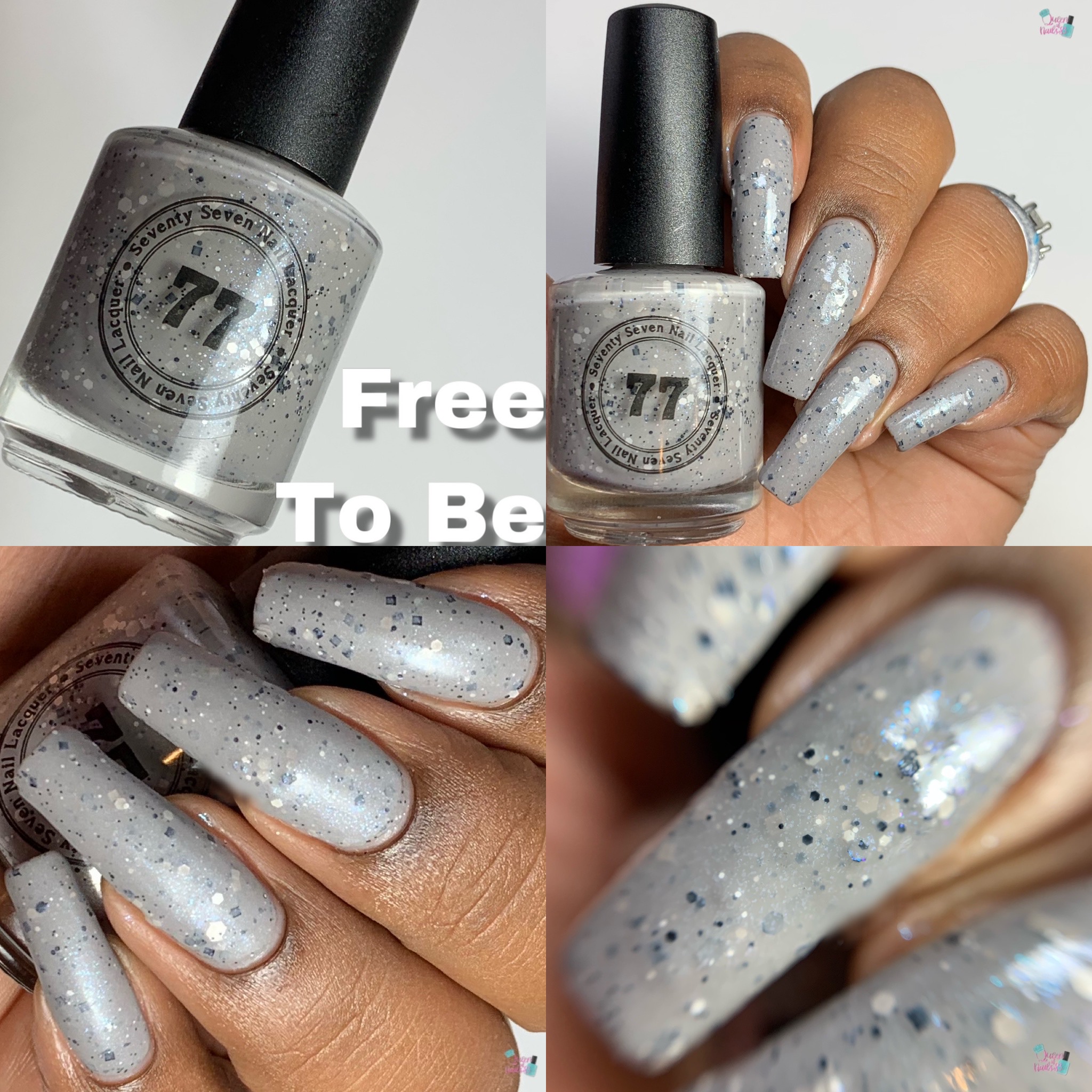 Bee's Knees Lacquer – Lambs to the Cosmic Slaughter
Theme: Rick & Morty
Description: A deep purple with red to green shimmer and red to green iridescent flakes
Price: $12 / Cap: NONE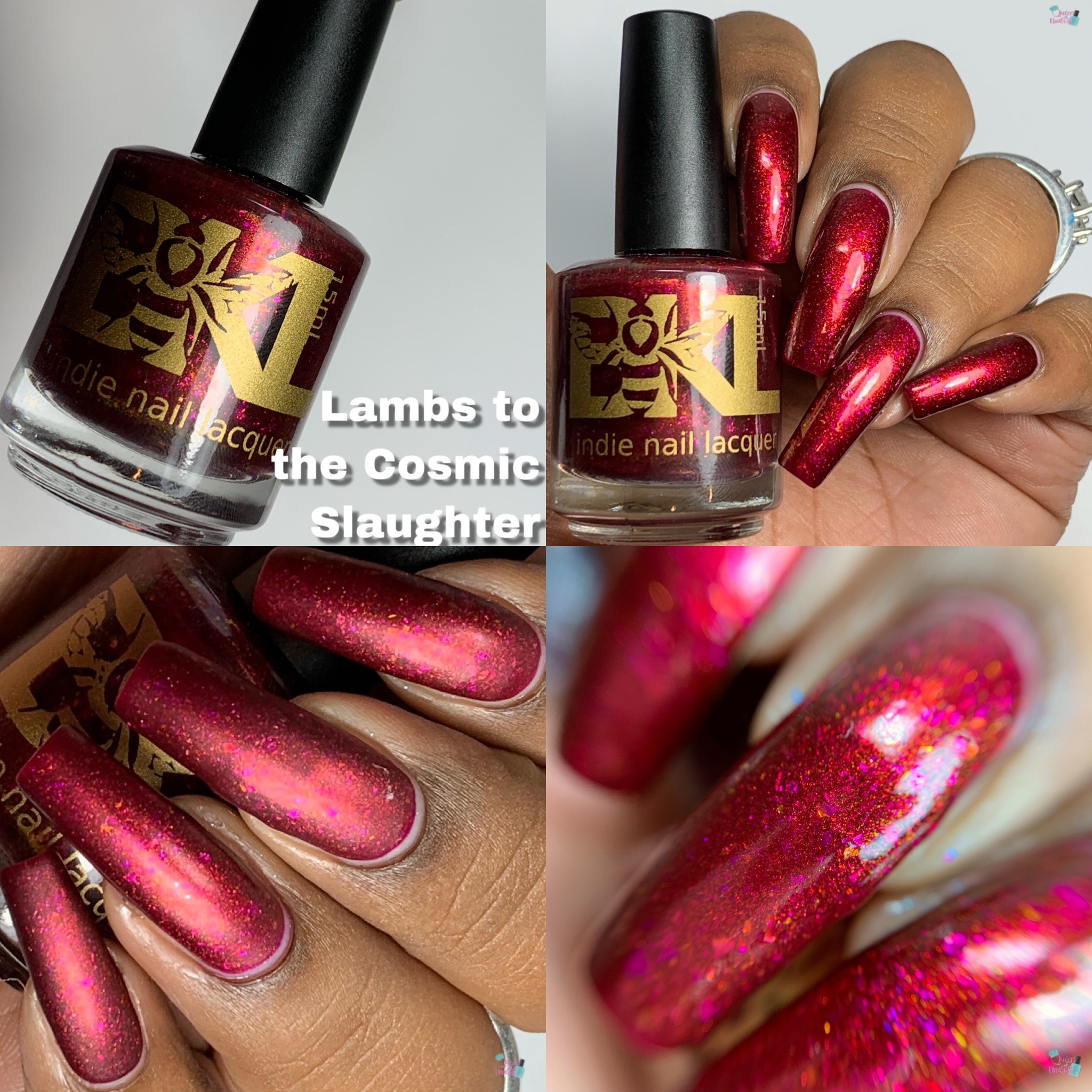 Chirality Nail Polish – Green Man
Theme: It's Always Sunny in Philadelphia
A lime green crelly filled with green to gold shifting micro flakies, multiple shades and finishes of green glitters 
Price: $11 / Cap: NONE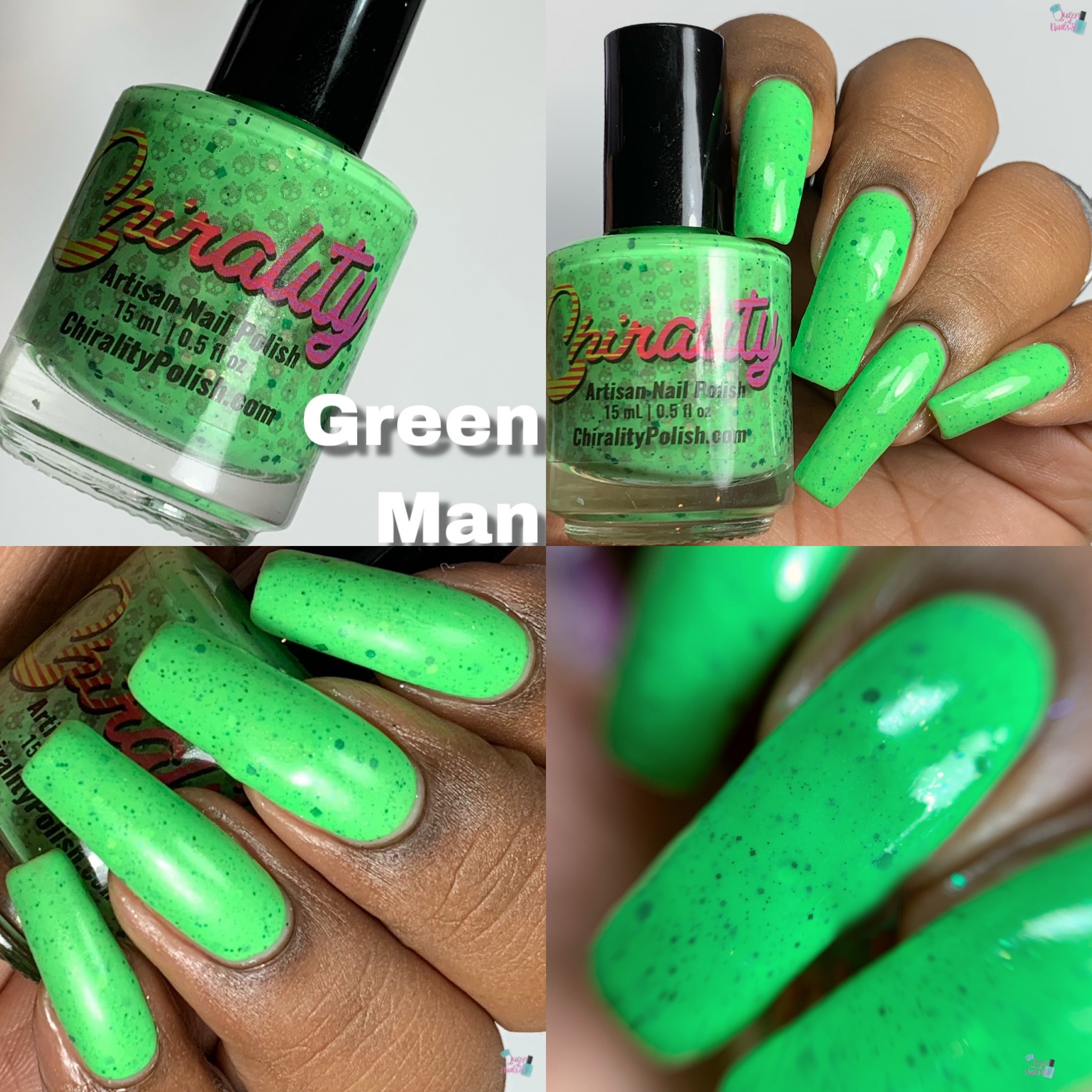 Don Deeva – Seal the Deal
Theme: Sex and the City
Description: A deep, rich blue filled with sister unicorn pee that shifts green to gold, micro holo glitter and holo flakes
Price: $17 / Cap: NONE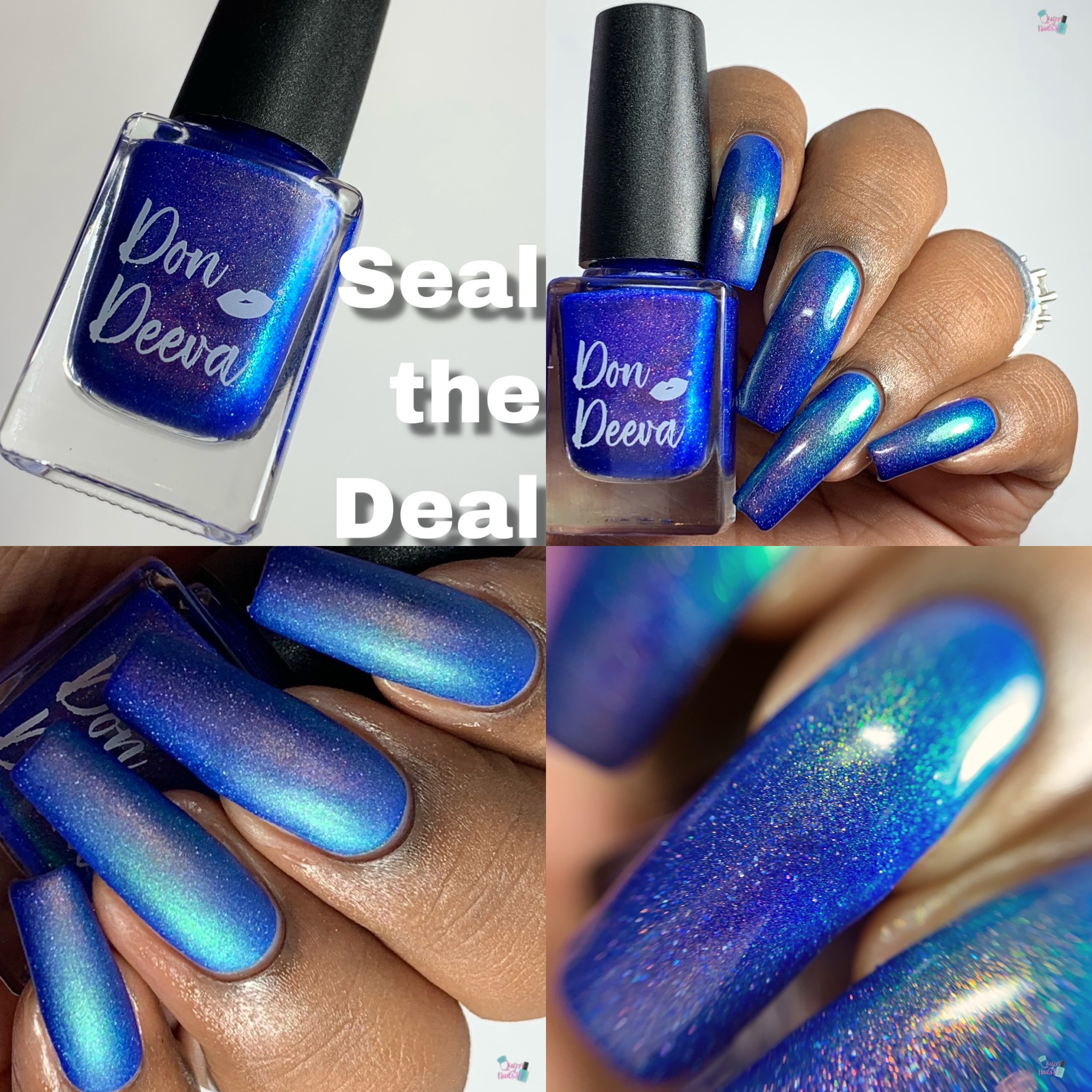 DRK Nails – Be Gentle
Theme: Chronicles of Narnia
Description: A multichrome green to pink mixed with holo micro flakies and iridescent orange to green
Price: $11.50 / Cap: 120 bottles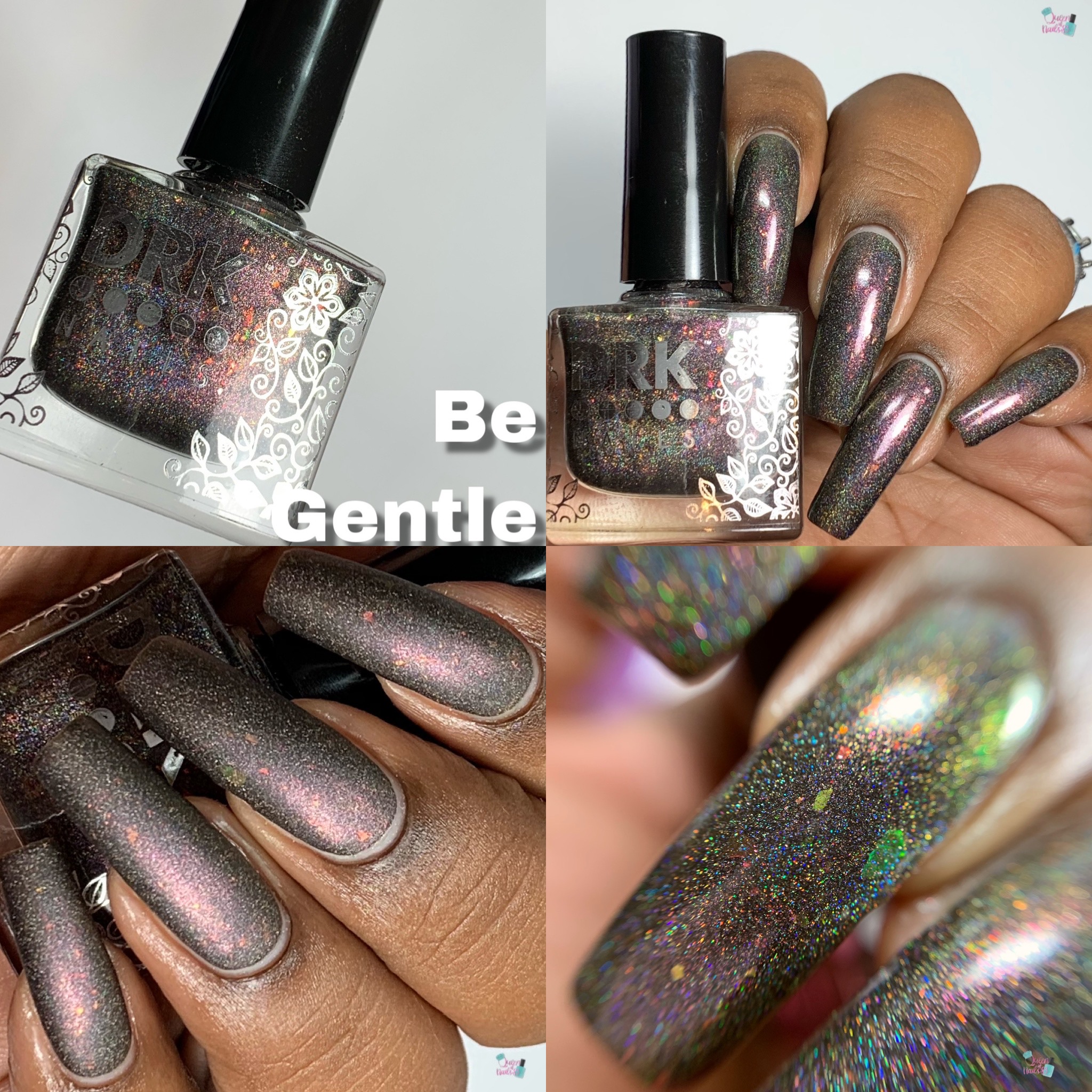 Ethereal Lacquer – Neptune
Theme: Planets
Description: A bright marine blue with strong green to violet and gold shifting multichrome shimmer
Price: $12.50 / Cap: NONE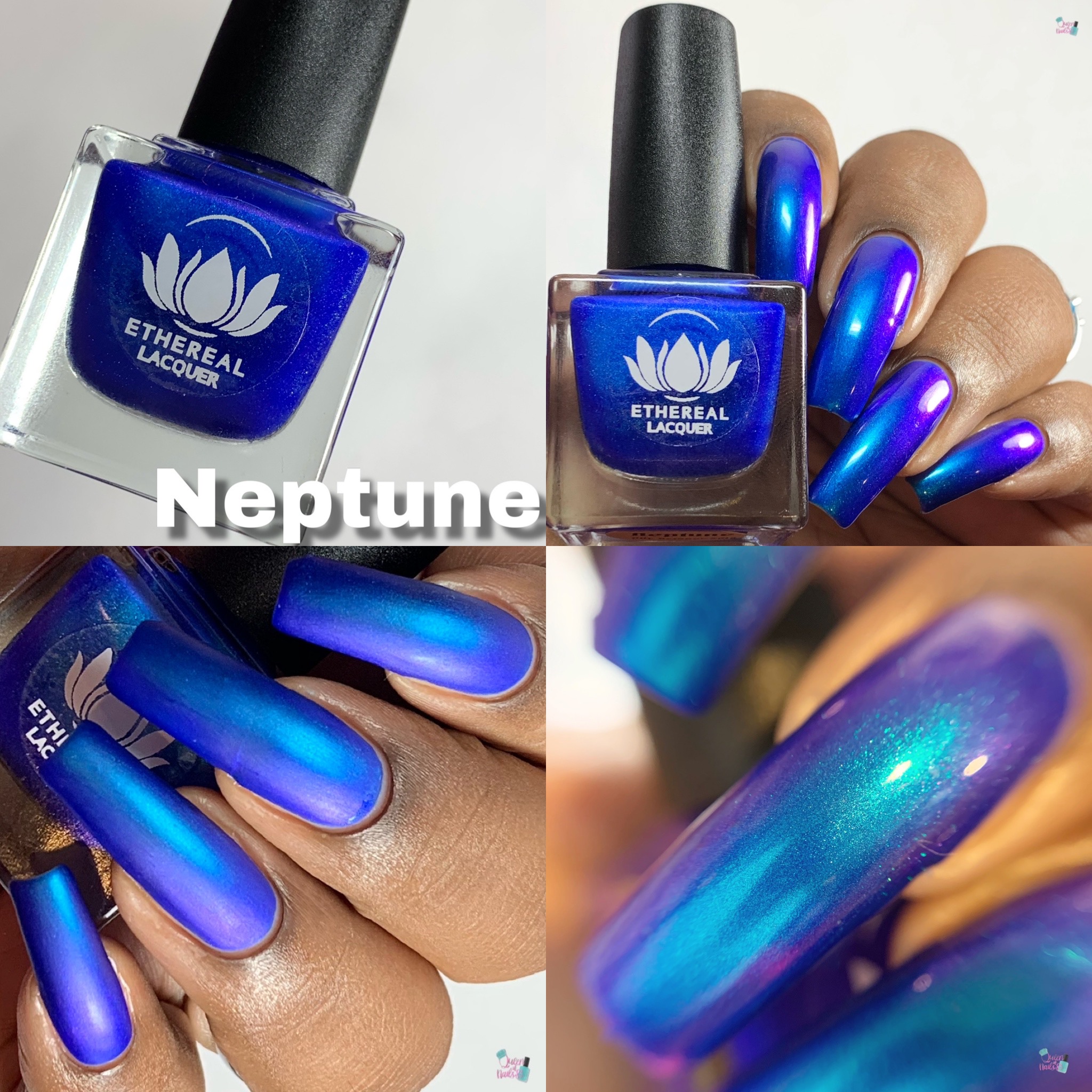 Femme Fatale Cosmetics – Winter Fire (T)
Theme: Stephen King
Description: An inky blue to soft magenta thermal with purple tones packed with green and gold flakies that shift to blue, subtle gold/red duochrome pigment and scattered with orange to green iridescent glitters
Price: $14 / Cap: NONE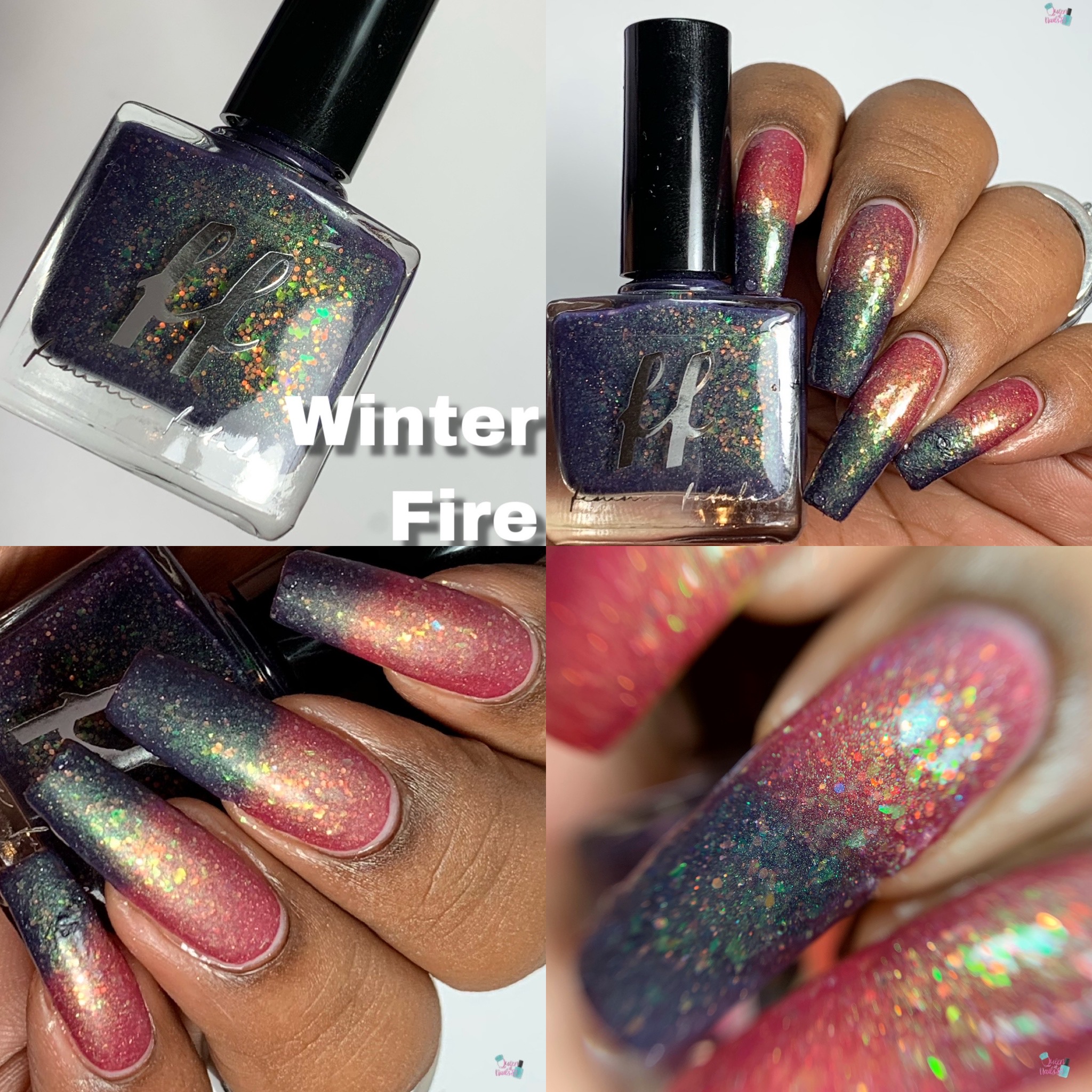 Grace-full Nail Polish – Miss Harper
Theme: DC
Description: A violet linear holo with pink flash from the blue aurora shimmer with UCC flakies in blue, pink, purple and green
Price: $12.50 / Cap: 100 bottles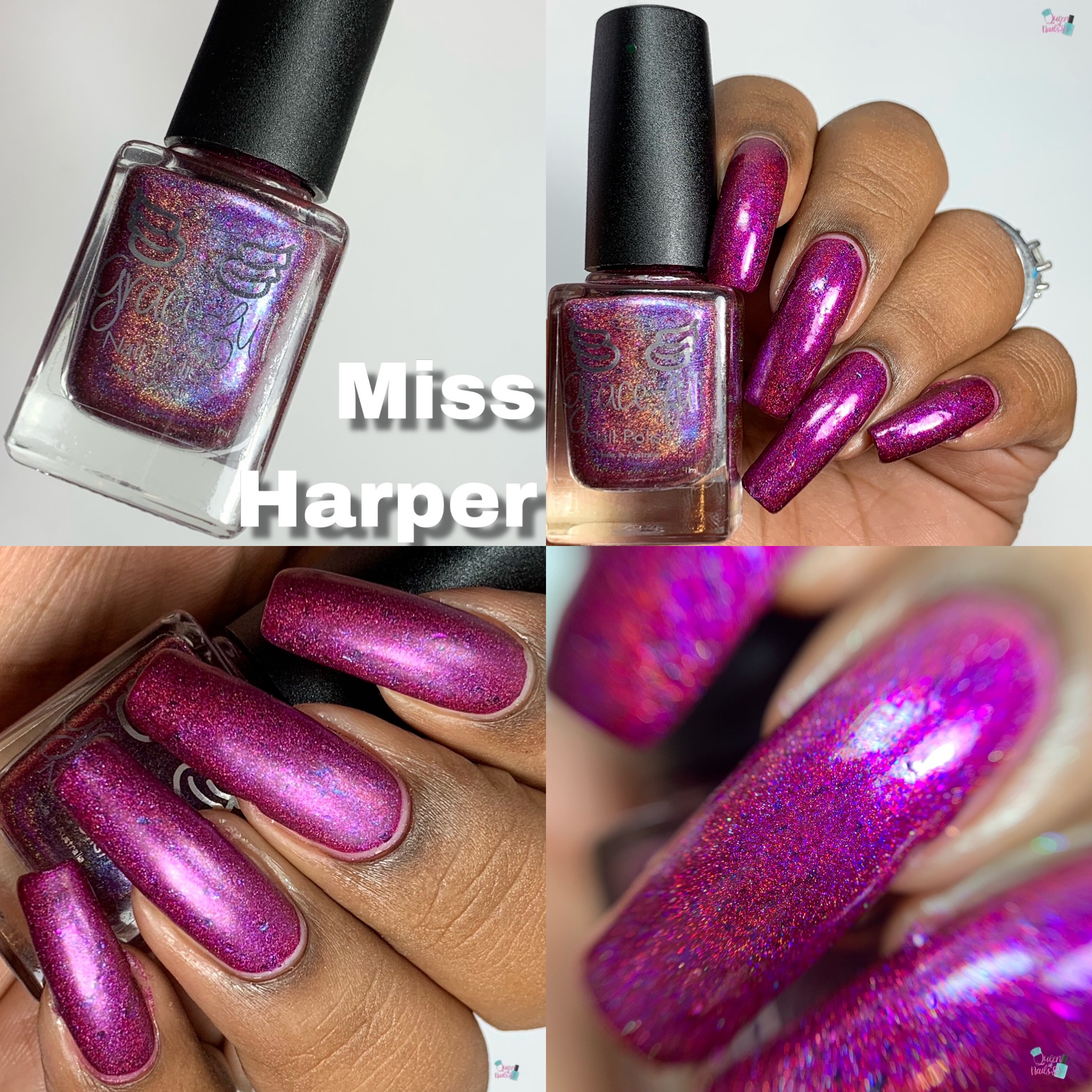 Great Lakes Lacquer – The Boy in the Iceburg
Theme:
Avatar: The Last Airbender
Description: A cobalt blue filled with aqua to pink and purple shifting iridescent flake and an aqua to pink shifting aurora shimmer.
Price: $13 / Cap: NONE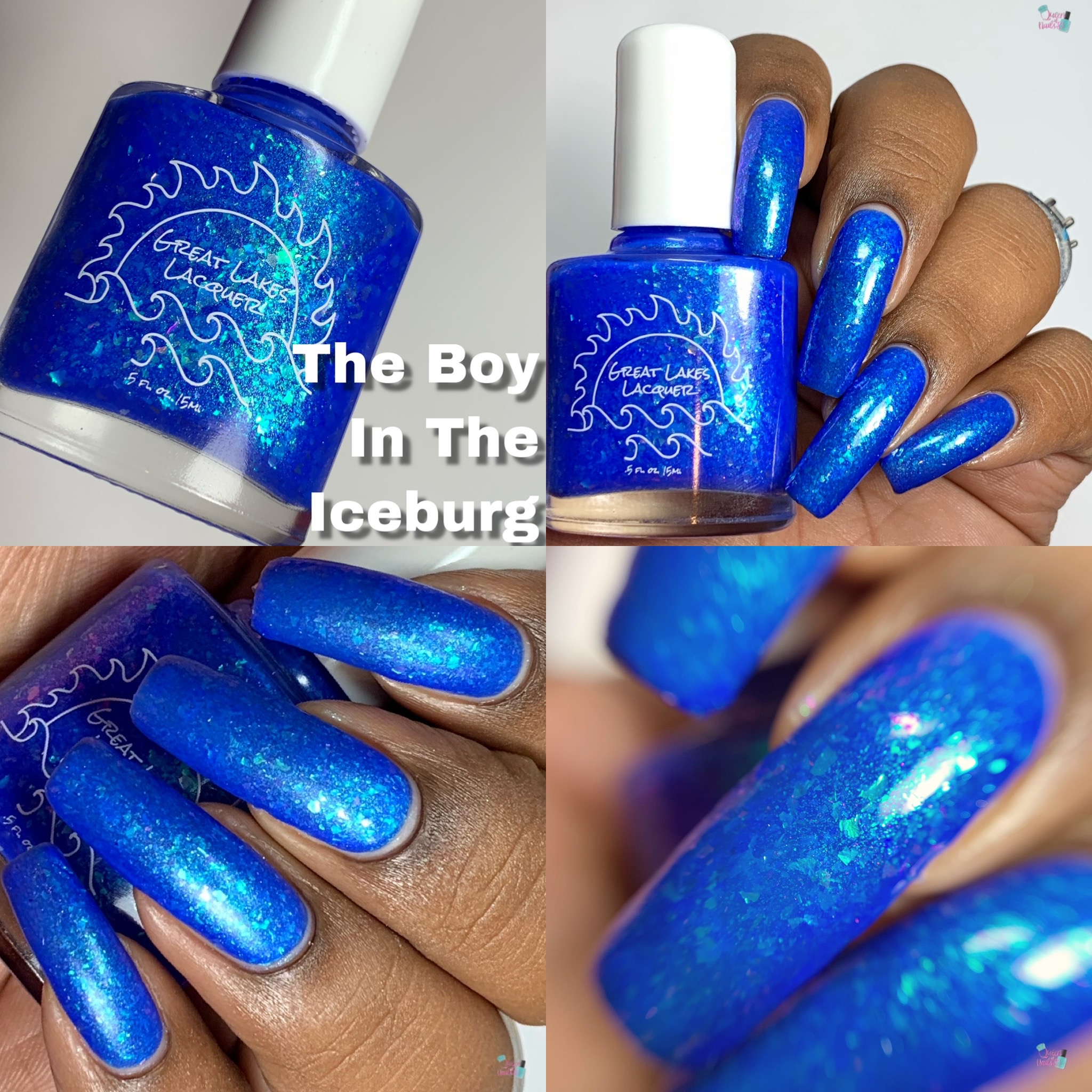 Illyrian Polish – Flame Aura Quartz
Theme: Crystals & Opals
Description: A dark purple base packed
with pink/green and purple/gold/green iridescent flakes and a scattering of holo sparkles.
Price: $13 / Cap: 200 bottles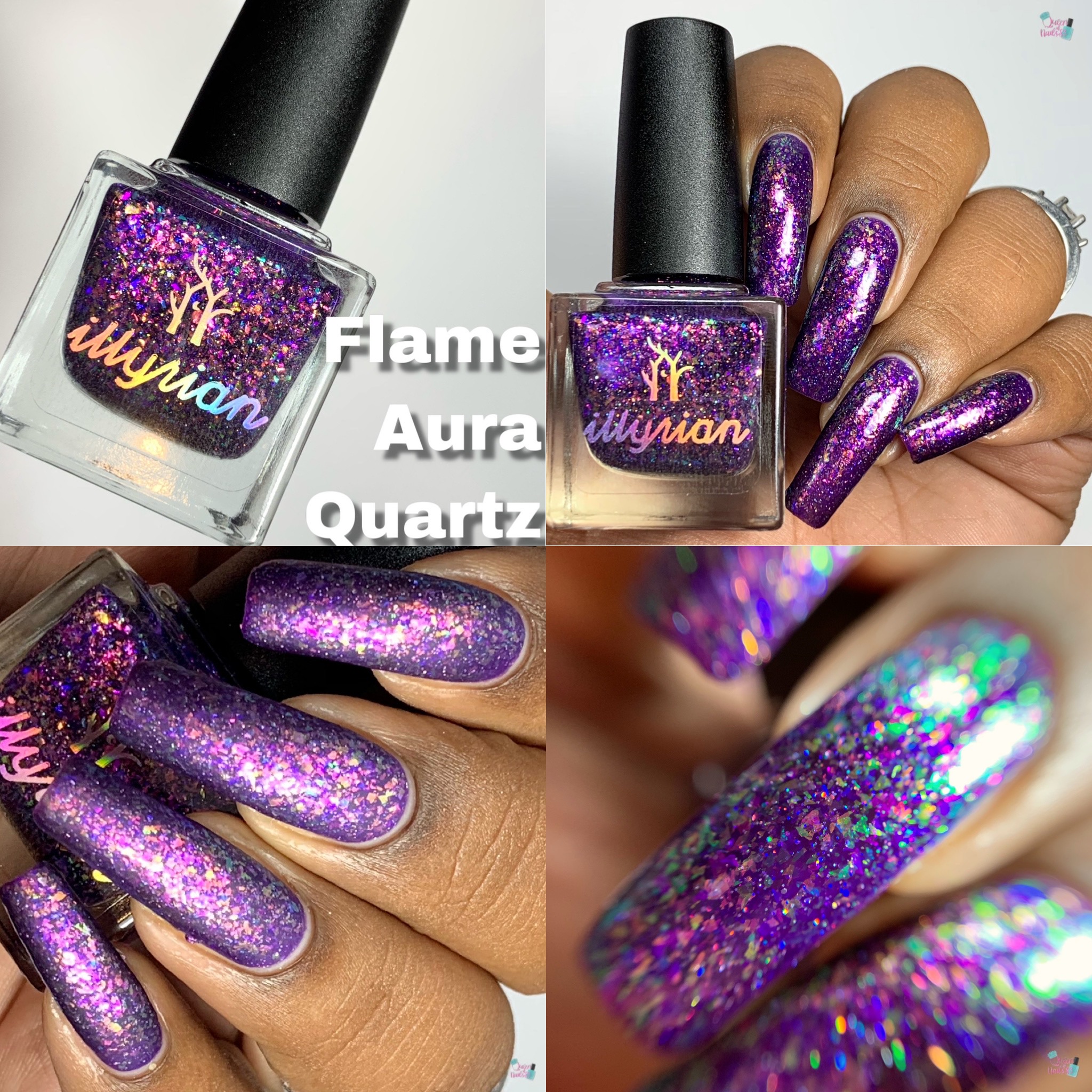 Kathleen & Co. Cosmetics – Seasons Change
Theme: Nature
Description: A coral based linear holo with added aurora shimmer.
Price: $12.50 / Cap: 75 bottles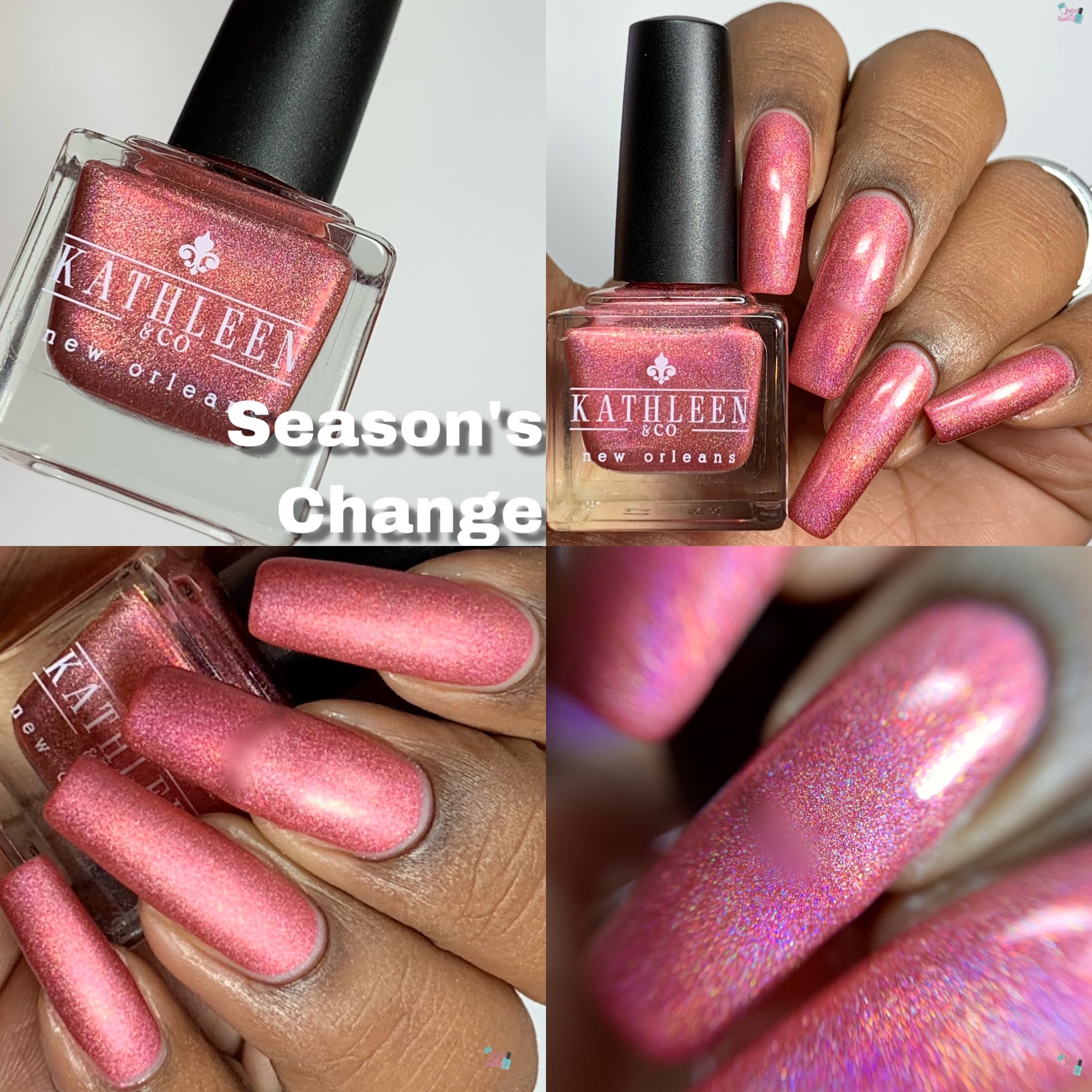 Lilypad Lacquer – Mirror, Mirror on the Wall
Theme: Looney Tunes
Description: Teal base with pink/purple/green shifting shimmer with gold micro holo glitter.
Price: $14 / Cap: NONE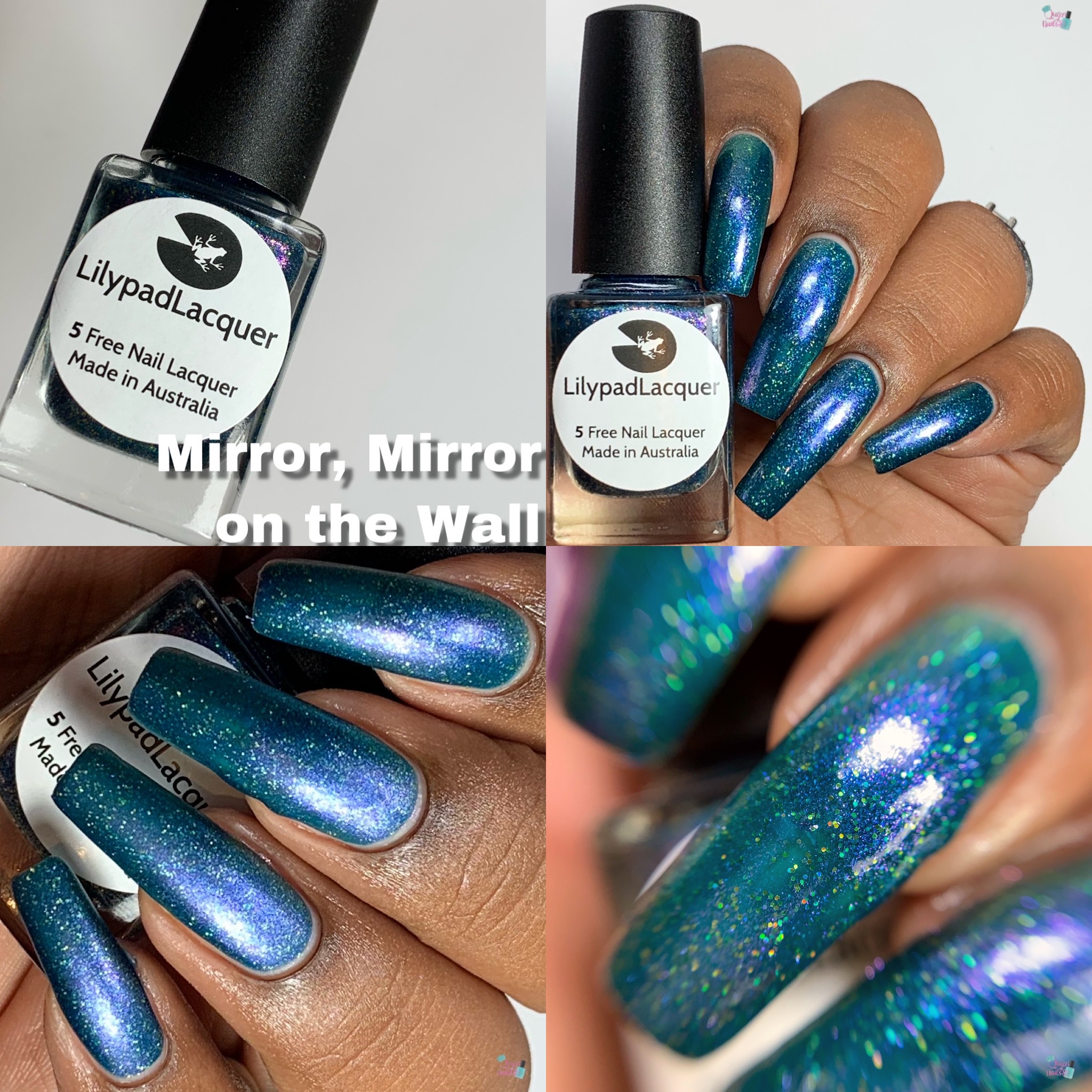 LynB Designs – I Don't Sweat, I Sparkle (T)
Theme: The Unbelievable Kimmy Schmidt
Description: A blurple to pink thermal base with blue to purple to pink to gold UCC flakies, violet shimmer, and linear holo shimmer.
Price: $13 / Cap: 90 bottles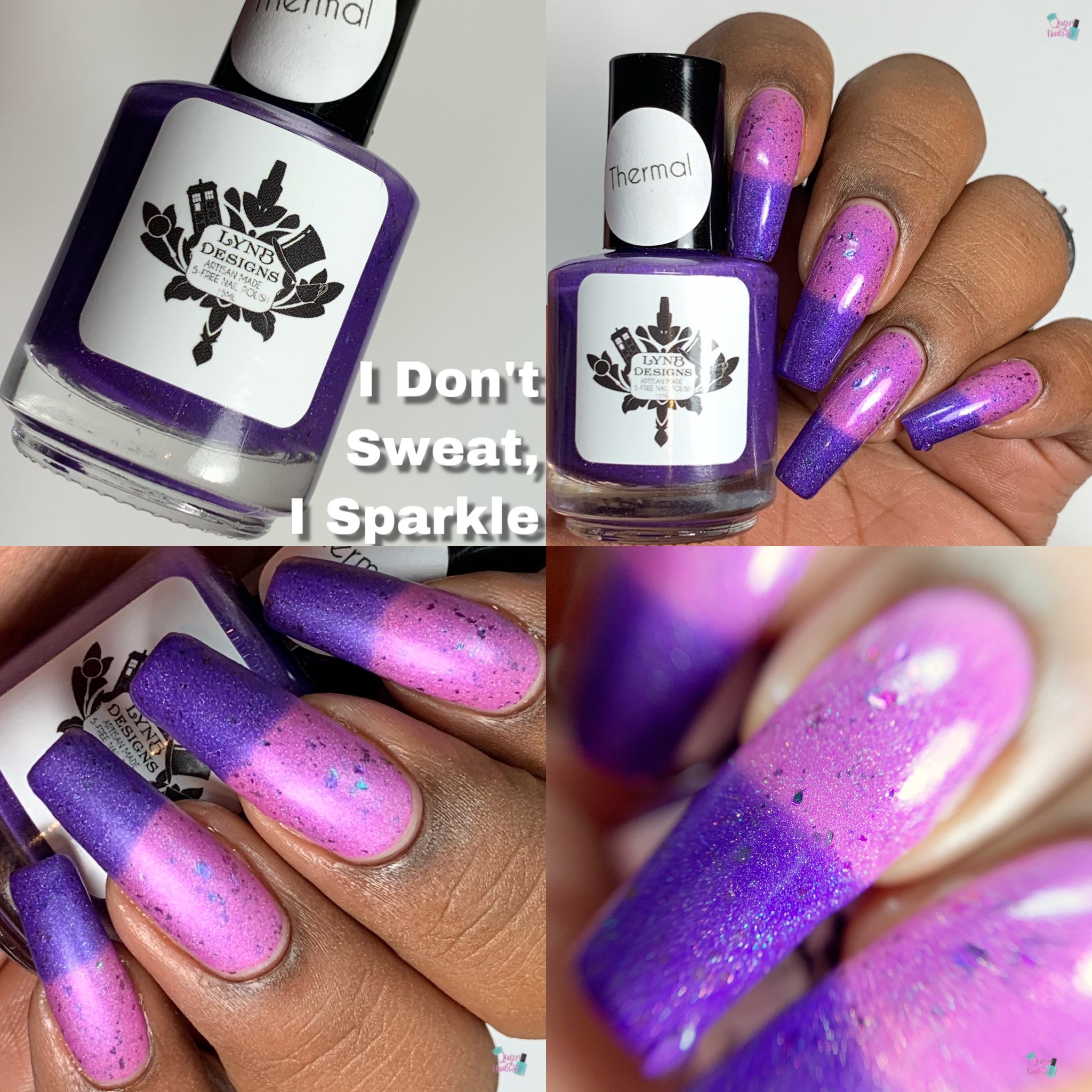 Moo Moo Signature – Coelurosauravas
Theme:Primeval
Description: Dark aubergine with green to red to gold color shifting shimmer and holo flakes.
Price: $13 / Cap: 150 bottles
Music City Beauty – Afternoon Delight
Theme: One Hit Wonders
Description: A black base with blue to violet to red multichrome color shifting shimmer.
Price: $11 / Cap: 100 bottles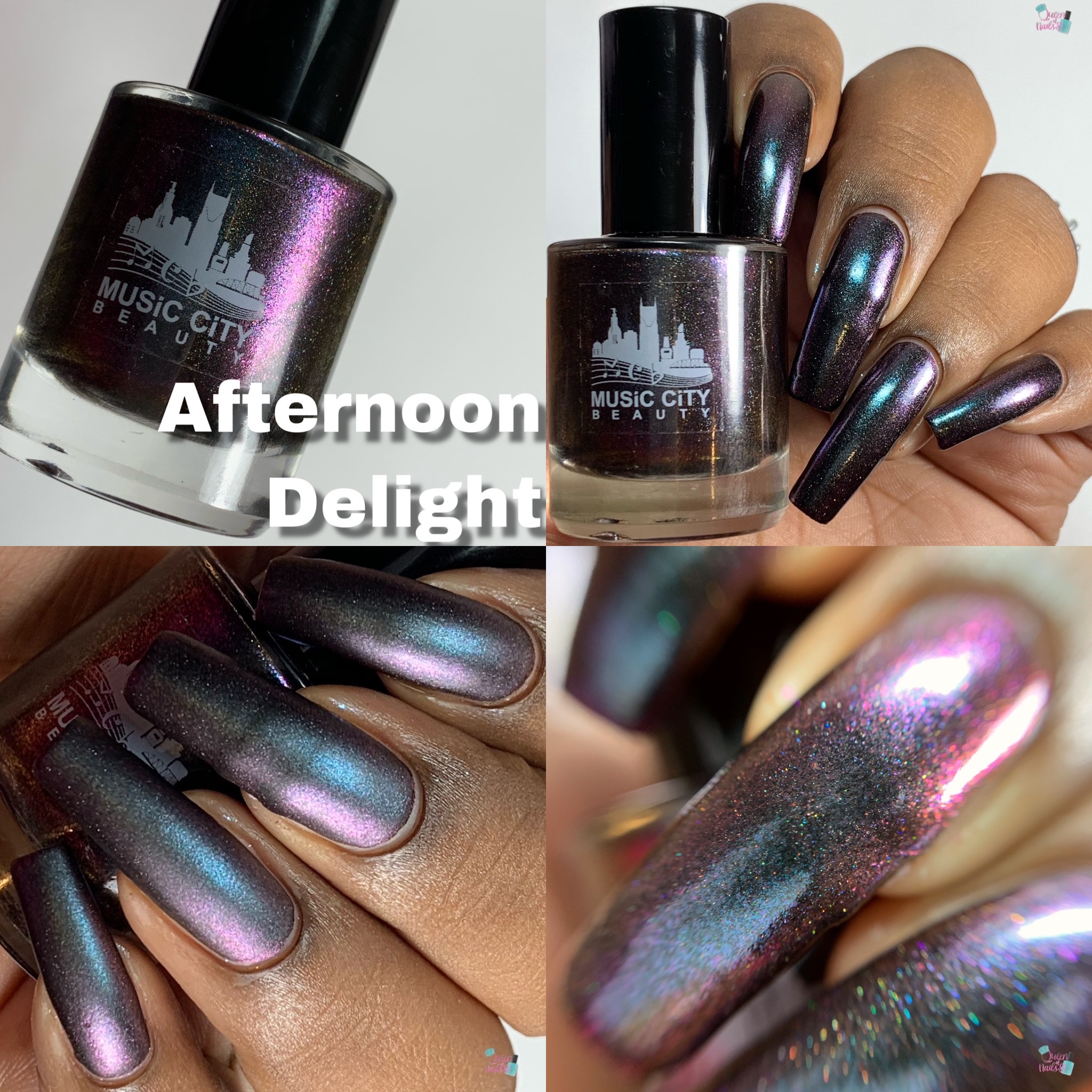 Nailed It! Nail Polish – Kipnap the Sandy Claws (T)
Theme: The Nightmare Before Christmas
Description: A ruby to plum thermal with red/gold UCC flakies, and a subtle linear holo.
Price: $12.75 / Cap: 100 bottles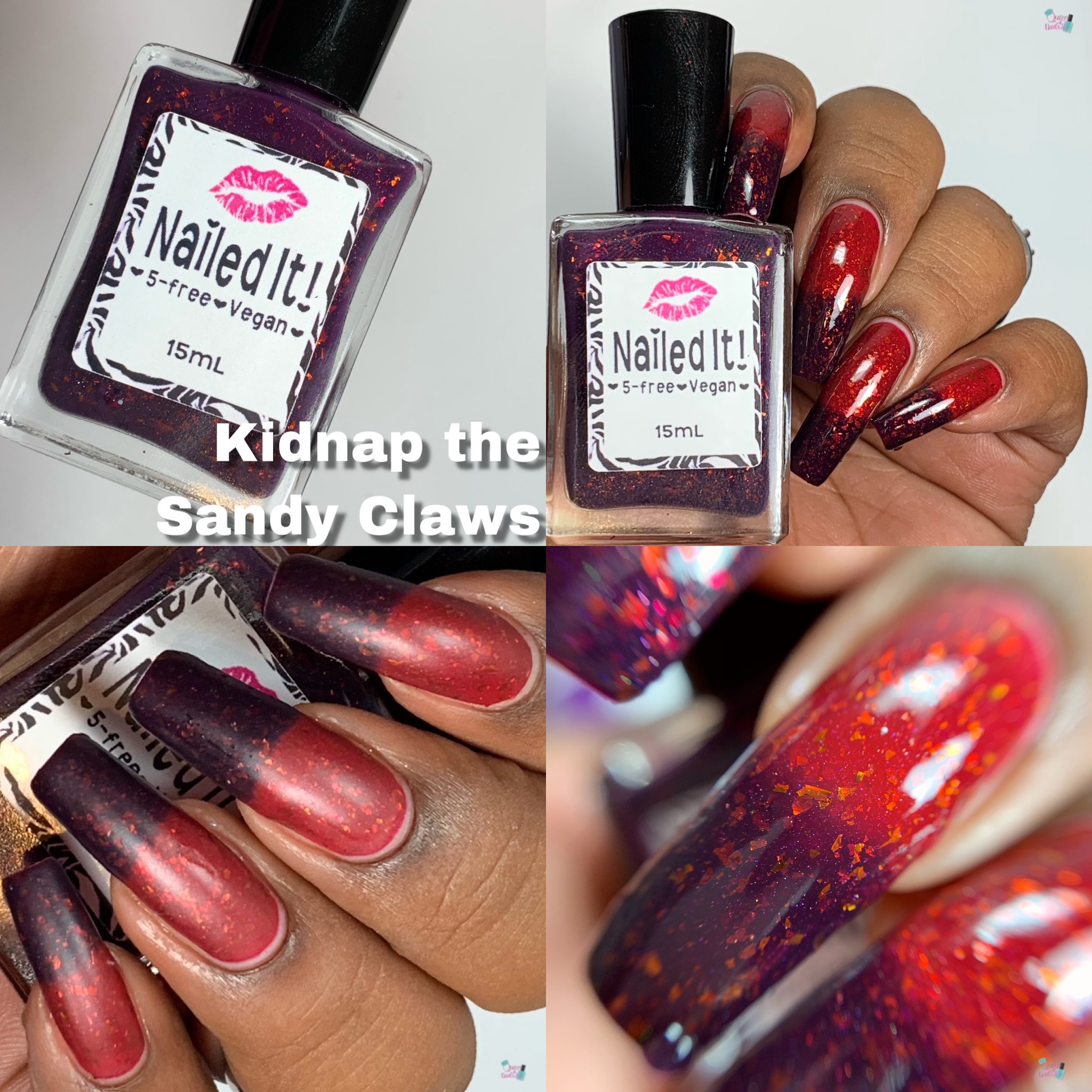 Nail Hoot Lacquer – Drosselmeyer
Theme: The Nutcracker and the Four Realms
Description: A deep midnight blue linear holo with a warm copper glow
Price: $10.99 / Cap: NONE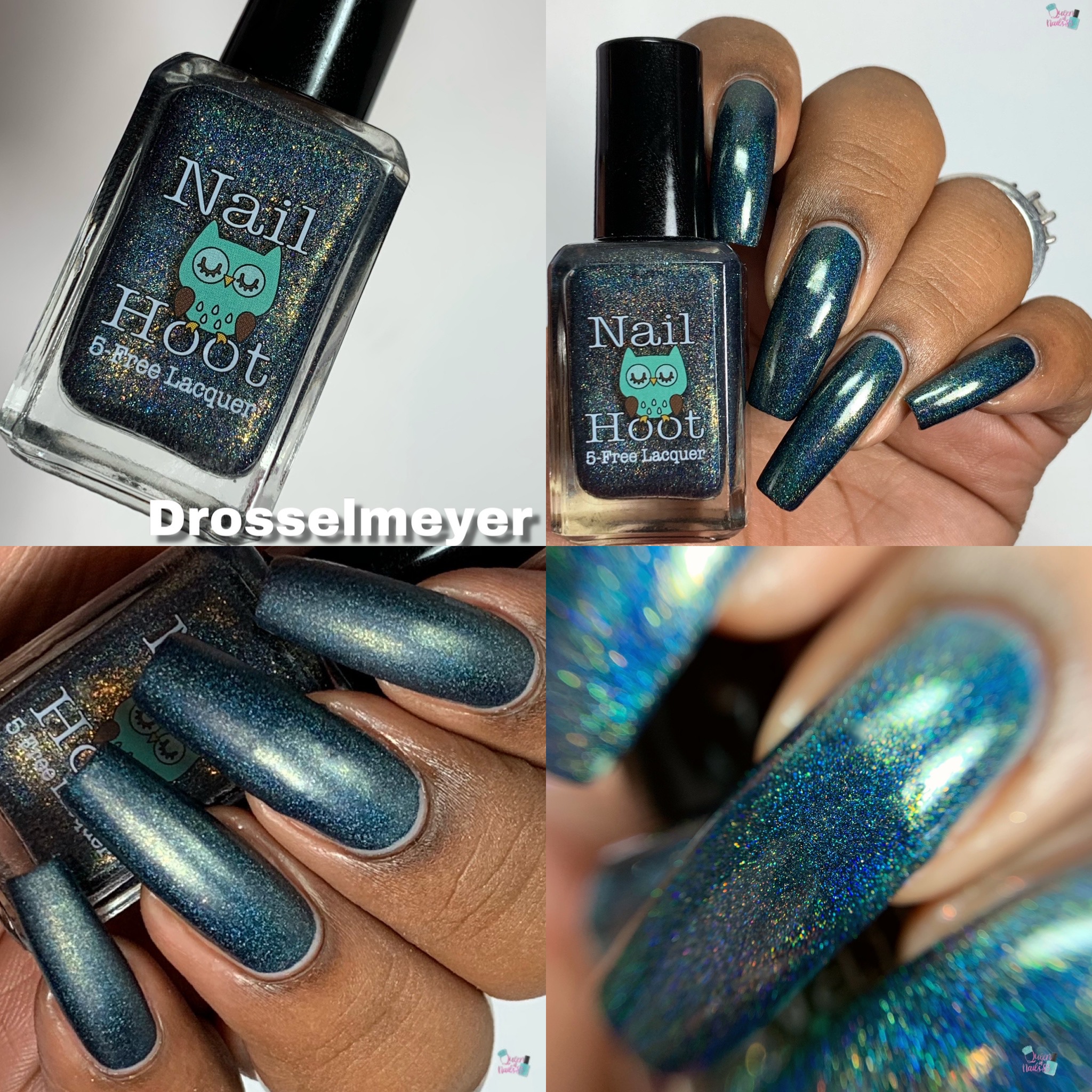 Pampered Polishes – Not All Who Wonder Are Lost
Theme: Alice and Wonderland
Description: A borderline neon pink crelly with various purple glitter and purple-blue iridescent micro shreds!
Price: $12 / Cap: 150 bottles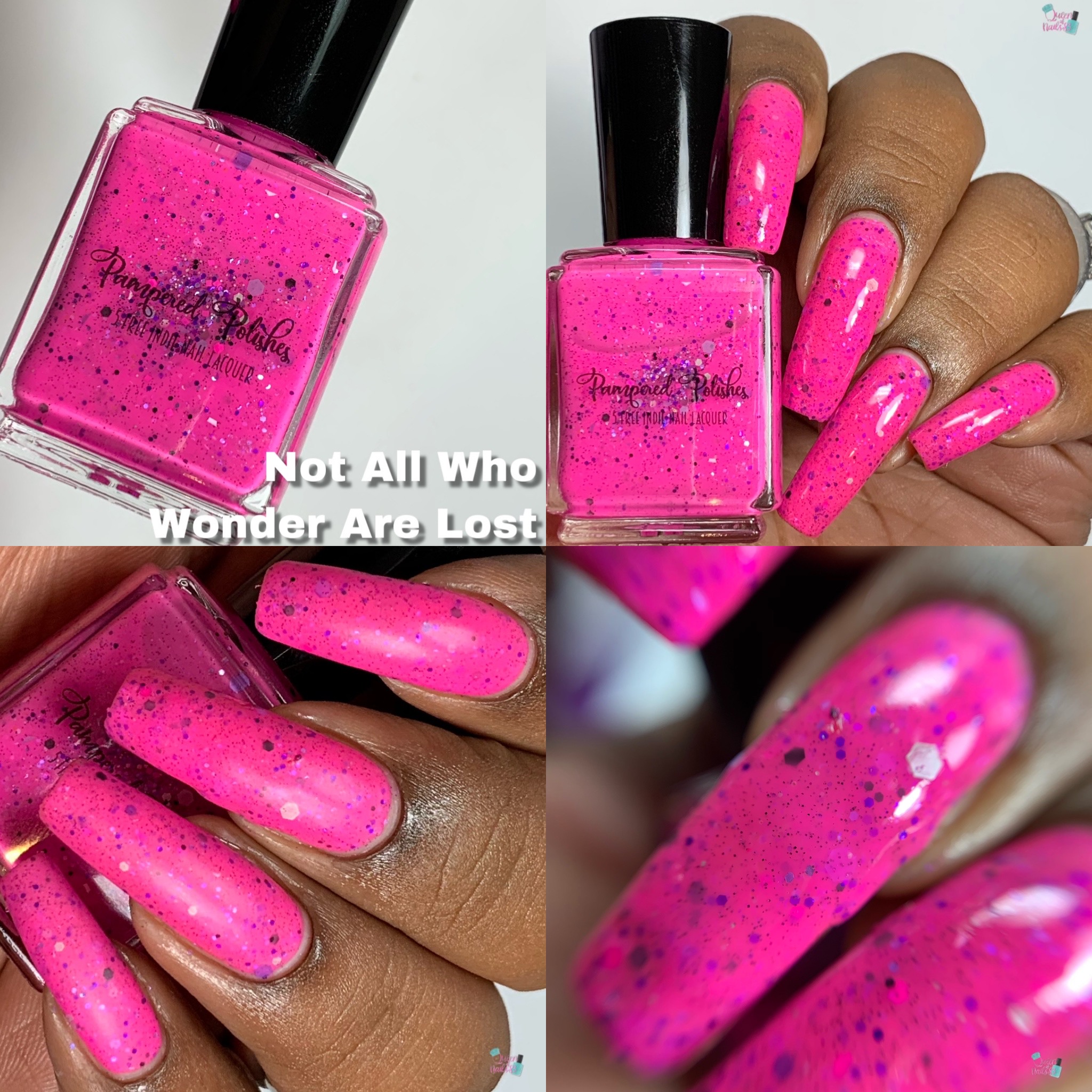 Rogue Lacquer – Diamonds Are A Nifflers Best Friends
Theme: Fantastic Beasts
Description: A bright, shining diamond packed with gold and different toned silver holo glitters, sparkly aqua shimmer with a holo graphic flame.
Price: $12 / Cap: 150 bottles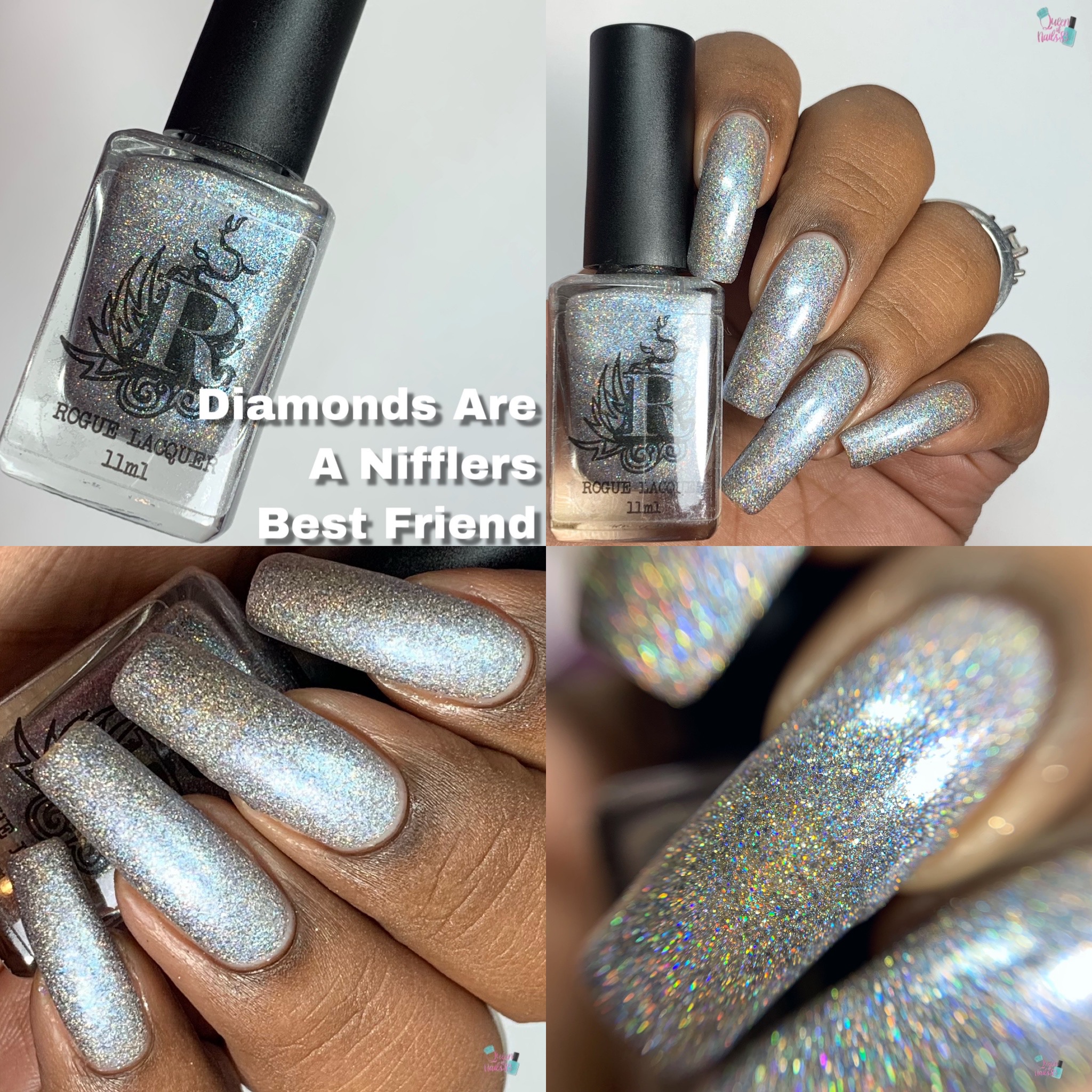 Supernatural Lacquer – The Gate
Theme: Fullmetal Alchemist
Description: A semi linear charcoal holo with a strong purple shimmer and large particle scattered holo micro flakes.
Price: $12 / Cap: NONE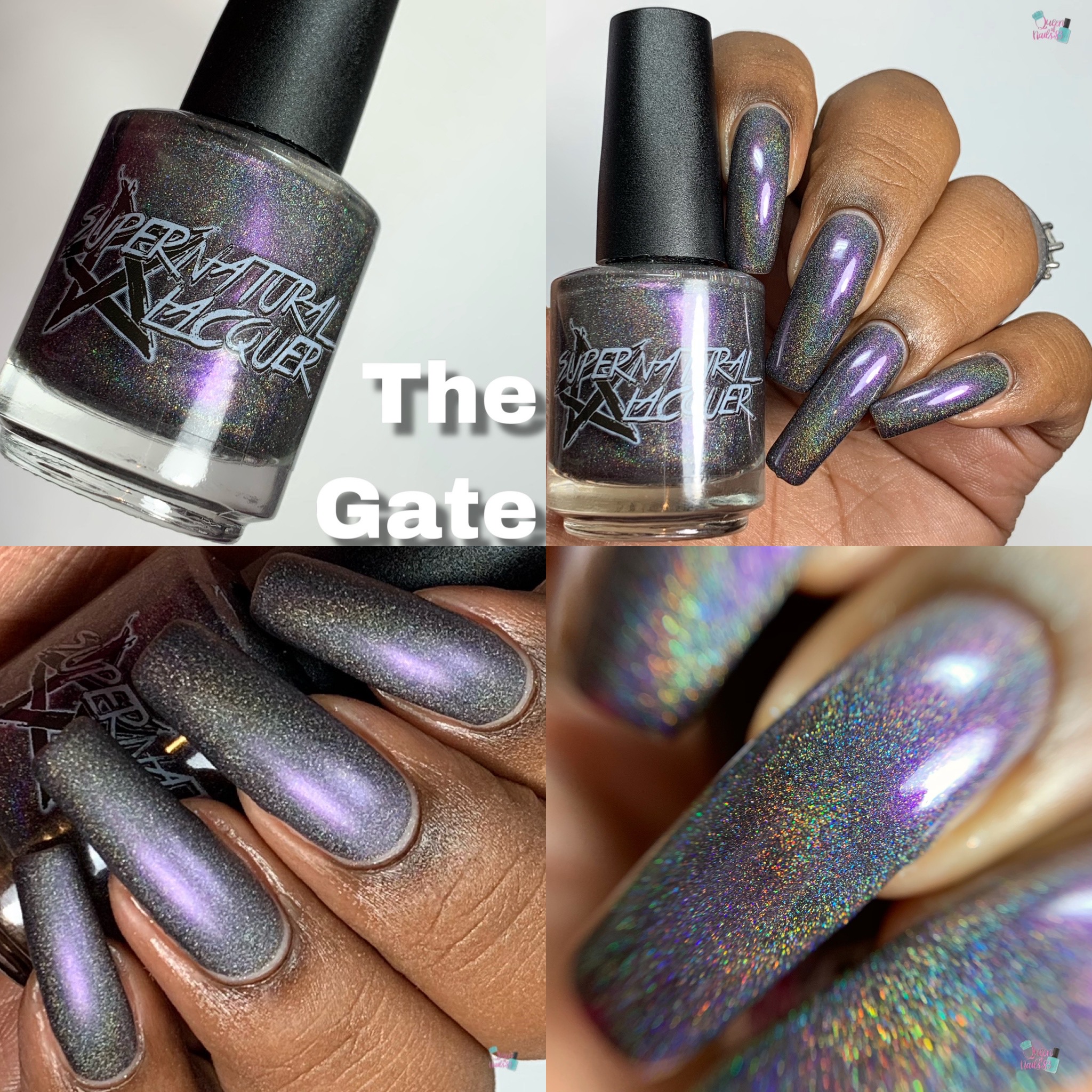 Under A Hula Moon – Don't Let the Sun Go Down On Me
Theme: Elton John
Description: Citrus orange notes softened with a little sweet creamy, local honey mixed with wildflower notes and sweet Bulgarian roses.
Price: $4.50 / Cap: NONE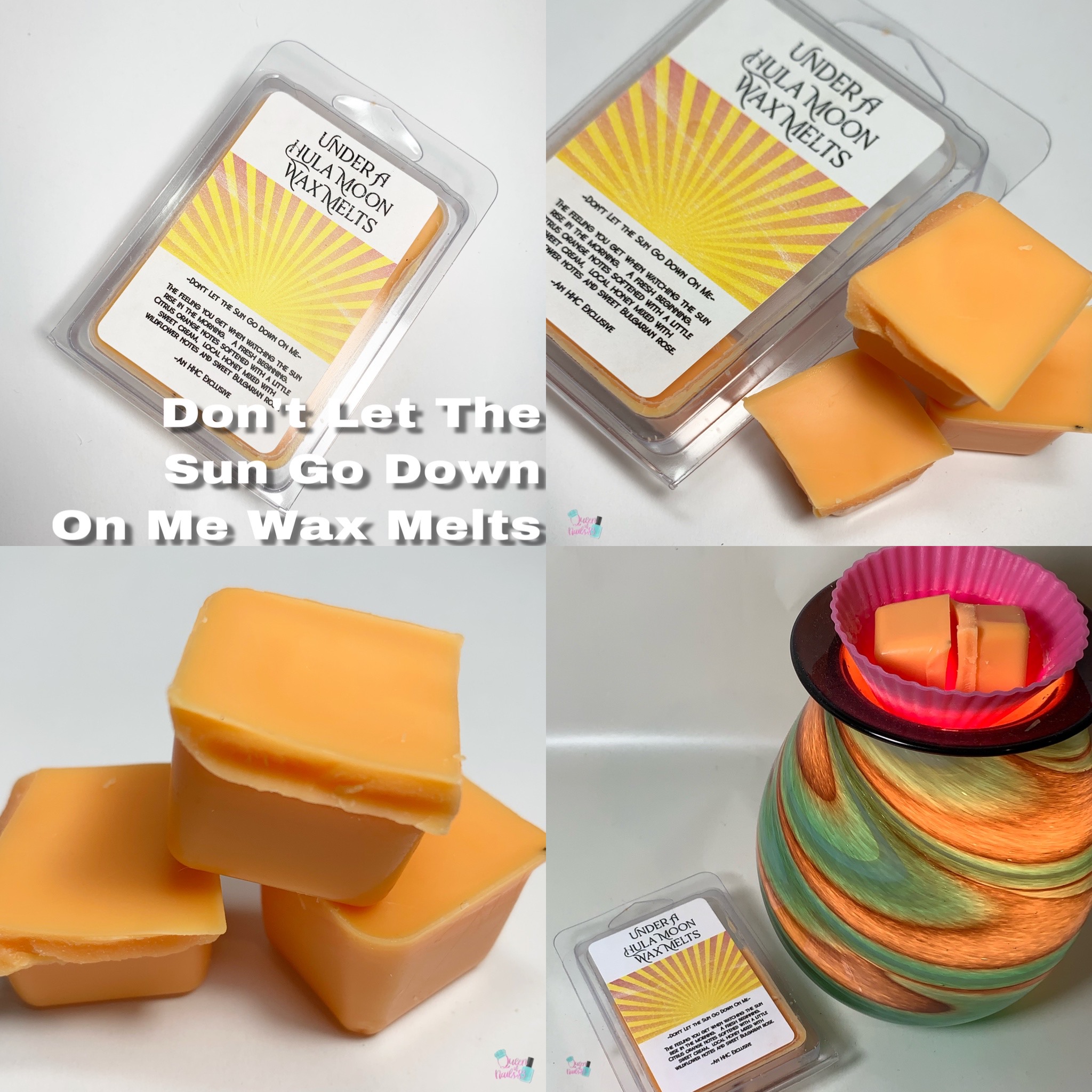 Wildflower Lacquer – FAH-Q
Theme: Dazed and Confused
Description: A blue gray base with pink to green shifting shimmer, and a rainbow of crystal flakies.
Price: $12 / Cap: 80 bottles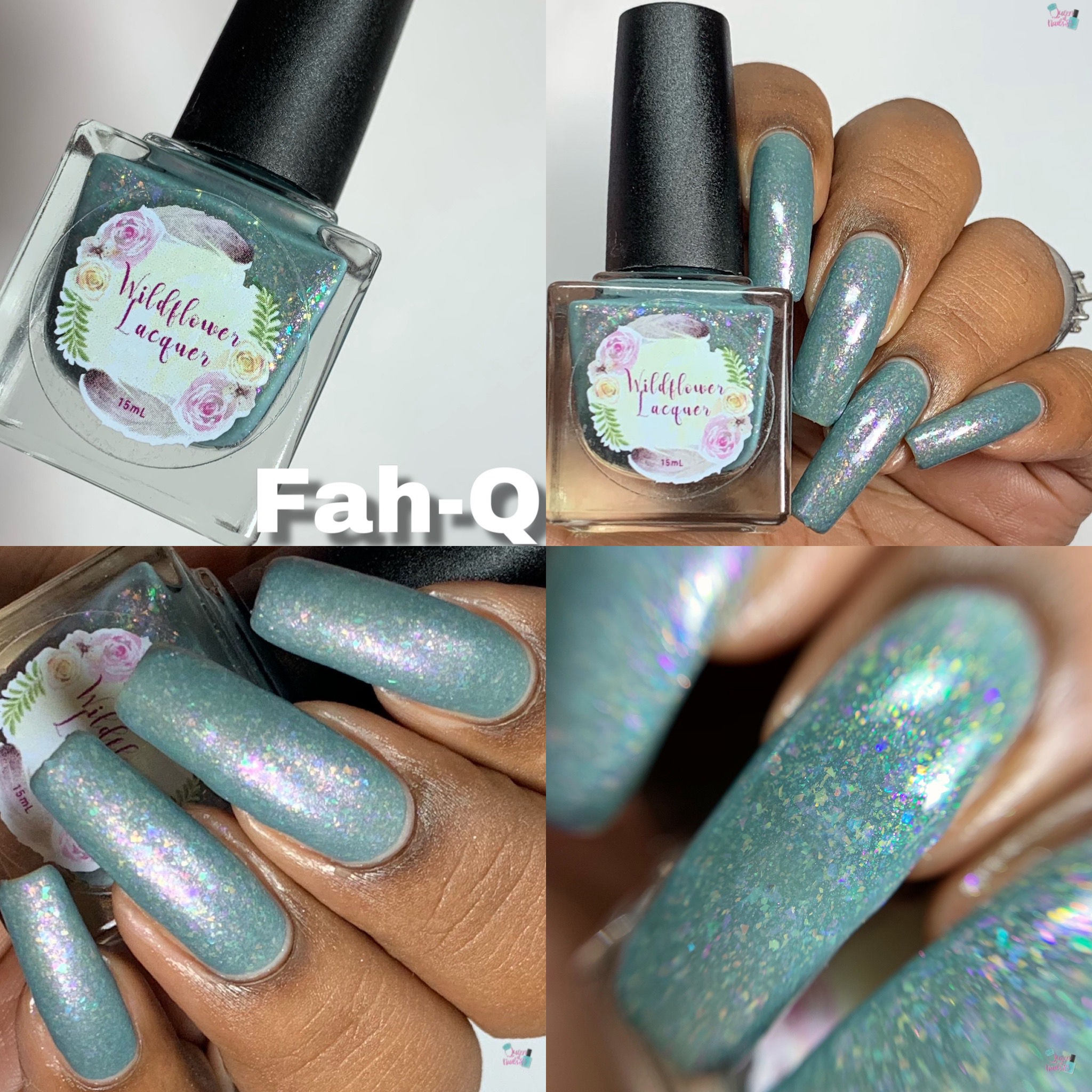 October 2019 Hella Handmade Creations (HHC)
Monday, October 14th at 12:01am HST to Monday, October 21st 11:59pm HST
Hella Handmade Creations
*Like, Comment and Subscribe*
Eat, Laugh, Polish, Repeat
Queen of Nails 83
💕