Hey Sugas!!! Today is my Friday. Today I say 'see ya later,' to my computer, emails and my phone and prepare myself for the beach. How does one do that you ask?
But before I rush off to the warm sandy beach, I must first share with you a new INDIE BRAND!!! Me, "Someone queue new indie brand theme music!!" 
Today I am honored and really, really, really excited to share with you Jen & Berries Lacquer. Jenny of @jenananails on IG is celebrating the launch of her new indie brand with a 7-piece collection, Me on a Good Day featuring color shifting shimmer and flakies in a vast array of shades and colors. And if that wasn't enough, there's a giveaway going on right now thru Monday, August 26th. Check out the IG page for more details.
For now, I'll just leave you with my swatches!
Enjoy….
**All swatches are done using liquid latex peel off base coat, glossy QDTC and matte topcoat. Swatch photos are taken using artificial lights.**
A Touch of Grace – $9
A white crelly with strong red shimmer and color changing flakies that shift through violet, pink, green and gold.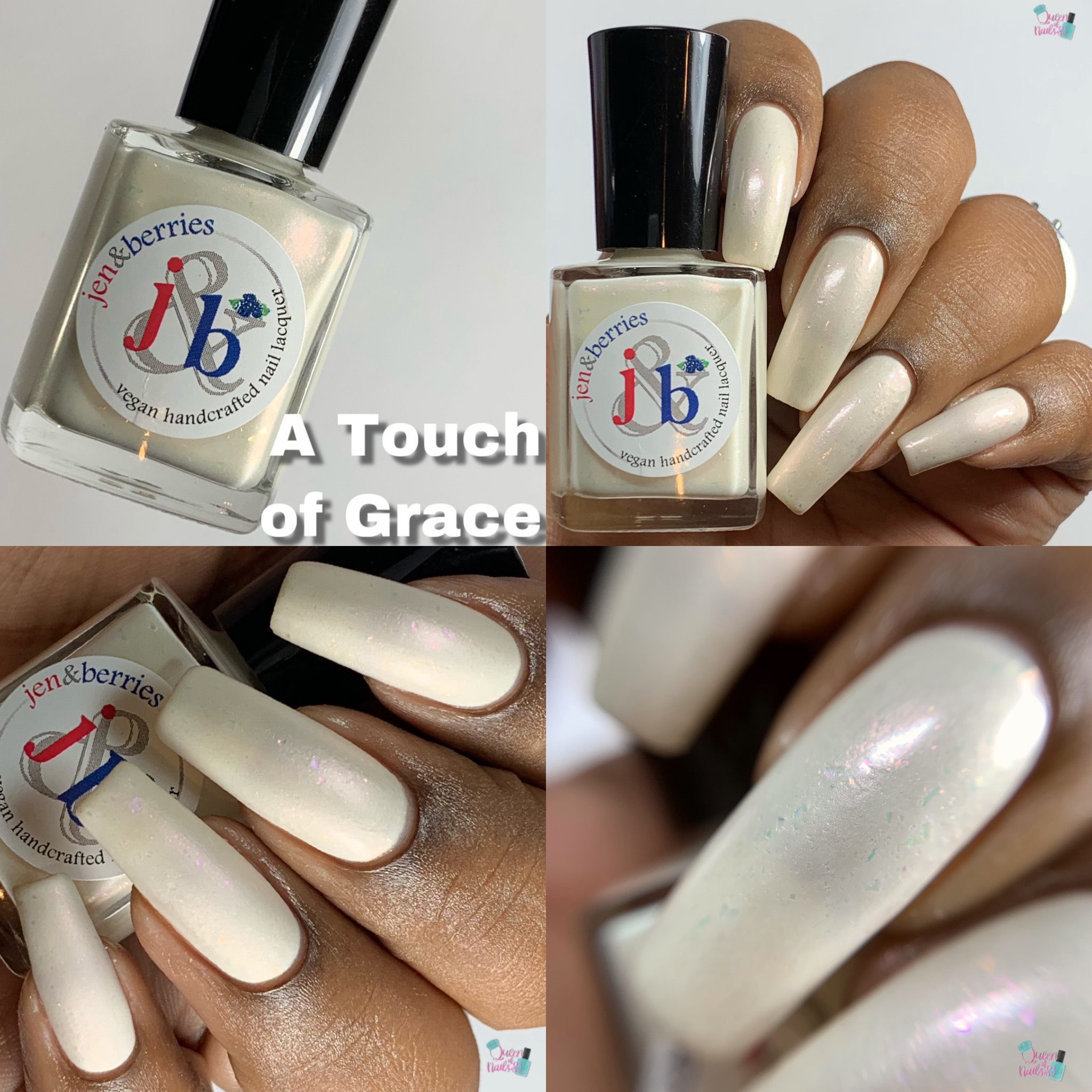 Raging Fire Within – $9
A coral base with strong golden shimmer and gold flakies.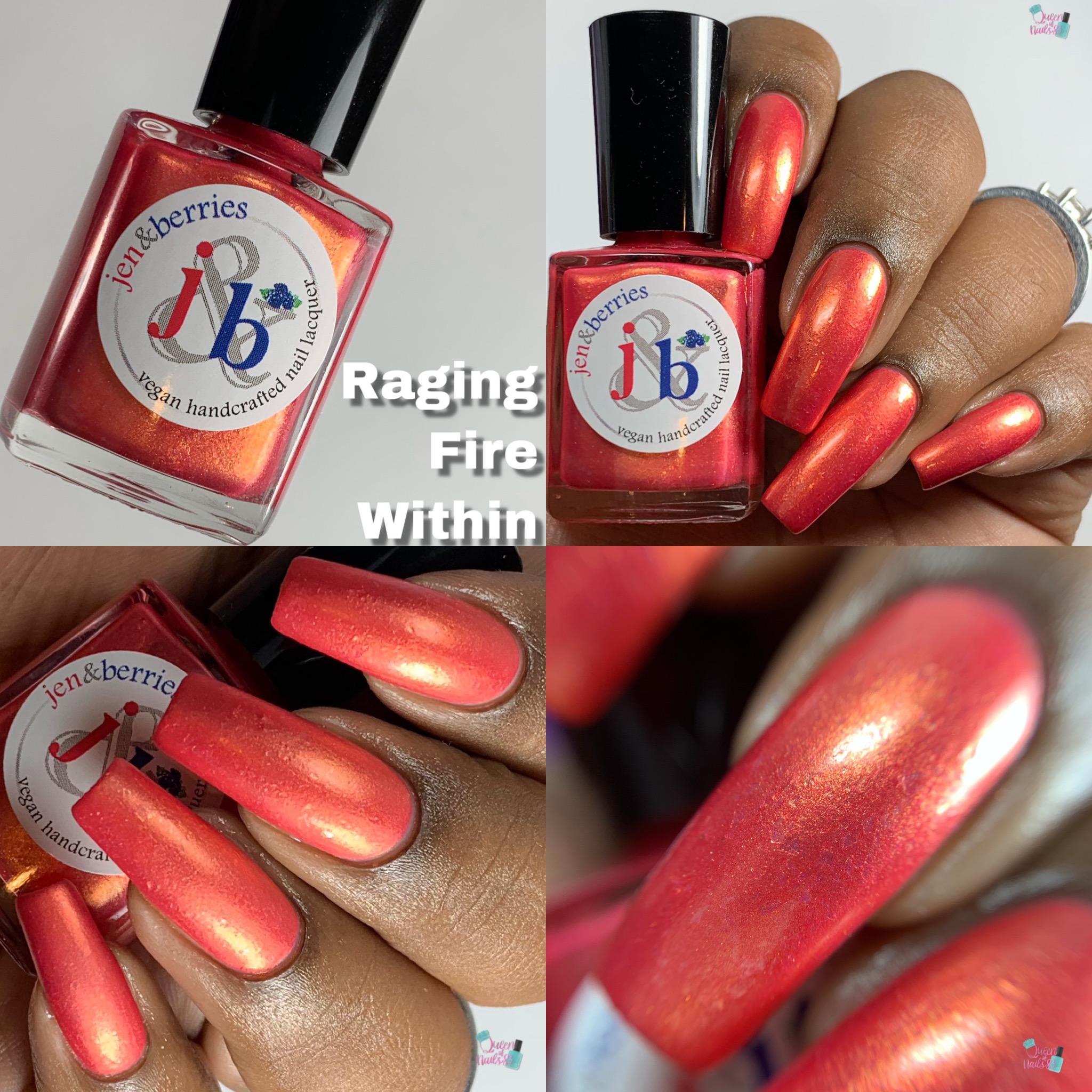 Sin-kissed Glow – $9
A yellow base with a strong red to gold shifting shimmer with copper and peach to silver micro flakies.
Wisdom Beyond – $10
A purple linear holographic with a bronze shimmer and blue and red sparks.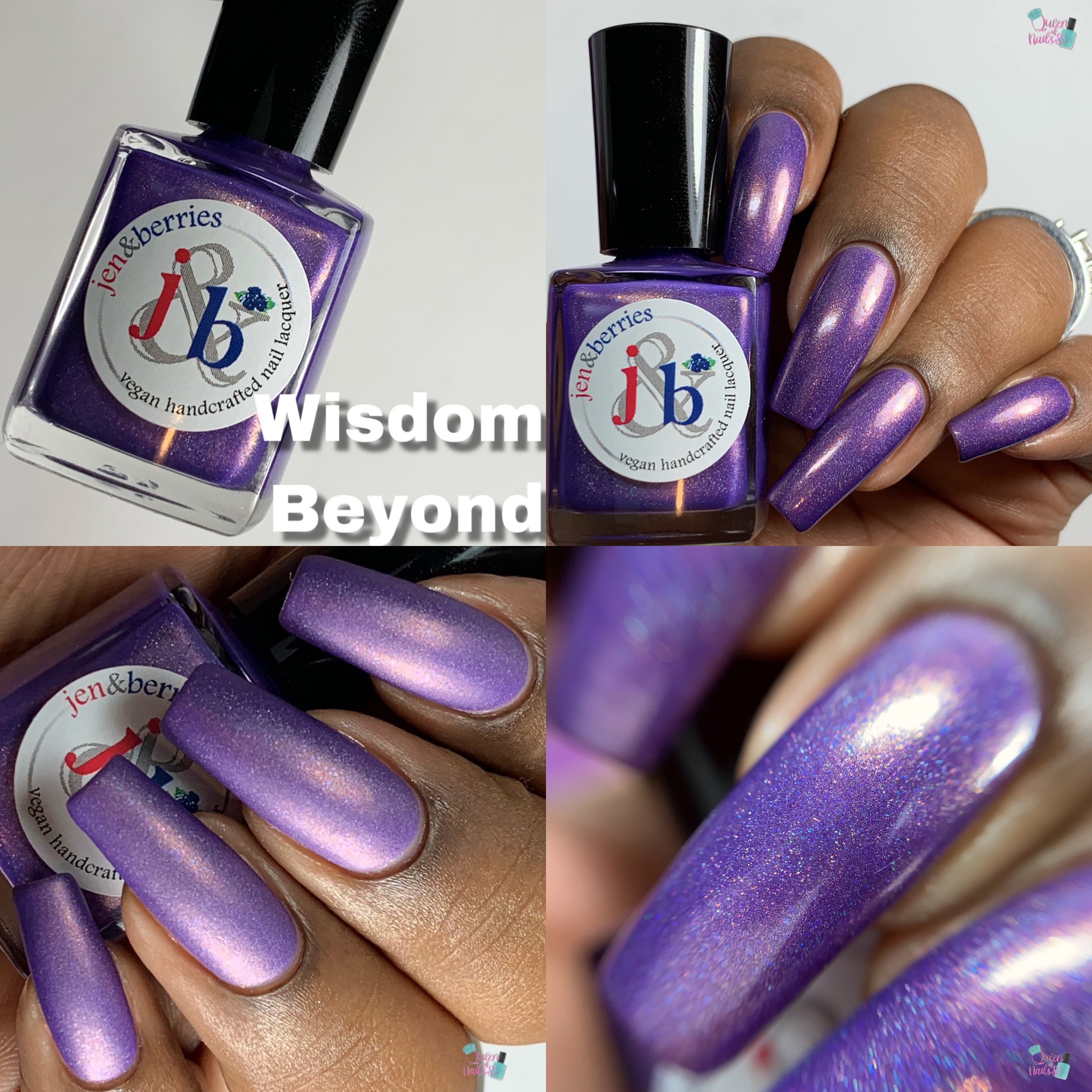 Impetuous Passion – $11.50
A red to violet multichrome base with a pink to gold shift and color changing flakies that shift through copper, red, green and gold.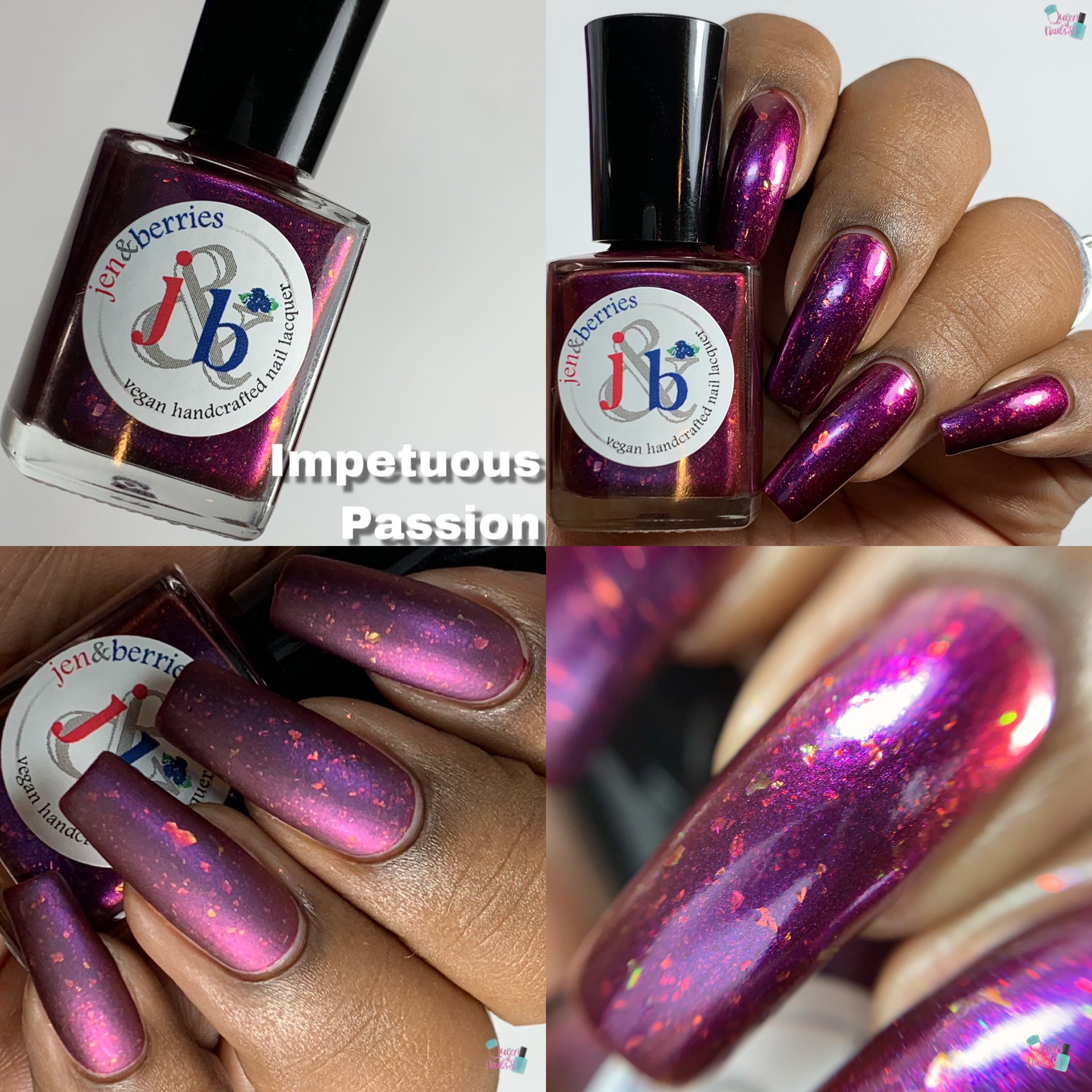 Imagination Run Wild – $11.50
A blackened linear holographic with a very strong emerald shimmer that shifts to bright violet, scattered flakies that shift from green, blue and purple.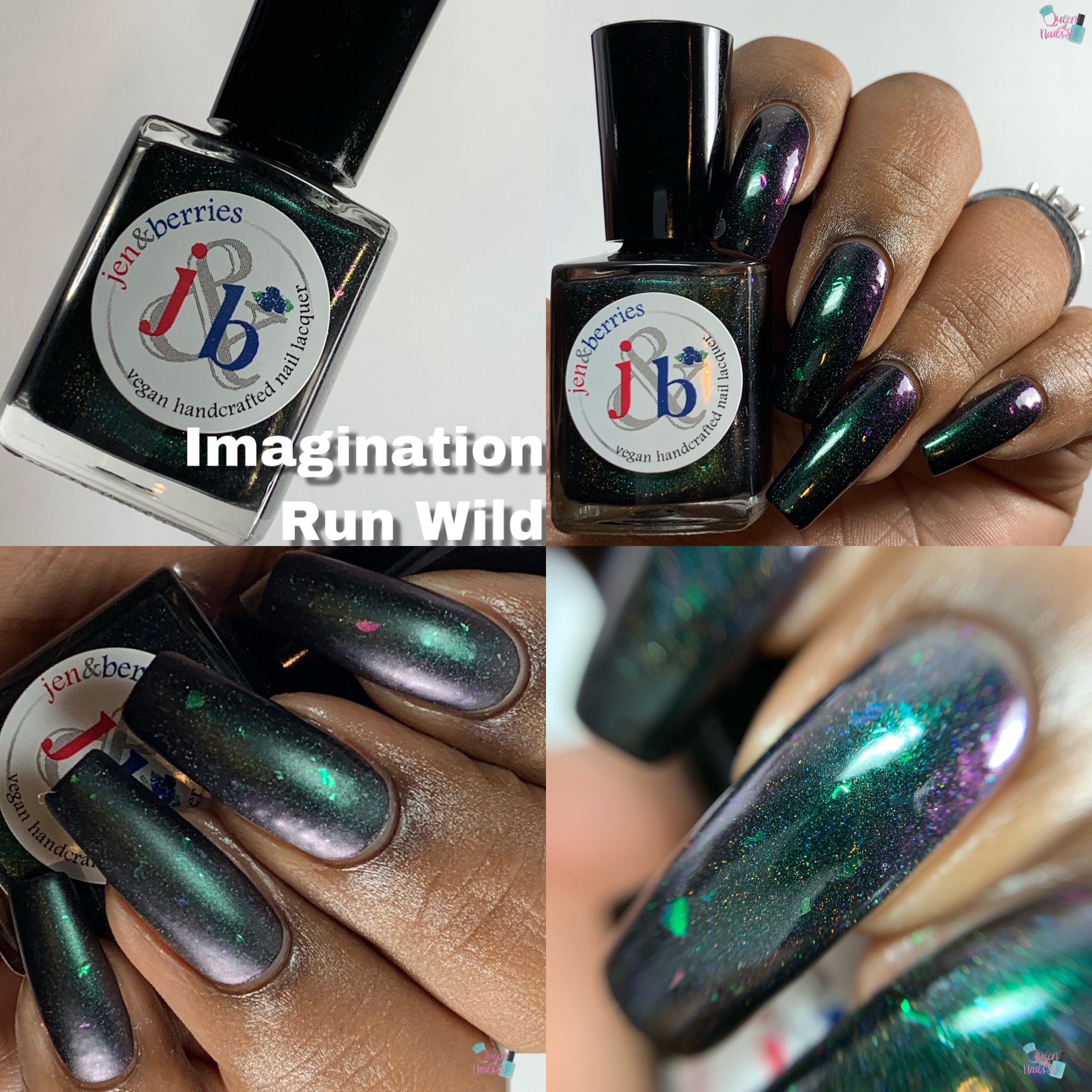 Tranquility in Turmoil – $11 
A dark periwinkle jelly with pale blue to purple shimmer and multichrome flakies that shift through green, blue, violet and pink.
(Not Pictured)
Jen & Berries Lacquer – Me on a Good Day Collection
Overall: I am thoroughly impress with this brand! The colors, the finishes, the application, everything is what a true nail polish lover looks for in a great polish. Formula was easy to apply, no flooding or pooling around cuticle area. Great consistency and opacity. 
The Queens Choice: Wisdom Beyond, Raging Fire Within and A Touch of Grace
Opacity: swatches shown in 2-3 coats
Price: Individually: as stated above (full size) or mini (5mL) subtract $3 / Set: $63 or $43 mini
Availability: Monday, August 19th
Jen & Berries Lacquer
*Like, Comment and Subscribe*
Eat, Laugh, Polish, Repeat
Queen of Nails 83

💕