Hey Sugas!! It's that one of the month again, time for Hella Handmade Creations (HHC)! This month I have 17 exciting, new polishes that will be available for one week only don't delay, get them right away!
Enjoy… 
**All swatches are done using liquid latex peel off base coat, glossy, QDTC and Matte Topcoat. Swatch photos are taken using artificial lights.**
77 Nail Lacquer – All
Theme: Punk Rock
A turquoise crelly with a mix of white & black glitters, topped with blue/purple/red shifting shimmer.
Price: $12.50 / Cap: 75 bottles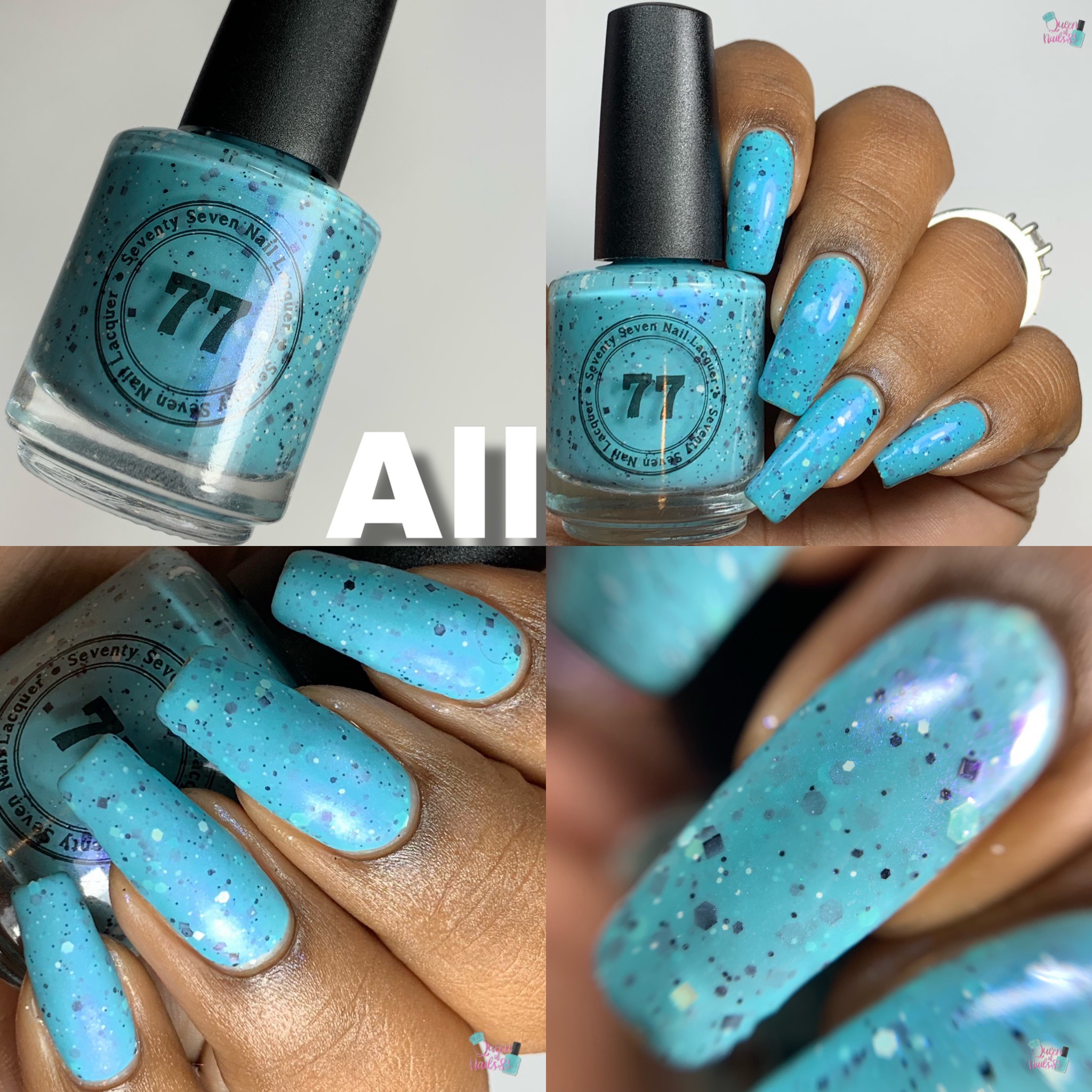 Bee's Knees Lacquer – This Guys Gets It
Theme: Rick & Morty
A pink to gold magnetic multichrome microflake polish with OG UP
Price: $14 / Cap: NONE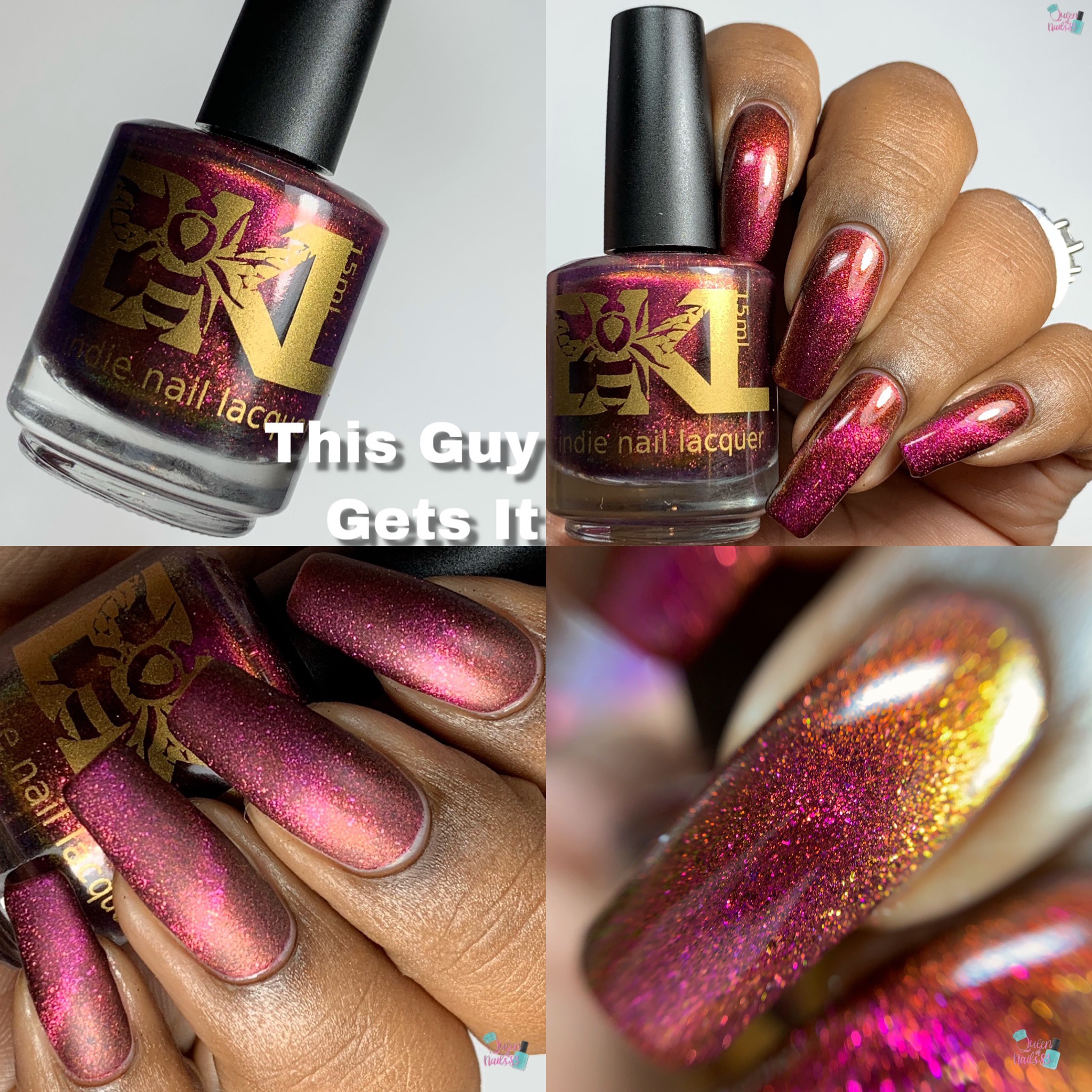 Chirality Nail Polish – Mac
Theme: It's Always Sunny in Philadelphia
A violet jelly base filled to the brim with aqua blue shimmer and iridescent flakes that shift from light purple to blue
Price: $11 / Cap: NONE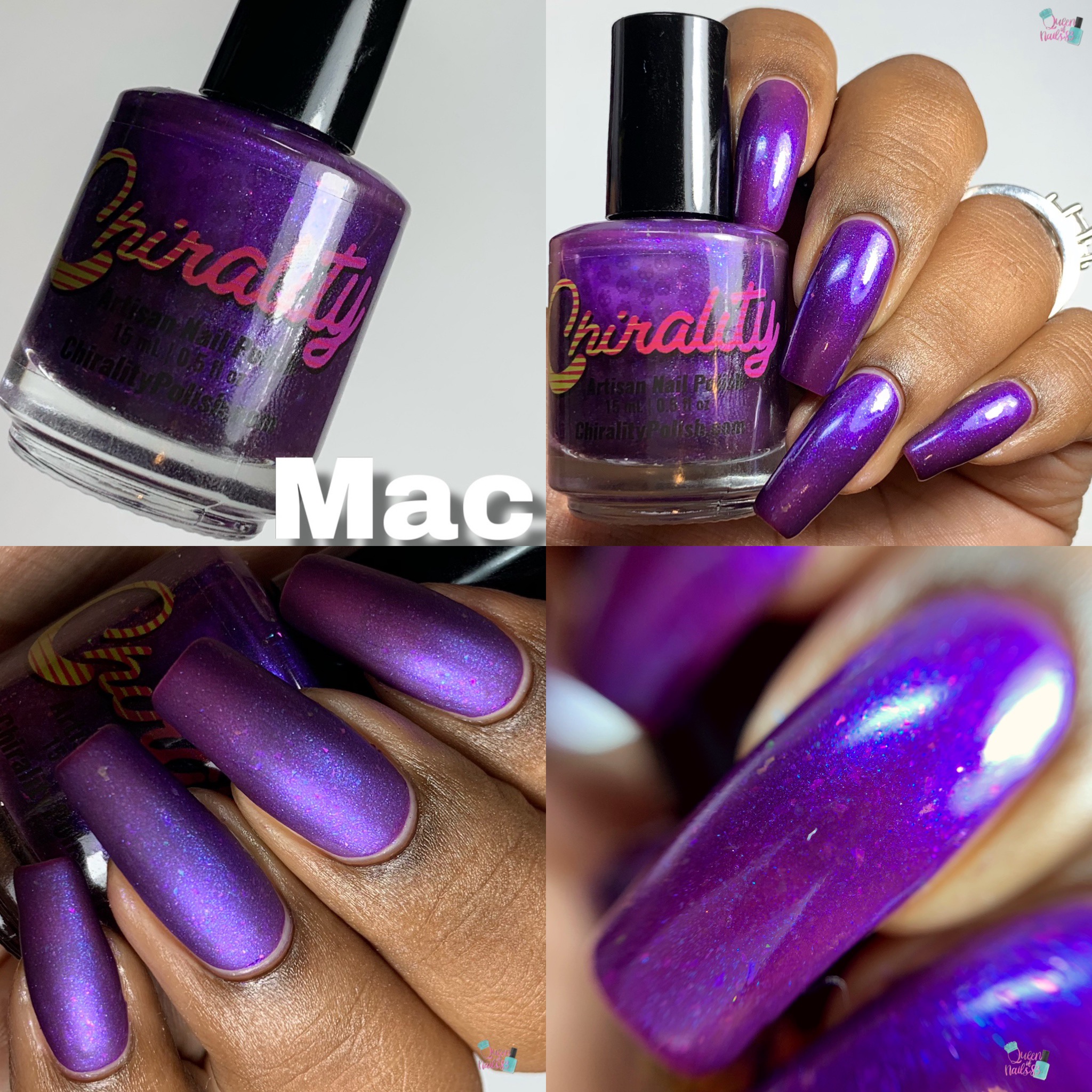 Colors by Llarowe – Fat bottom Girls
Theme: Freddie Mercury
A blackened base with strong gold to green shift and hints of blue and olive with prismatic holo flake
Price: $11 / Cap: NONE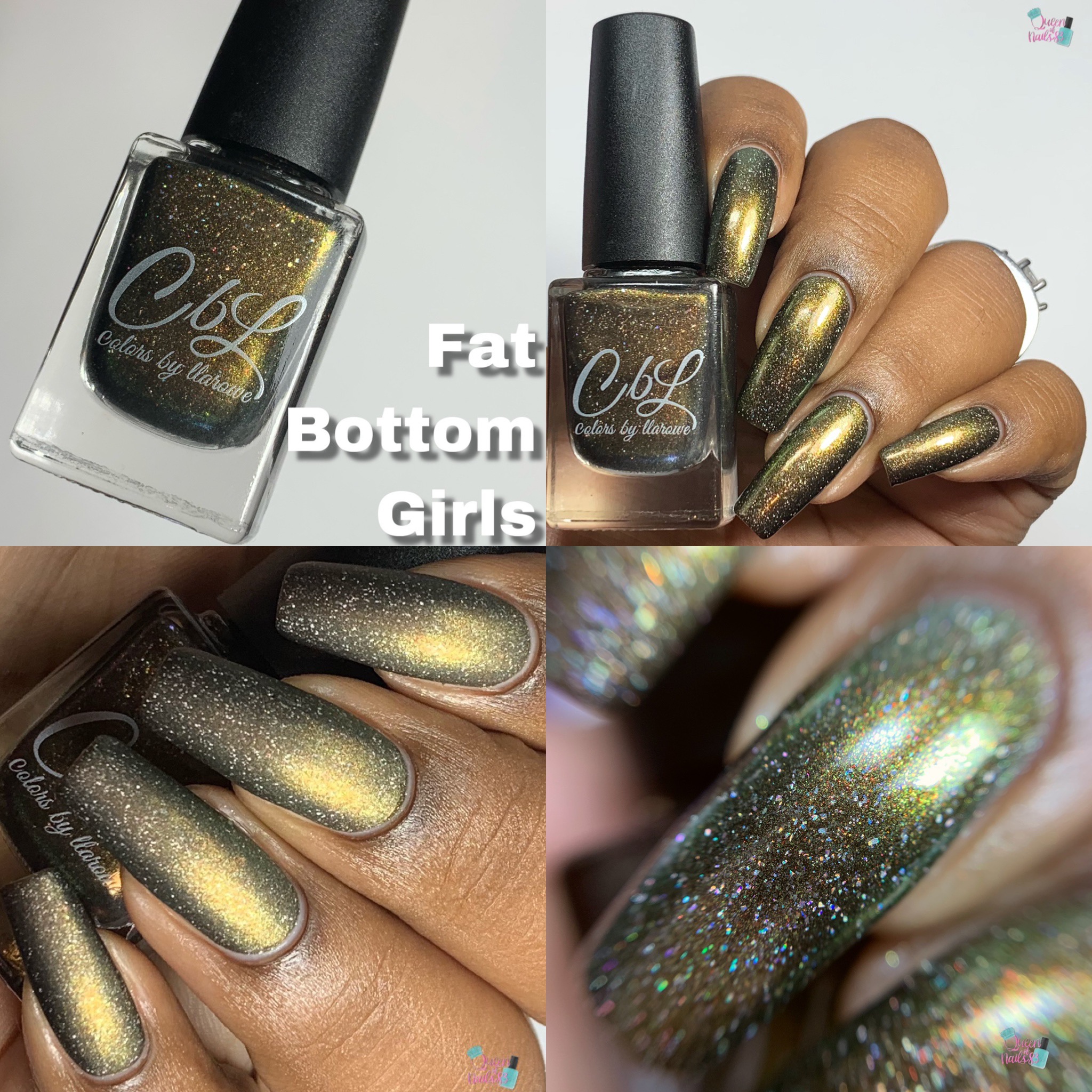 Ethereal Lacquer – Jupiter
Theme: Planets
A turquoise with a touch of grey crelly full of red, copper, gold to green ultra chameleon chrome flakies
Price: $12.50 / Cap: NONE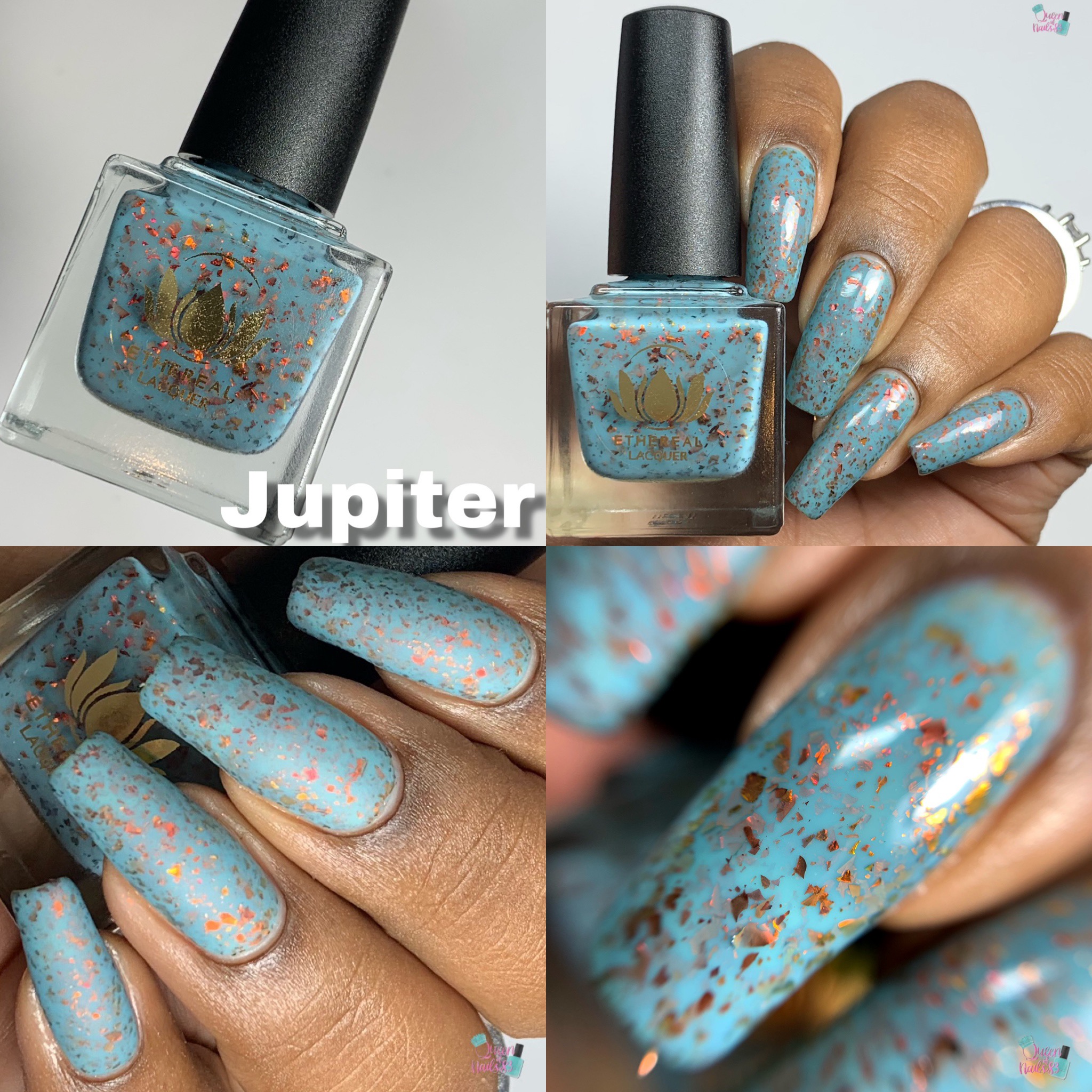 Femme Fatale Cosmetics – Bag of Bones (T)
Theme: Stephen King
A pink to plum-purple thermal with golden copper glitter in various sizes
Price: $14 / Cap: NONE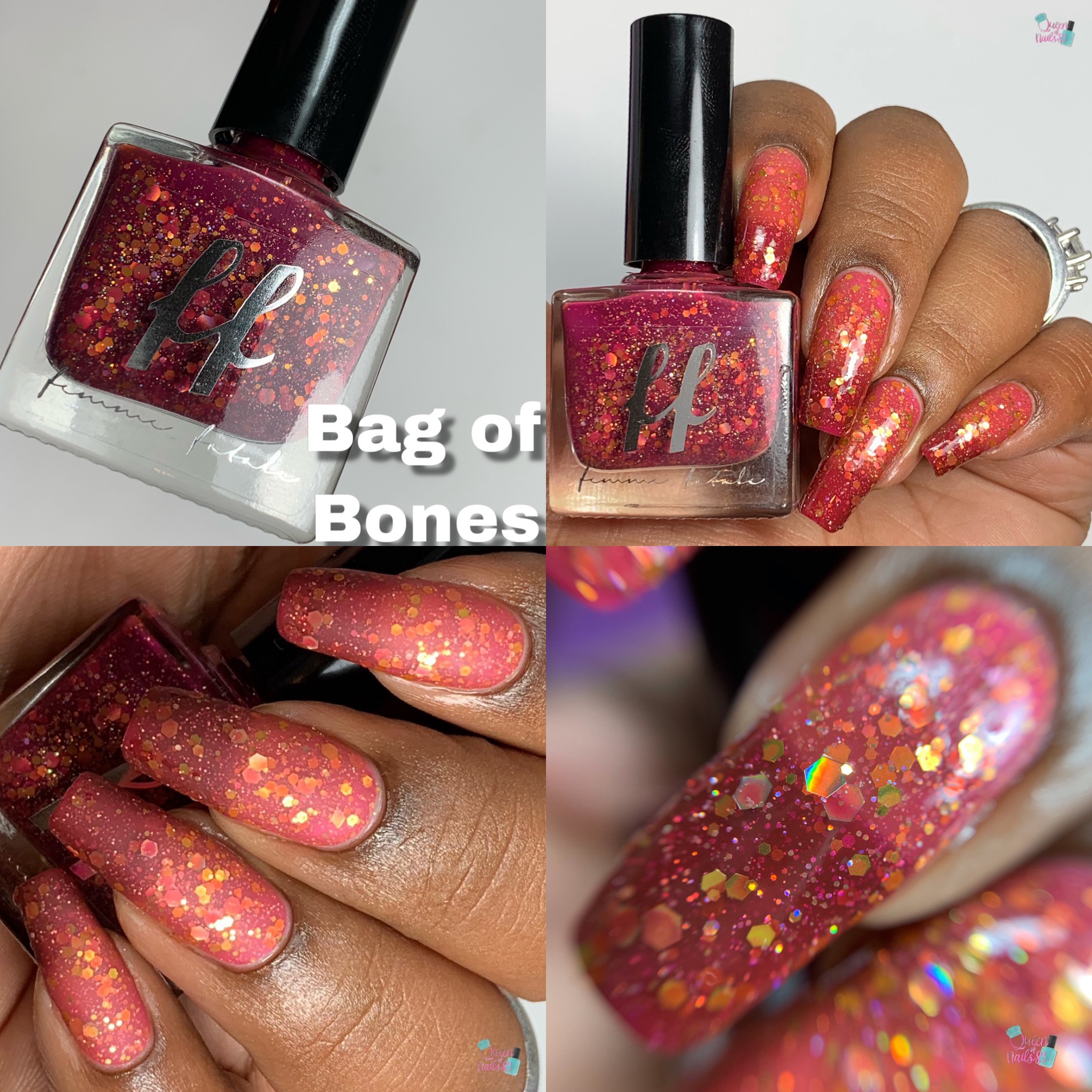 Grace-full Nail Polish – Orin
Theme: DC
A rich blue linear holo with aurora shimmer in green-blue-purple throughout. It shifts from blue to teal with purple undertones
Price: $12 / Cap: 80 bottles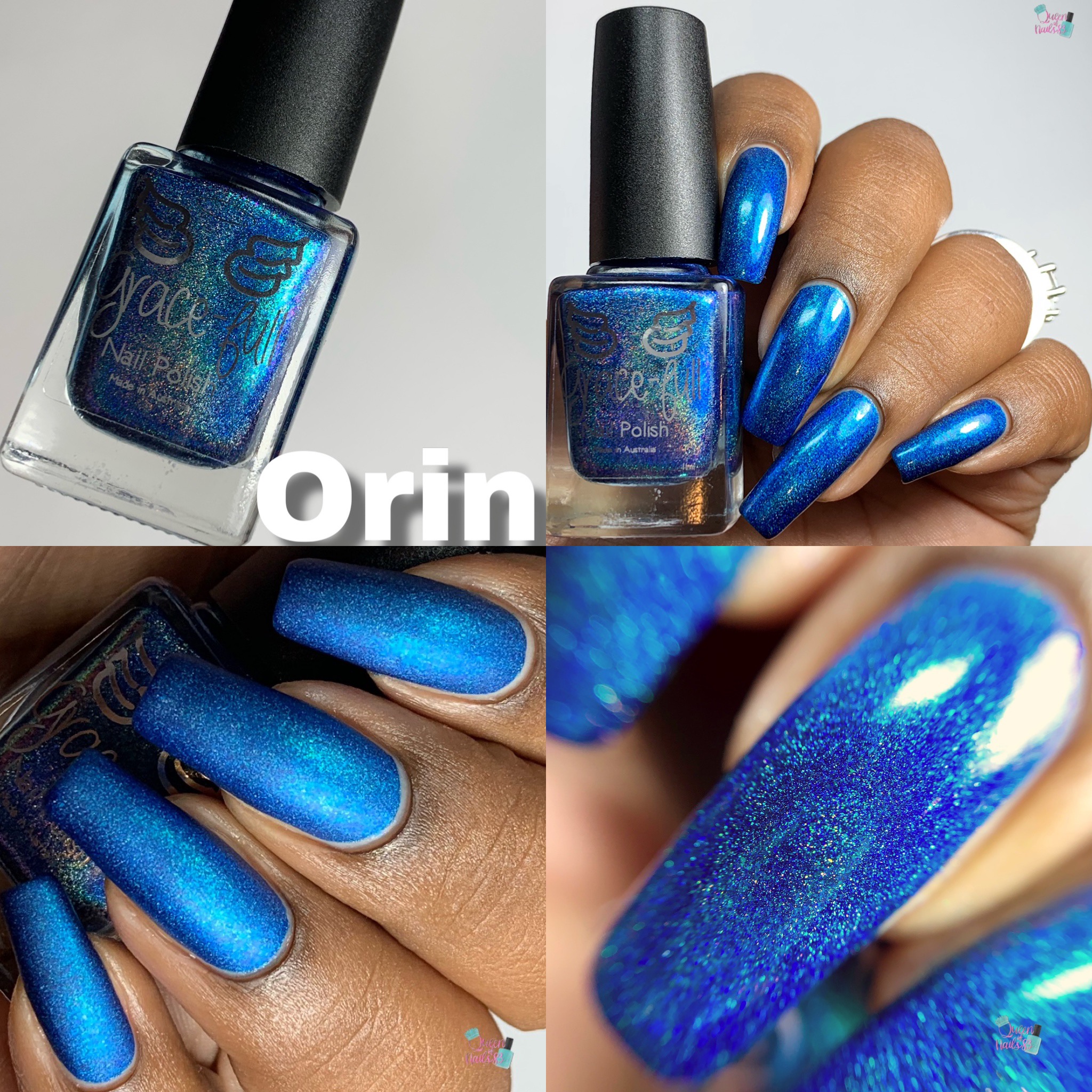 Illyrian Polish – Moonstone
Theme: Crystals & Opals
A milky baby blue tinted base with a teal/purple shimmer, teal/blue/violet iridescent flakes and teal/purple/pink ucc flakes
Price: $12.50 / Cap: NONE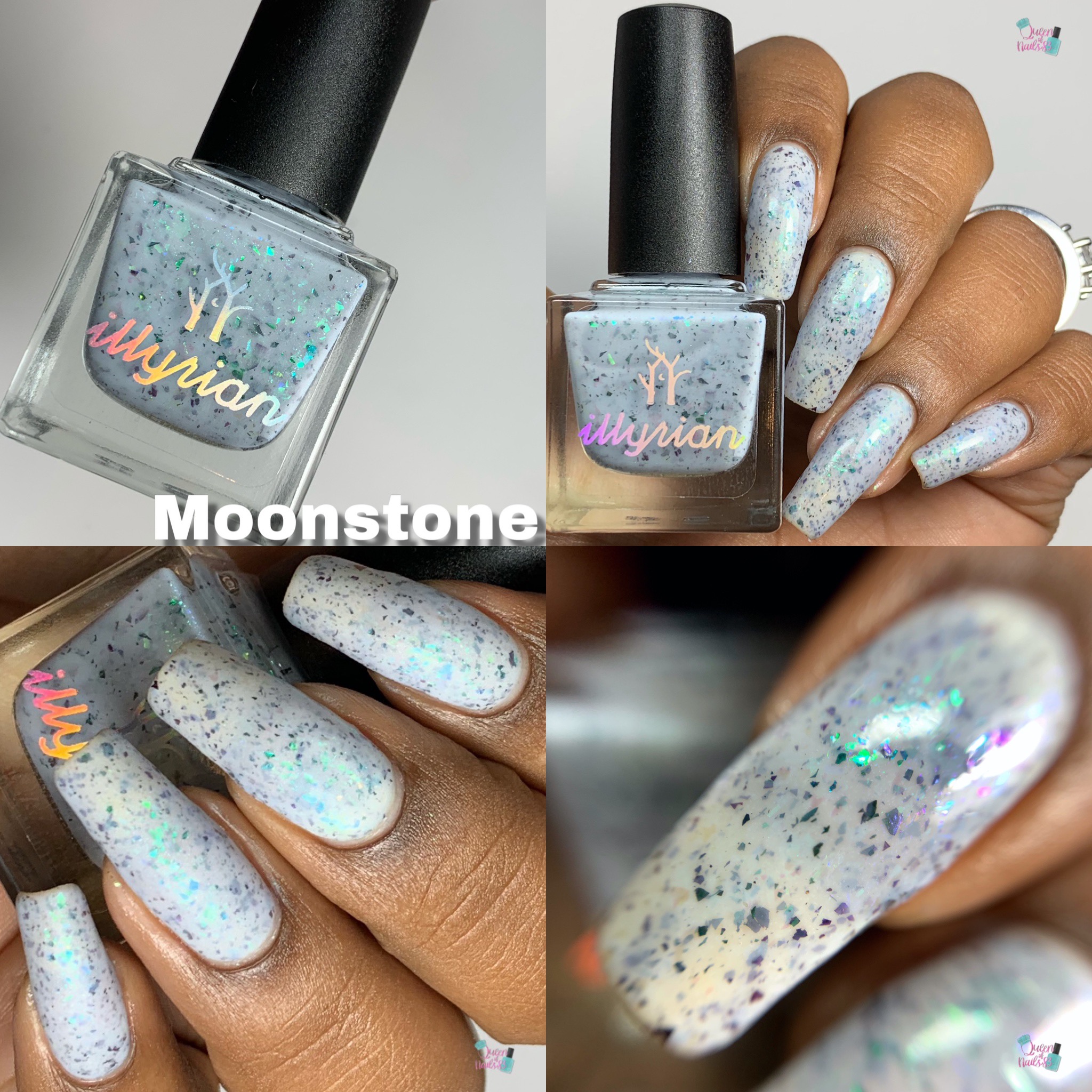 Kathleen & Co. Cosmetics – Tiger Beetle
Theme: In the Garden
A blue base with color shifting microflakies that shift from aqua/blue/purple with a sprinkling of holo
Price: $12 / Cap: 50 bottles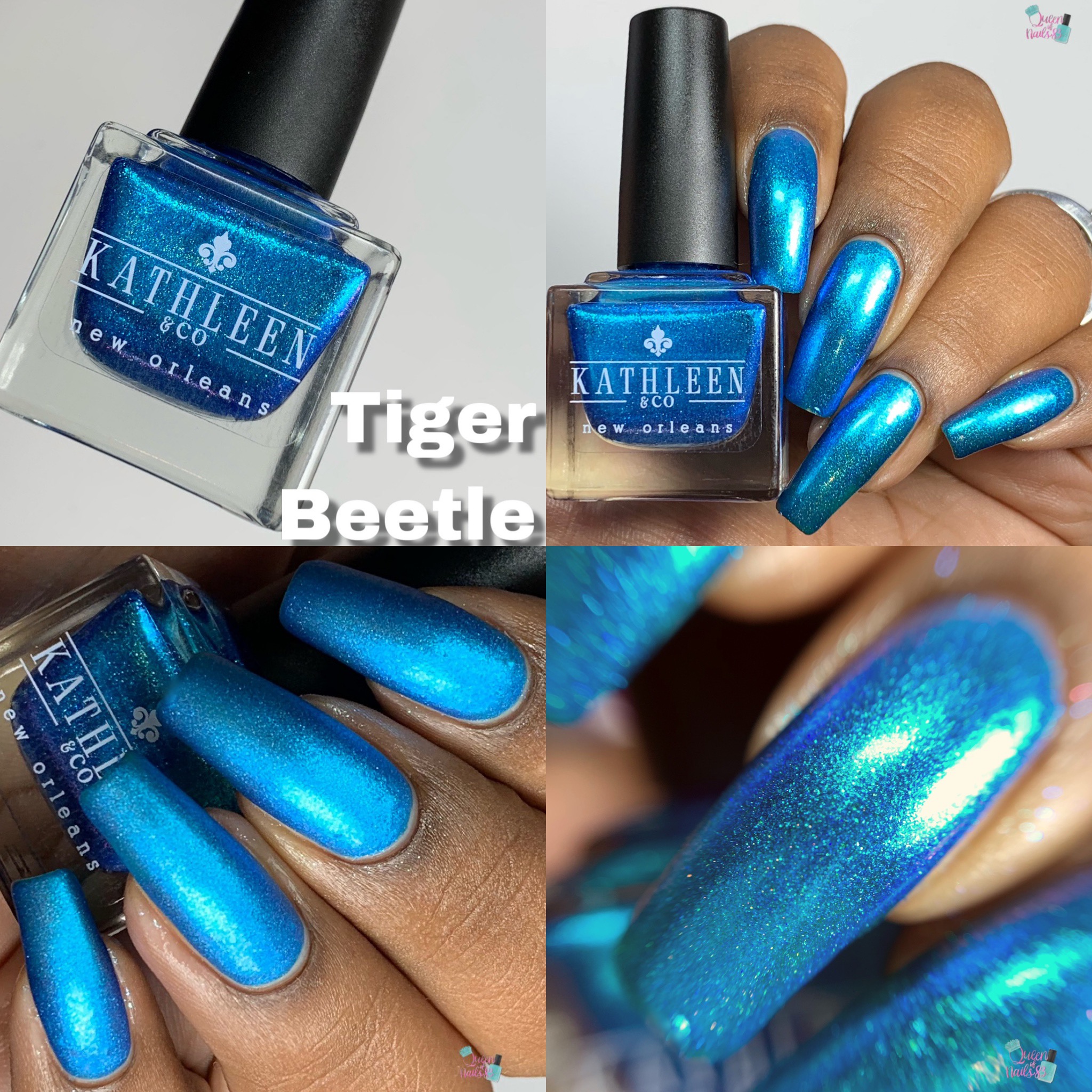 Lilypad Lacquer – Where's the Kaboom?
Theme: Looney Tunes
A green/red/orange multichrome scattered holo
Price: $15.50 / Cap: NONE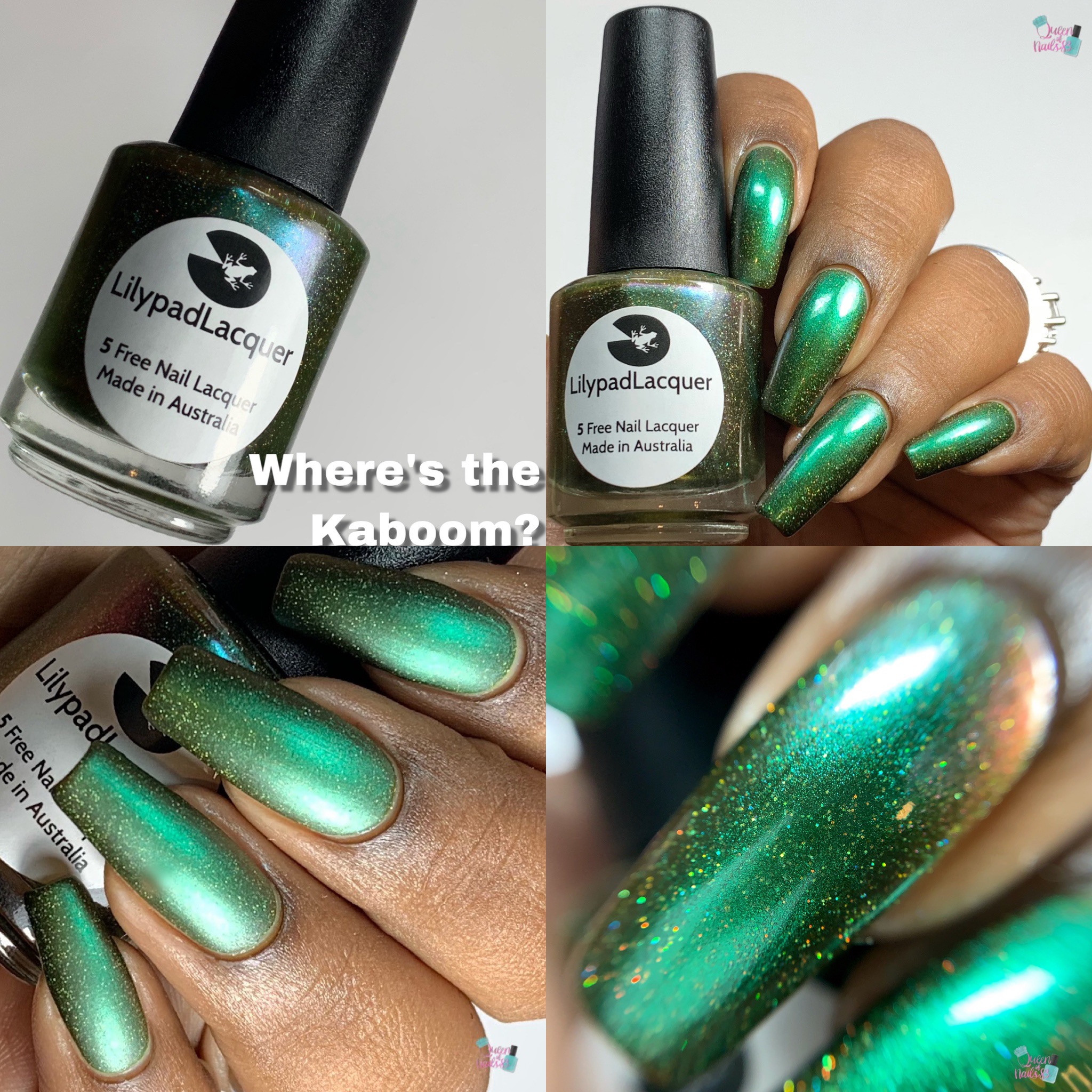 LynB Designs – You're My Mariah Carey
Theme: Schitt's Creek
A lush green base with blue to green to purple shifting shimmer, green and purple tiny iridescent flakies, and holo shimmer
Price: $13 / Cap: 90 bottles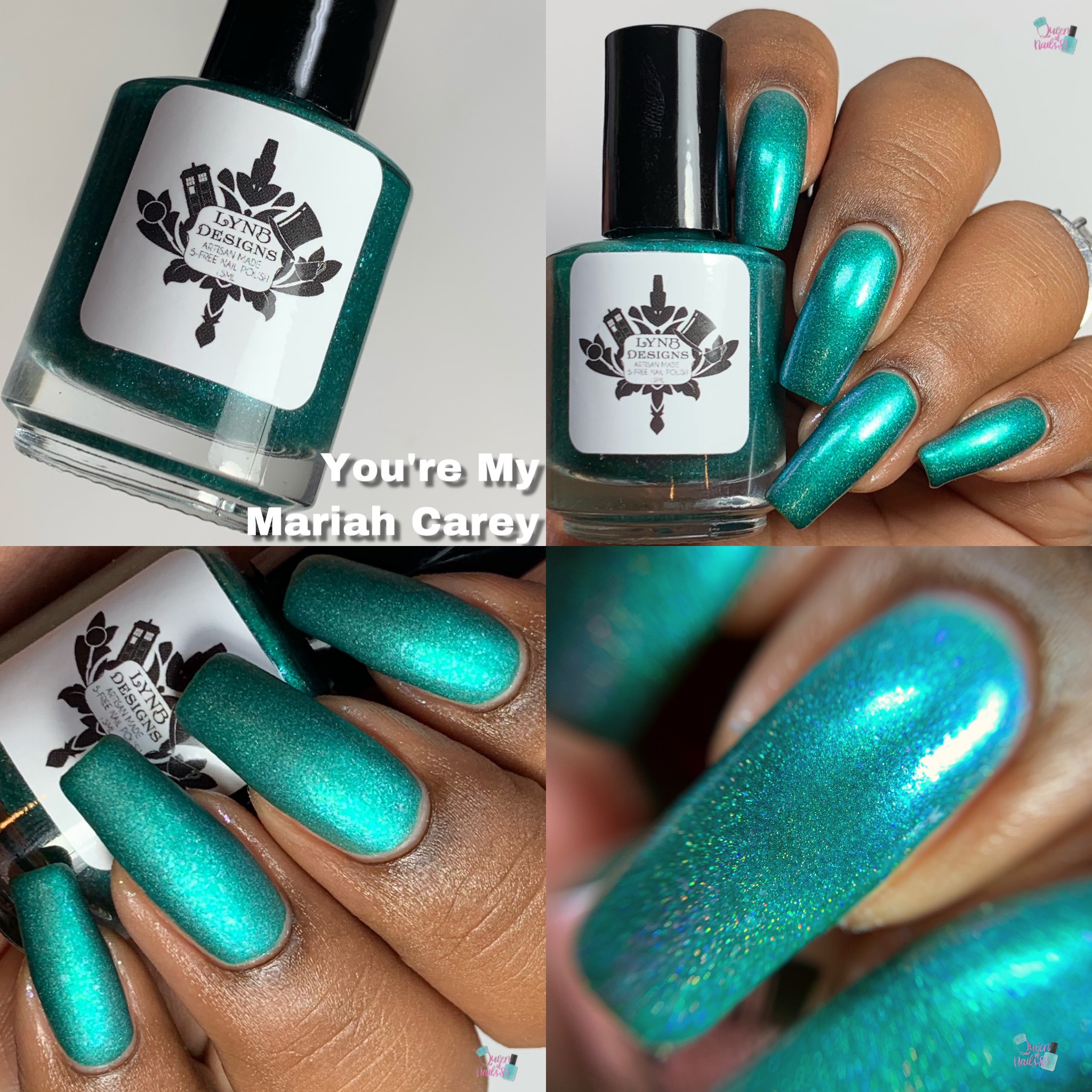 Ms Sparkle – Cinder
Theme: TY Beenie Boos
A turquoise green crelly with aurora pigments, holo sparkles, iridescent flakies and (holo) ucc flakies
Price: $11 / Cap: NONE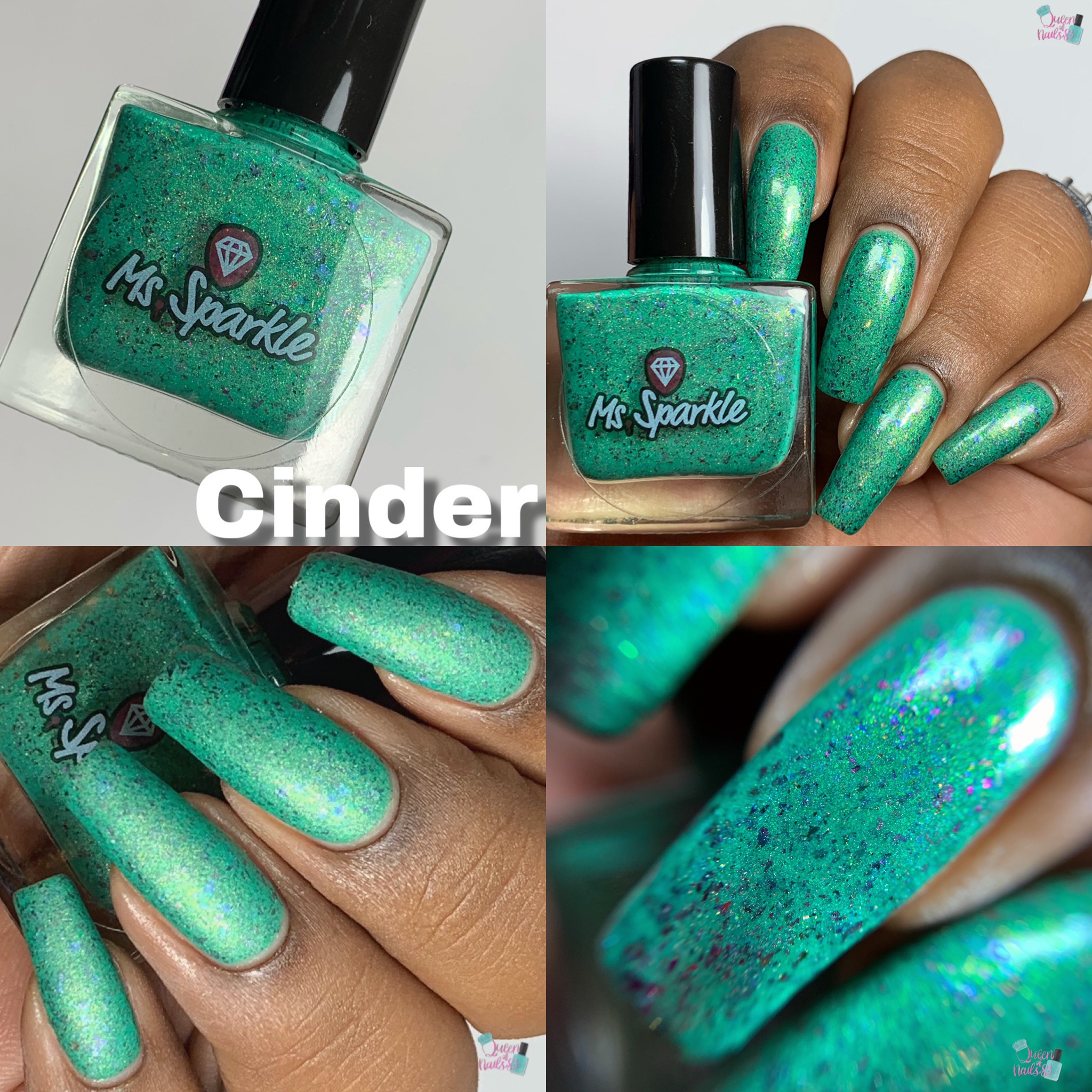 Music City Beauty – Funkytown
Theme: One Hit Wonders
A purple holo with green to pink multichrome shifting shimmer
Price: $12 / Cap: 100 bottles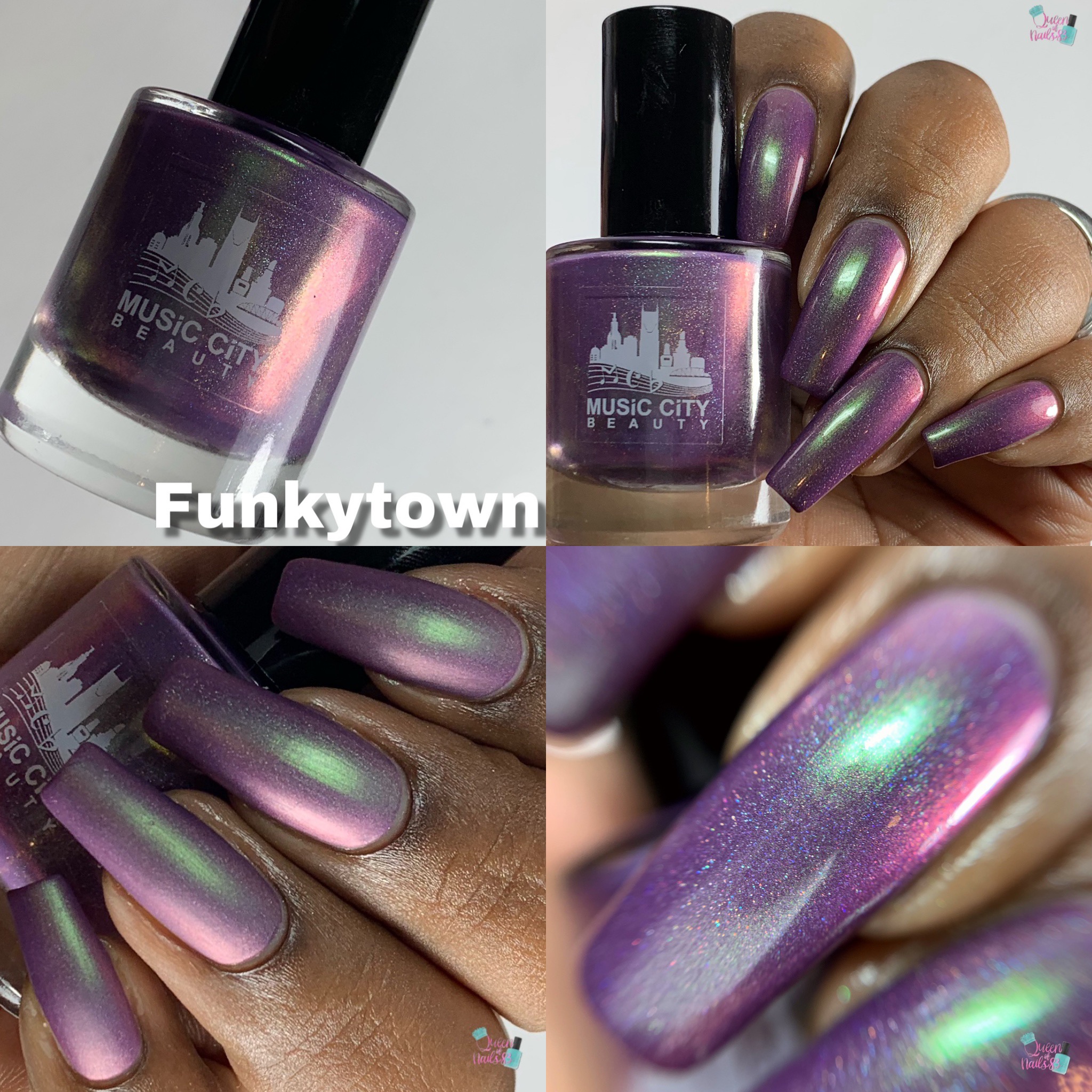 Necessary Evil – Whiskey? Rye not
Theme: Under the Microscope
A rusty reddish orange with scattered holo and purple, blue pink and green iridescent flakes
Price: $11 / Cap: NONE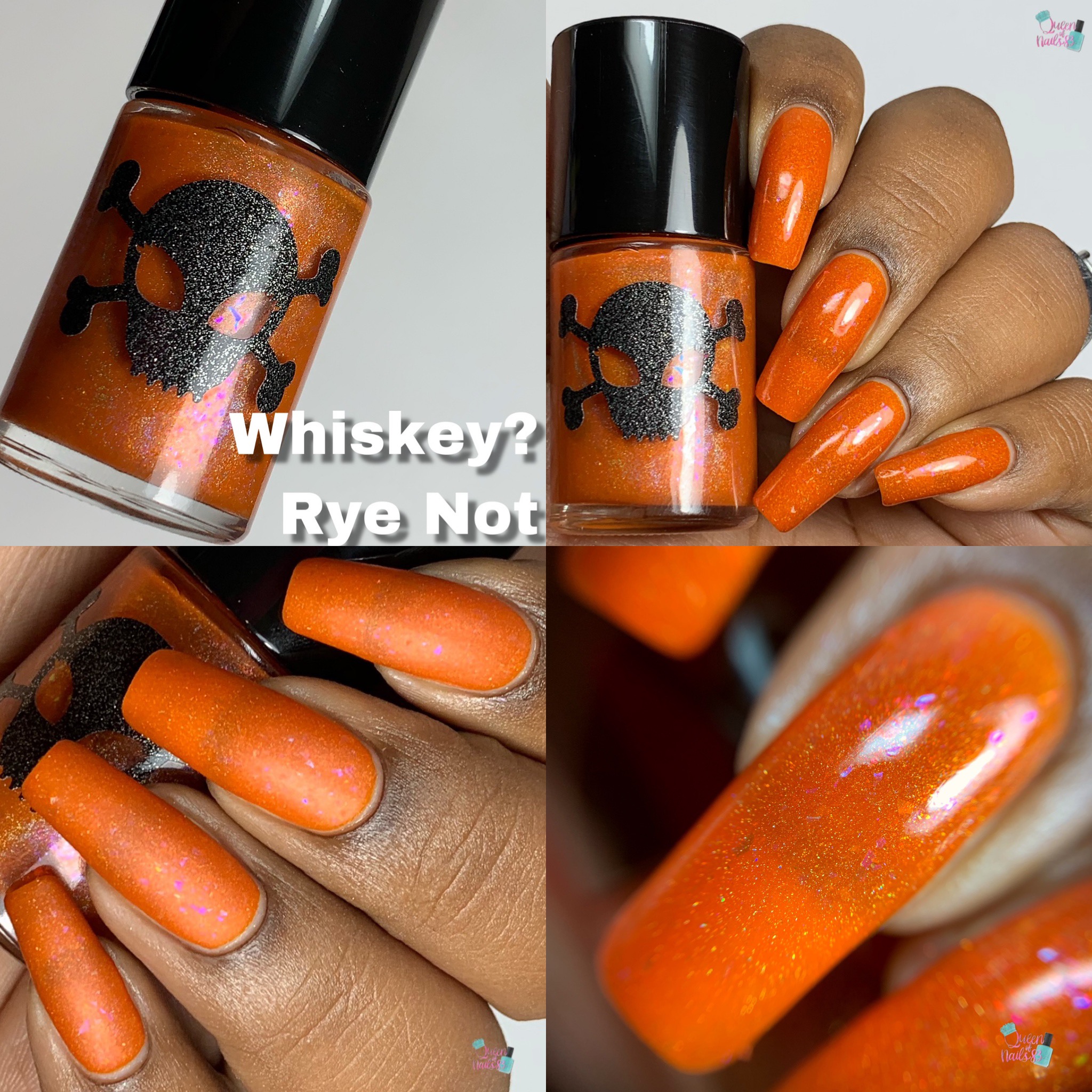 Quixotic Polish – Life is Beautiful
Theme: Graffiti Art
A purple holographic polish with a pink/blue shift
Price: $11 / Cap: NONE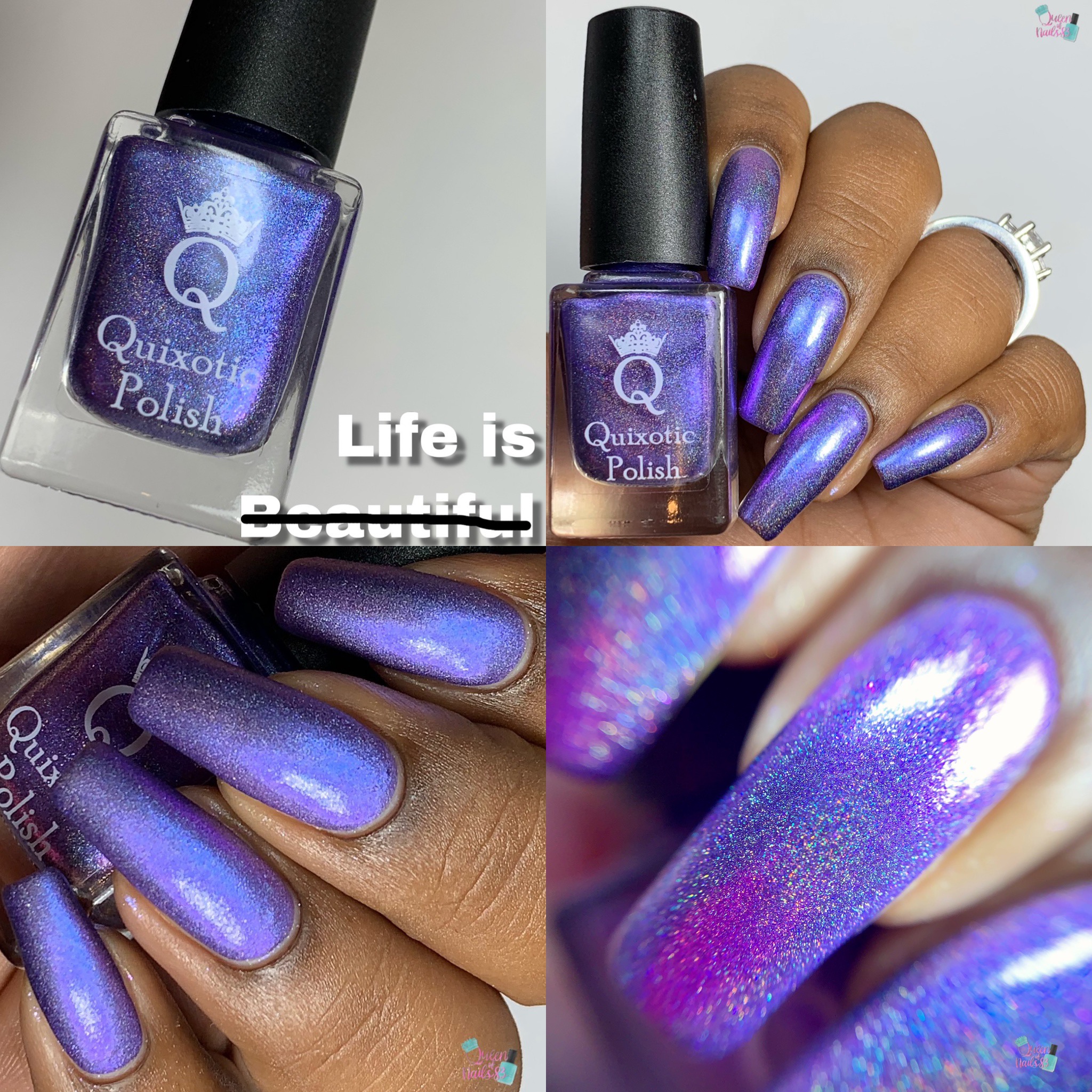 Rogue Lacquer – Erumpet
Theme: Fantastic Beasts
A dark gray scattered holo with red to green shifting shimmer and micro gold holo glitters
Price: $12.50 / Cap: 150 bottles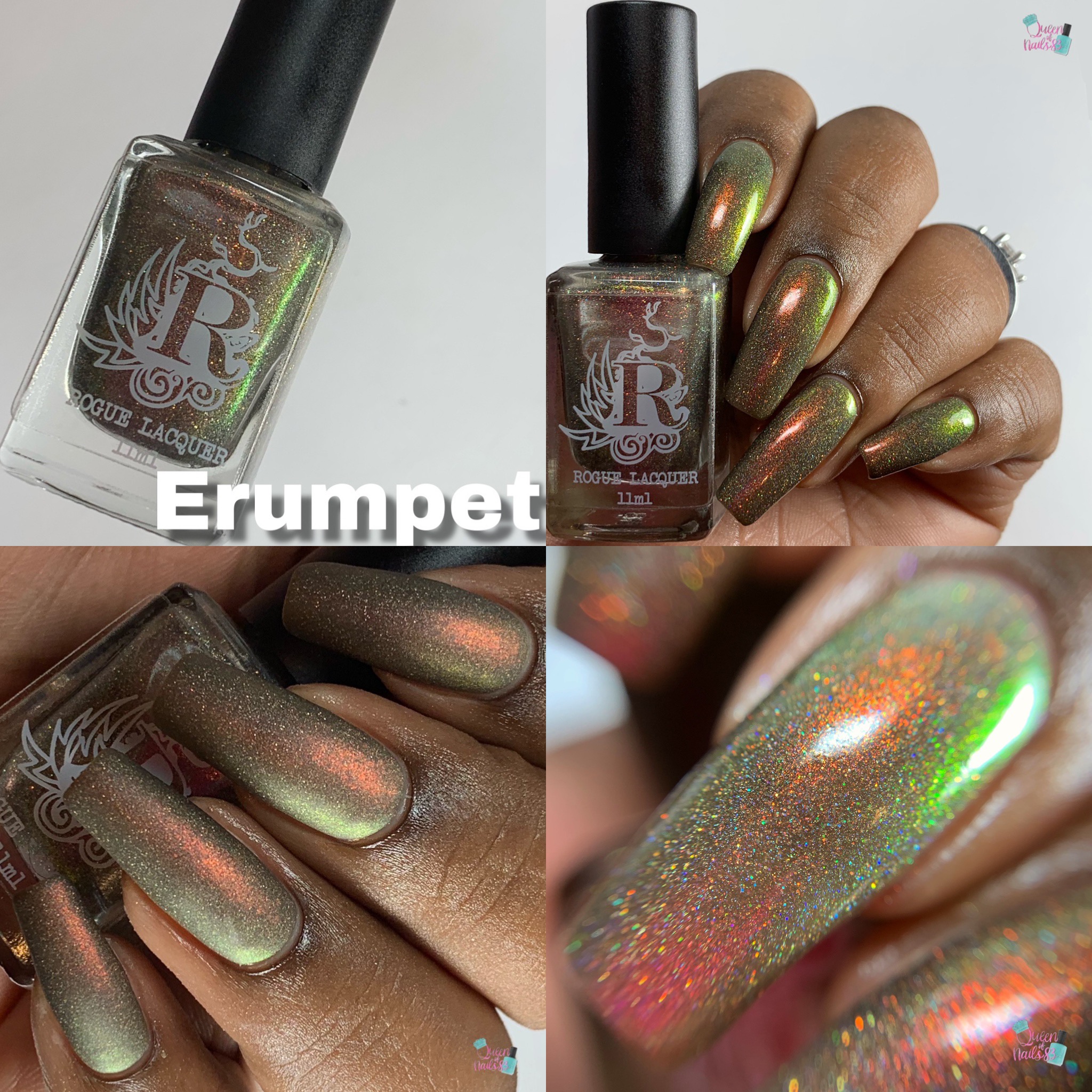 Wildflower Lacquer – Dazed and Confused
Theme: Dazed and Confused
A green to blue to purple multichrome with scattered holographic flakies, and a touch of green to gold shimmer
Price: $13 / Cap: 100 bottles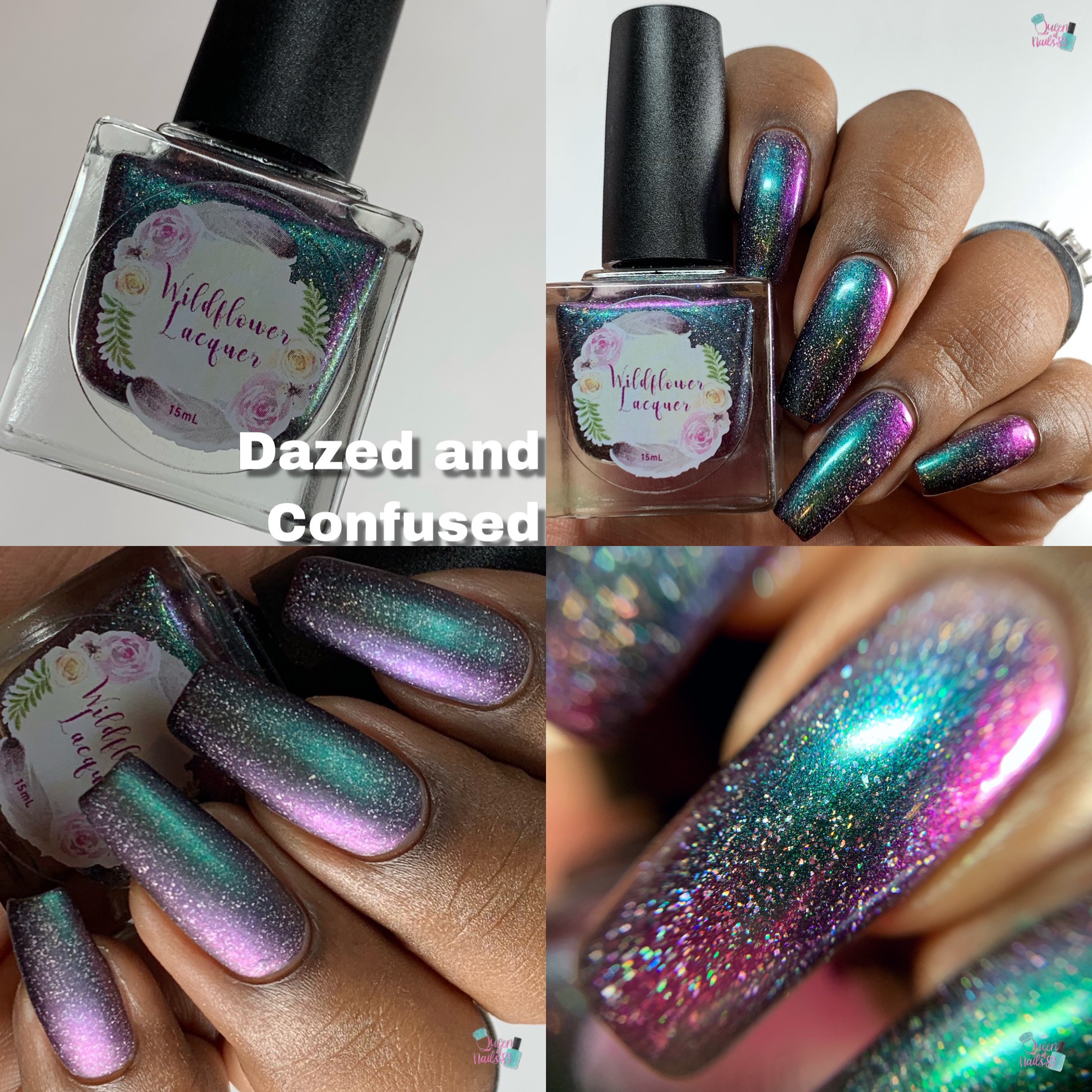 August 2019 Hella Handmade Creations (HHC)
Wednesday, August 14th at 12:01am EST to Wednesday, August 21st 11:59pm HST
Hella Handmade Creations
*Like, Comment and Subscribe*
Eat, Laugh, Polish, Repeat
Queen of Nails 83
💕