Hey Sugas!!! I hope you all had an amazing 4th of July! The Queendom was closed in observation of the holiday but I am back today with a scary, frightnening trio.
The not-so spooky pair, Sarah of Bees 🐝 Knees Lacquer and Lindsay of Night Owl 🦉 Lacquer combined hair- raising forces with special guest maker Meagan of Ethereal Lacquer and created a horrendously, eerie trio inspired by the original book, Scary Stories to Tell in the Dark, containing 29 stories, including "The Big Toe", "The Thing", "The Haunted House", "The Hearse Song", "The Dead Man's Brains", "The Hook", "High Beams", "The Babysitter", "The Viper", and "The Ghost with the Bloody Fingers". But do you know???… The 1981 classic has been adapted into a made for TV movie airing in Aug on the USA network.
And to elevate your spine-chilling mani to the next level, add on the waterslide decals from Ribbits Stickits.
If you scare easy like me, you'll want to sleep with the lights on tonight!
Enjoy….
 **All swatches are done using liquid latex Peel-off Base Coat, (glossy, QDTC and Matte Top Coat. Swatch photos are taken using artificial lights.**
Ethereal Lacquer – Scarecrow
A dusty and deepened teal, almost grey base with iridescent color-shifting flakies that shift from red, copper gold and green and a heavy dose of complimenting aurora shimmers.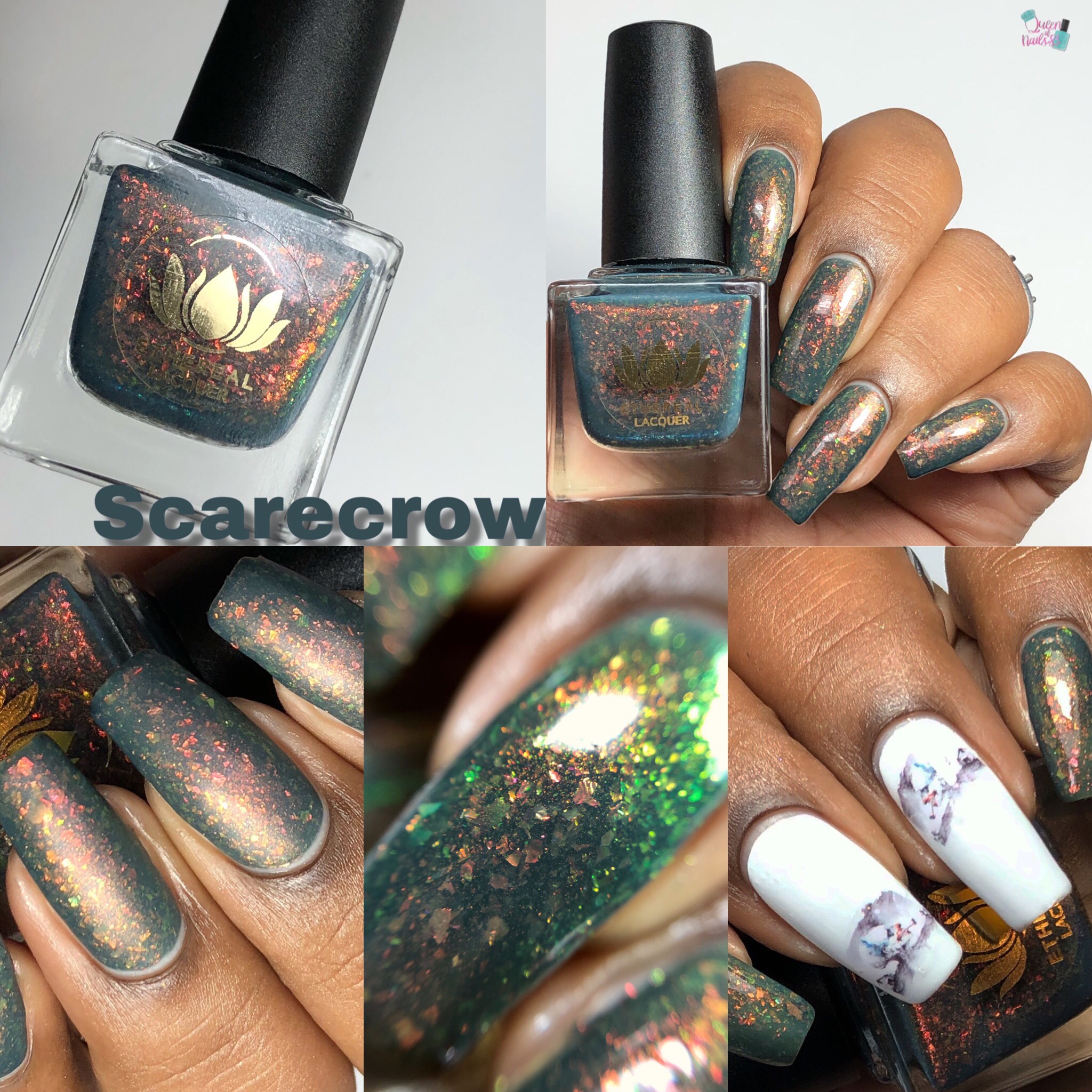 Night Owl Lacquer – High Beams
A blackened purple jelly with lots of purple/red/copper crystal chameleon flakes, platinum flakes and silver holoflake glitter.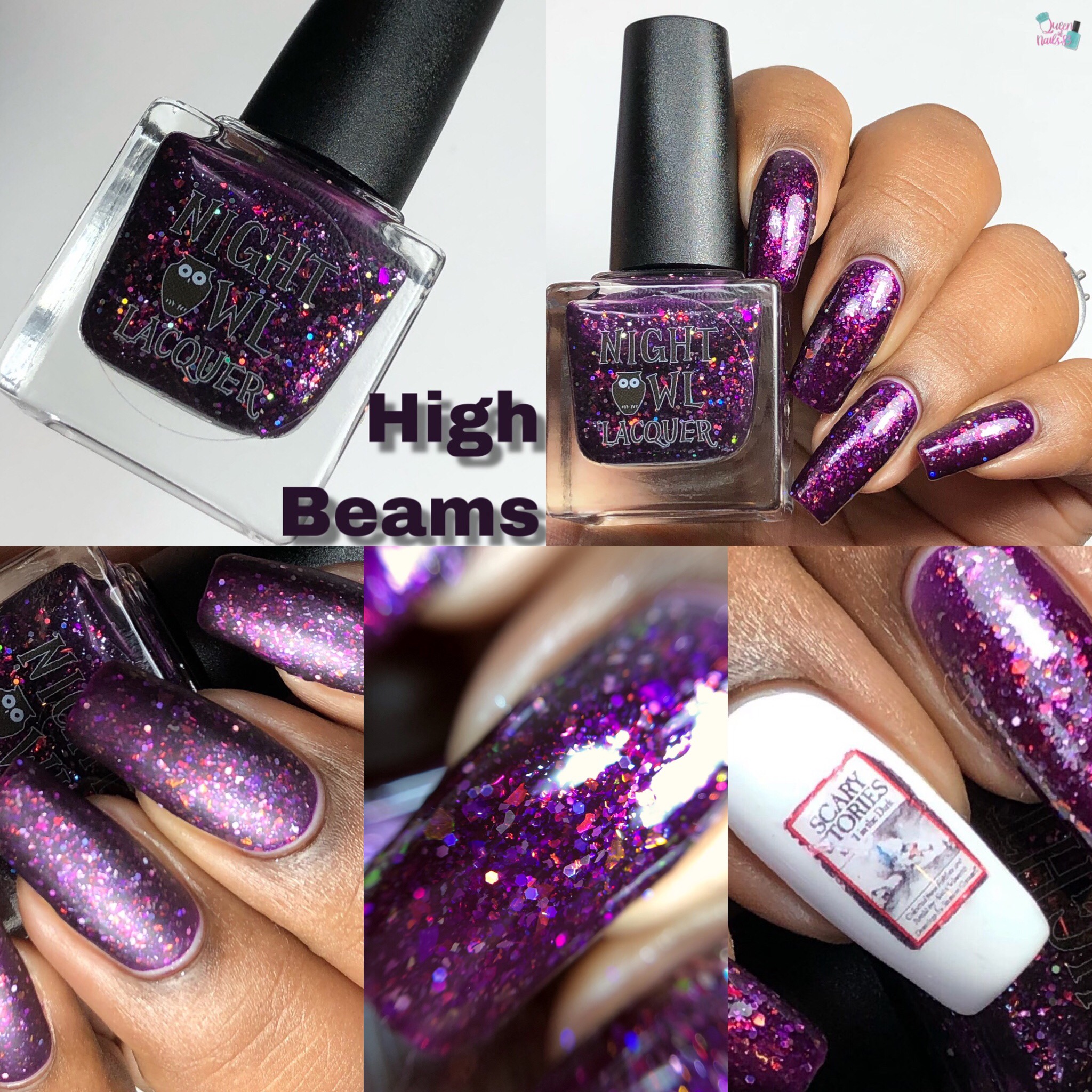 Bee's Knees Lacquer – Pale Lady
A pale griege polish with eerie teal shimmer, scattered holo, and multichrome flakes.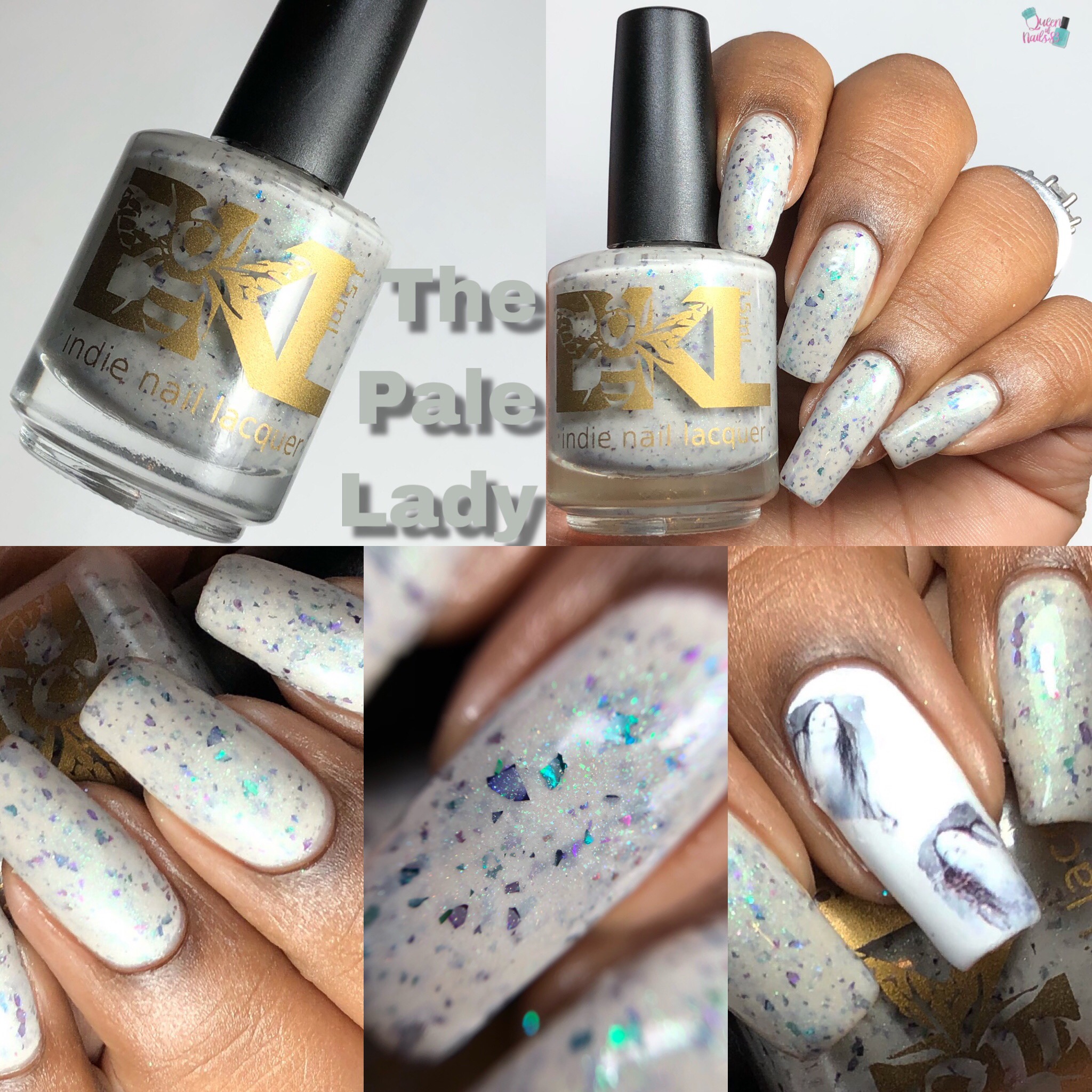 July Fandom Flakies Box – Scary Stories to Tell in the Dark
Opacity: swatch shown with 3 thin, easy coats
Price: $30+shipping (polishes only). Add on a set of waterslide decals from Ribbits Stickits for $5
Availability: Friday, July 12th at noon et and ends Friday, July 19th at 11:59pm et
Fandom Flakies
*Like, Comment and Subscribe * Like, Comment and Subscribe * Like, Comment and Subscribe*
Eat, Laugh, Polish, Repeat
Queen of Nails 83

💕