Hey Sugas!!! Let's give it up for Sparkle & Shine!!!! This is the first collab of Sparkle & Shine, a bi-monthly collab featuring Nailed it and Wildflower Lacquer, with occasional guest makers. The guest maker for July is Virginia of Pretty Beautiful Unlimited and the theme…. alcoholic drinks!
Please note, Sparkle & Shine will be straight pre-order! Therefore, orders will NOT ship out for approx. 2-3 weeks after closing date on the 19th.
Before we get into the polish, I thought it was only fun and appropriate to share the recipes from Tipsy Bartender for these adult libations which inspired the trio!
Pretty Beautiful Unlimited – inspired by Midori Sour
1 ½ oz. (45ml) Melon Liqueur
1 oz. (30ml) Vodka
2 oz. (60ml) Sour Mix
1 ½ oz. (45ml) Lime Juice
Dash Lemon Lime Soda
Garnish: Lime Wheels, Cherry
Wildflower Lacquer – inspired by Caribbean Storm
Pink Layer:
1/2 oz. (15ml) Pineapple Rum
1/2 oz. (15ml) Mango Rum
1/2 oz. (15ml) Banana Rum
2 oz. (60ml) Calypso Triple Melon Lemonade
Purple Layer:
1 oz. (30ml) Blue Curaçao
1/2 oz. (15ml) Everclear
2 oz. (60ml) Lemon Lime Soda
Nailed it – inspired by Shark Attack
1 oz. (30ml) Blueberry Vodka

1 oz. (30ml) Hypnotiq

1 oz. (30ml) Blue Raspberry Vodka

1 oz. (30ml) Blueberry Schnapps

2 oz. (30ml) Sweet & Sour

1 oz. (30ml) Simple Syrup

Gummy Sharks
Whether polish, drink or both at hand, your summer has never looked so refreshing! Please drink responsibly!
Enjoy…
**All swatches are done using liquid latex peel off base coat, glossy, QDTC and matte topcoat. Swatch photos are taken using artificial lights.**
Pretty Beautiful Unlimited – Midori Sour
A neon green crelly with Aurora pigment, scattered holographic pigment and micro flakies, a mix of 3 UCC flakies and 3 crystal chameleon flakies and topped with silver holographic and iridescent chameleon micro glitters.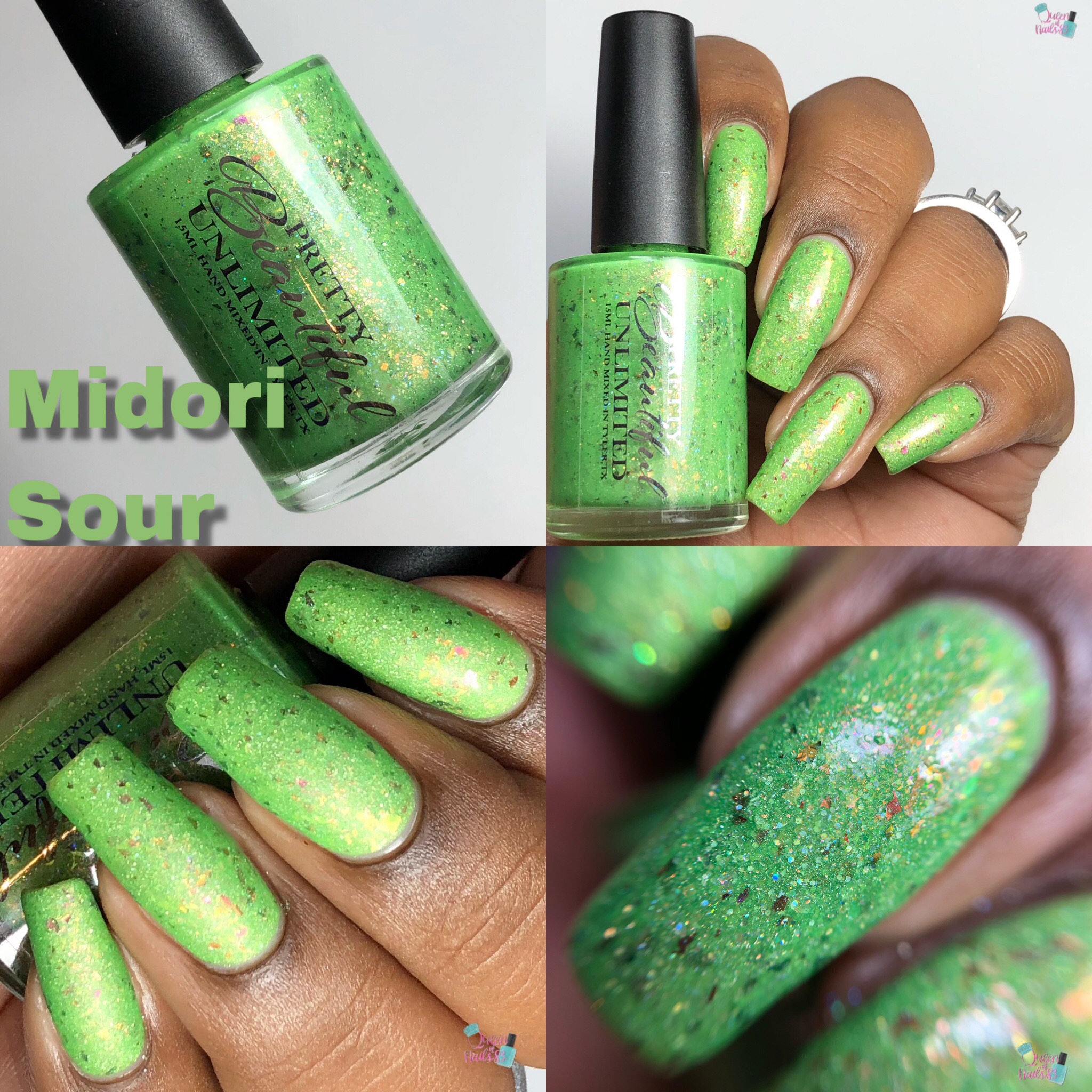 Wildflower Lacquer – Caribbean Storm
A blurple base with red to gold aurora shimmer, scattered UCC flakies that shift from purple to blue, pink to gold to purple crystal flakies, and scattered holographic sparkle.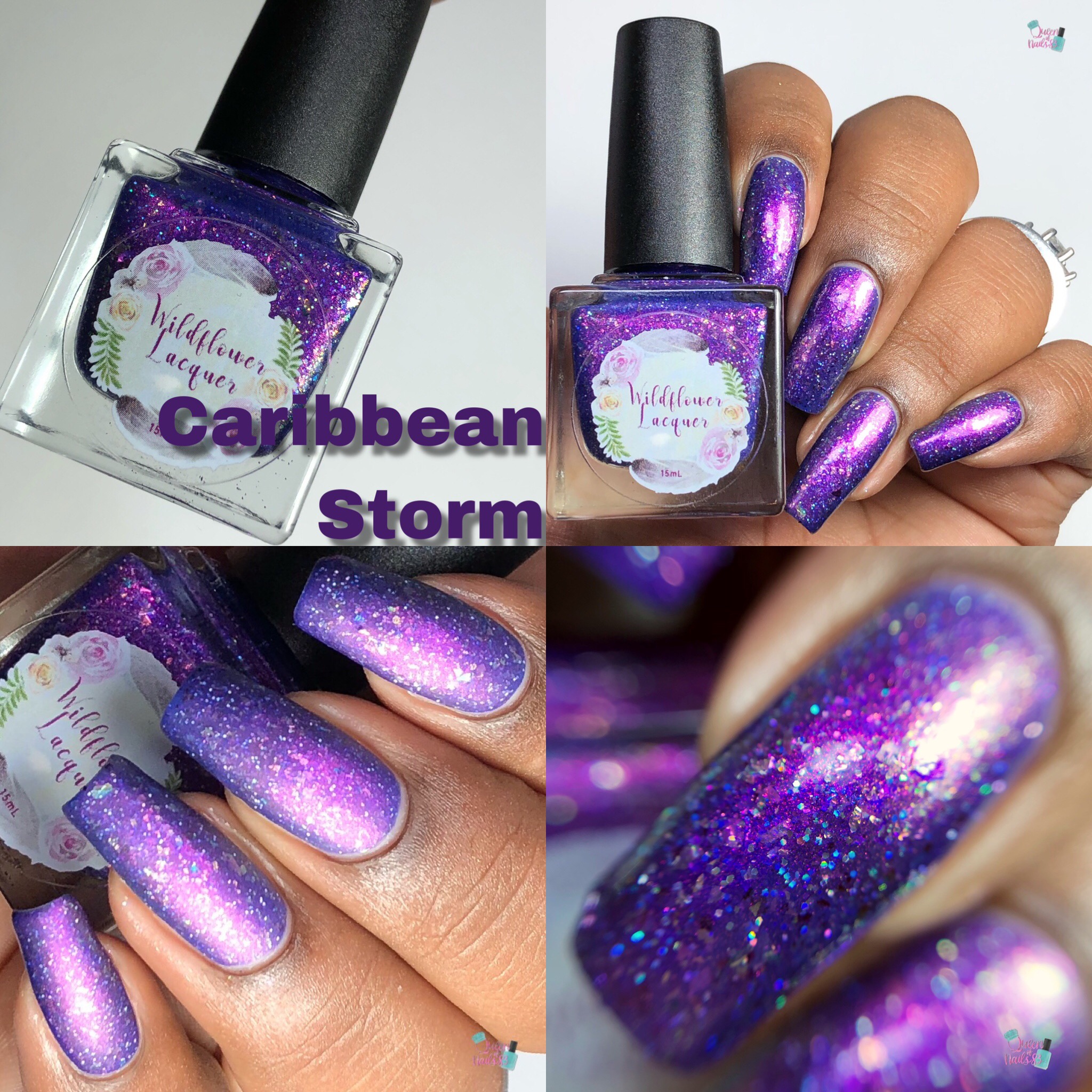 Nailed It – Shark Attack
A blue base with a gold to rose shifting shimmer, blue/purple crystal flakies, purple/blue UCC flakies, and a scattered holo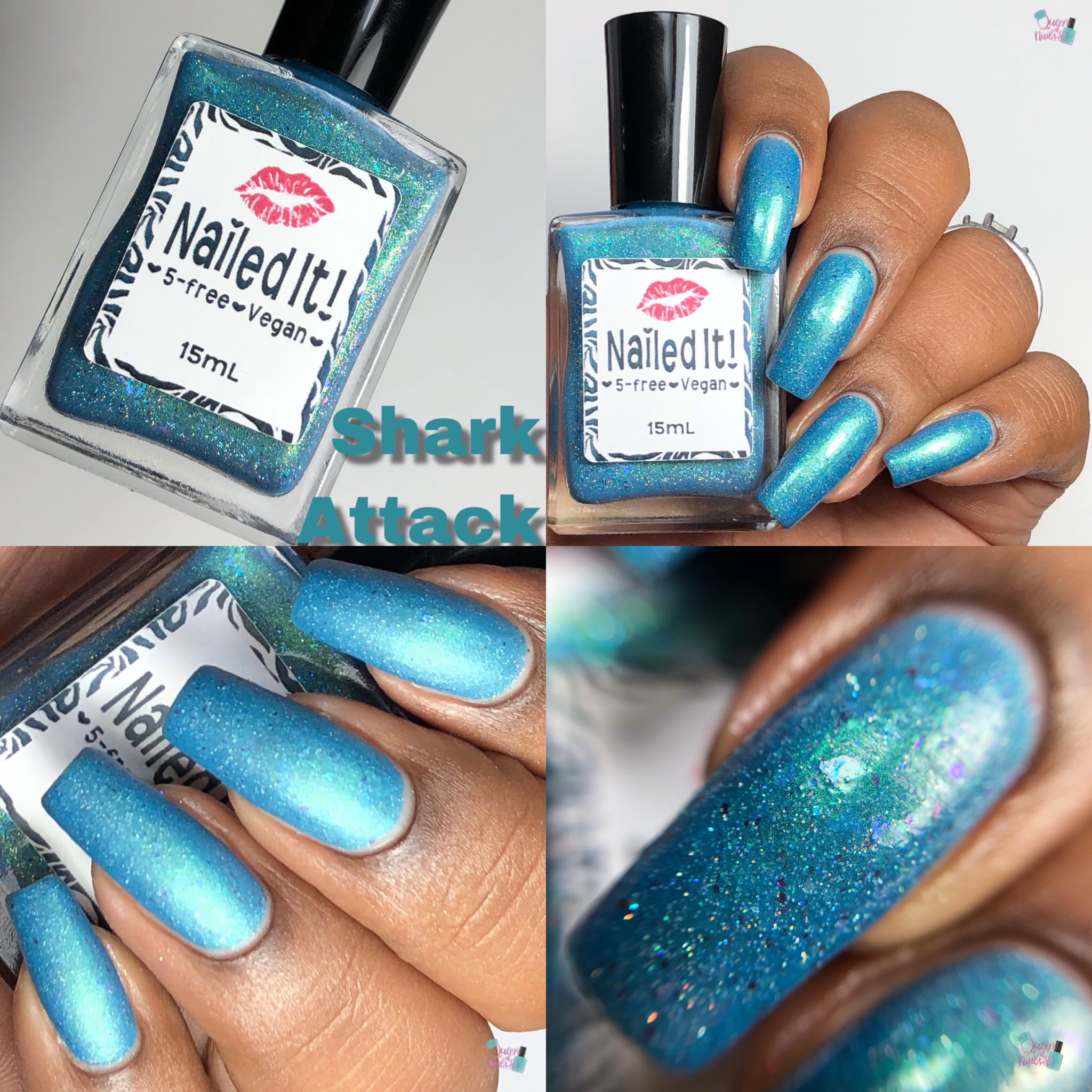 Sparkle and Shine – Alcoholic Drinks
Overall: I thought this trio was…. tasty! I love the theme and inspiration behind this trio and think the colors chosen are a great summertime pallet. No issues to report!
Opacity: swatches shown in 2 thin coats
Price: $30 + shipping
Availability: Friday, July 12th at 7PM CT
Sparkle and Shine
*Like, Comment and Subscribe*
Eat, Laugh, Polish, Repeat
Queen of Nails 83
💕