Hey Sugas!!! No sun too hot, no rain too torrential, no snow too blizzardly that will stop Polish Pickup. For June makers have created offerings inspired by weather phenomenons. 
This spring season, the Mid-Atlantic area has had an onslaught of rain causing my yard to grow weeds like no other. So this weekend… yard work. This past Thursday, my area had a tornado warning causing delays to school dismissal. But Saturday it felt like the thermostat had been turned all the way up. The heat was crazy and a perfect day for the pool.
These weather phenomenon themed polish/products are right on time!!
Enjoy…
**All swatches are done using liquid latex Peel-off Base, glossy, QDTC and matte topcoat. Swatch photos are taken using artificial lights.**
Alter Ego

 – Twin Waterspouts
Maker: Cynthia
Inspiration: Twin Waterspouts photographed in Lake Michigan by a Kenosha WI police officer
Description: A murky blue/green/grey with 2 different size holo
Price: $9 / Cap: NONE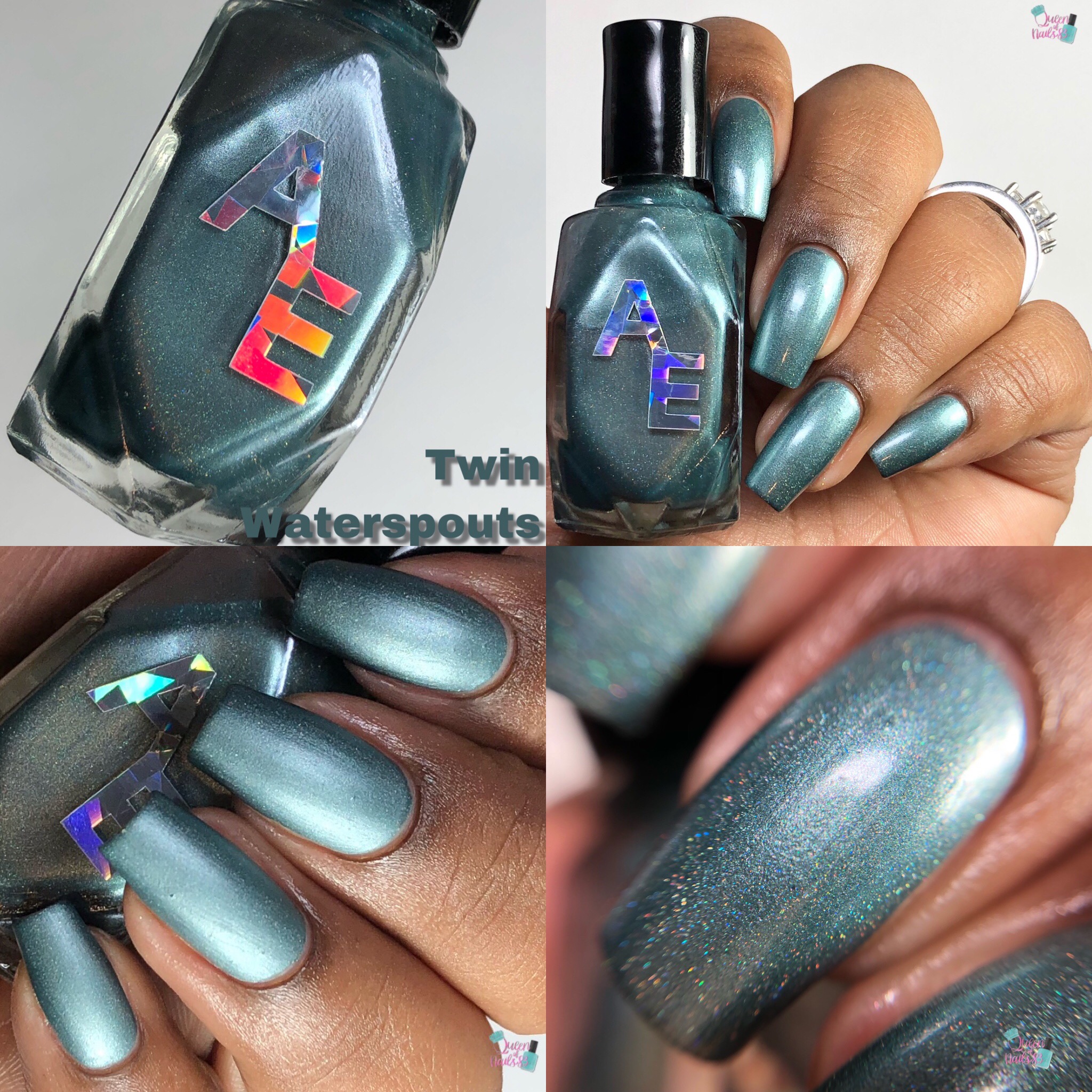 Polish Remover Pump & Acetone Additive
Twin Waterspouts – Acetone additive smells like the Midwest after a heavy rain. For best results, shake well before using. It contains glycerin, vitamin E oil, fragrance oil & water.  Polish remover pumps are wonderful and deliver the desired amount of remover resulting in savings.
Price: $8 for both items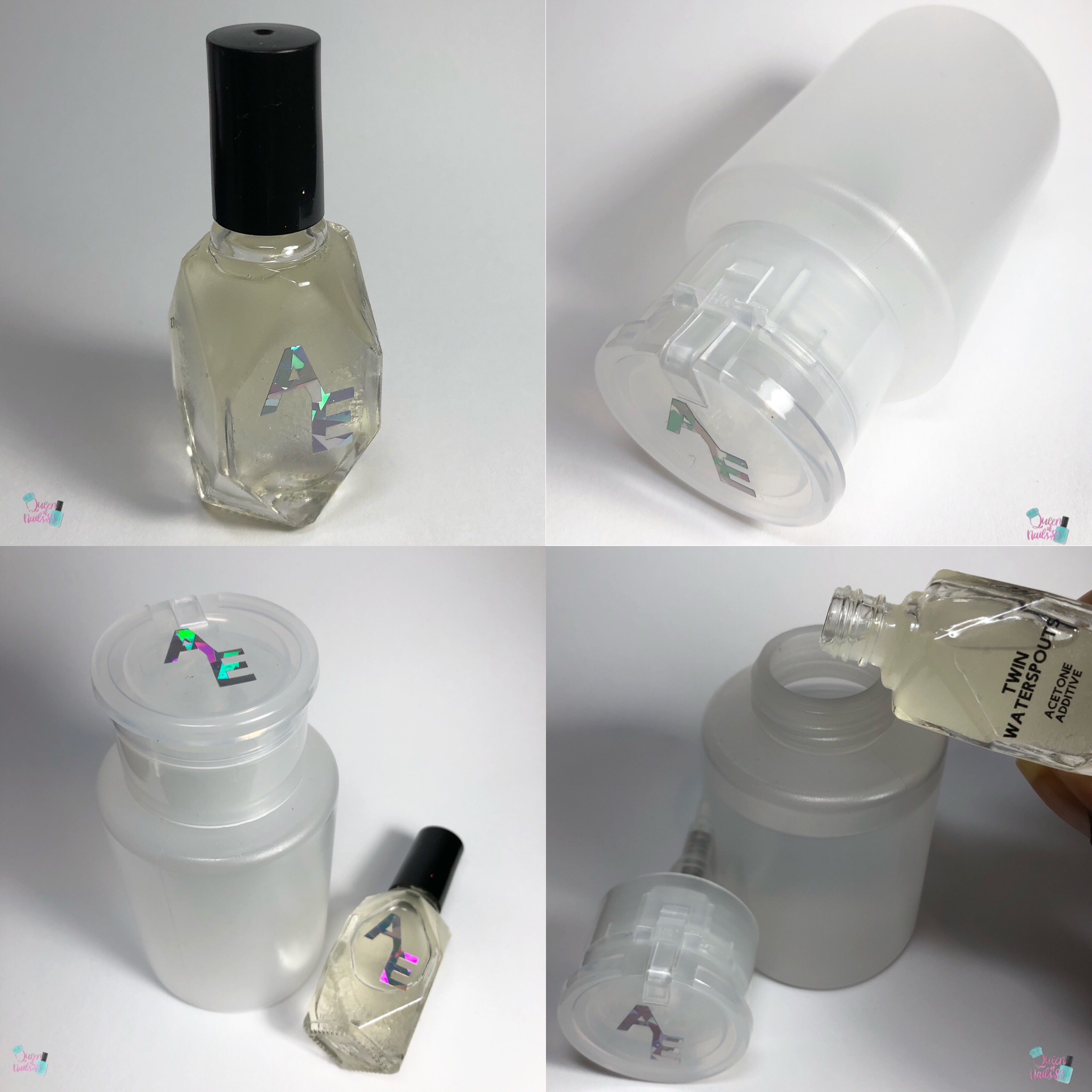 Maker: Taryn
Inspiration: sea smoke, a weather phenomena that takes place when very cold air moves over warmer water.
Description: A gray crelly base packed with orange/pink/gold iridescent flakies, blue glass fleck flakies, and micro/small glitter in navy blue, black, and gray
Price: $12 / Cap: NONE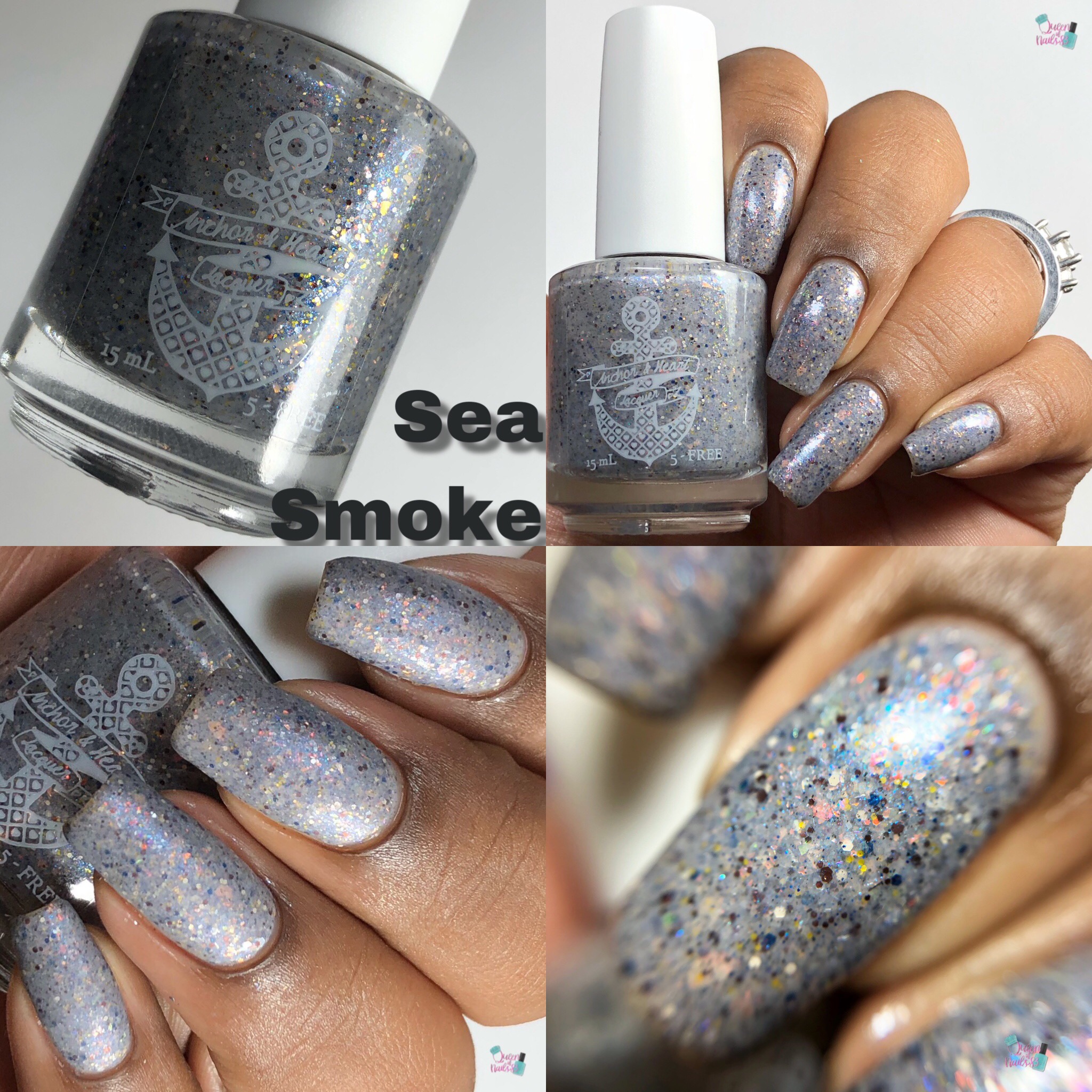 Hazy Bit of Light
Description:  A matte topcoat dressed up with a heavy dose of copper shimmer and orange/pink/gold iridescent flakies. Beautiful over any color!
Price: $10.50 / Cap: 200 bottles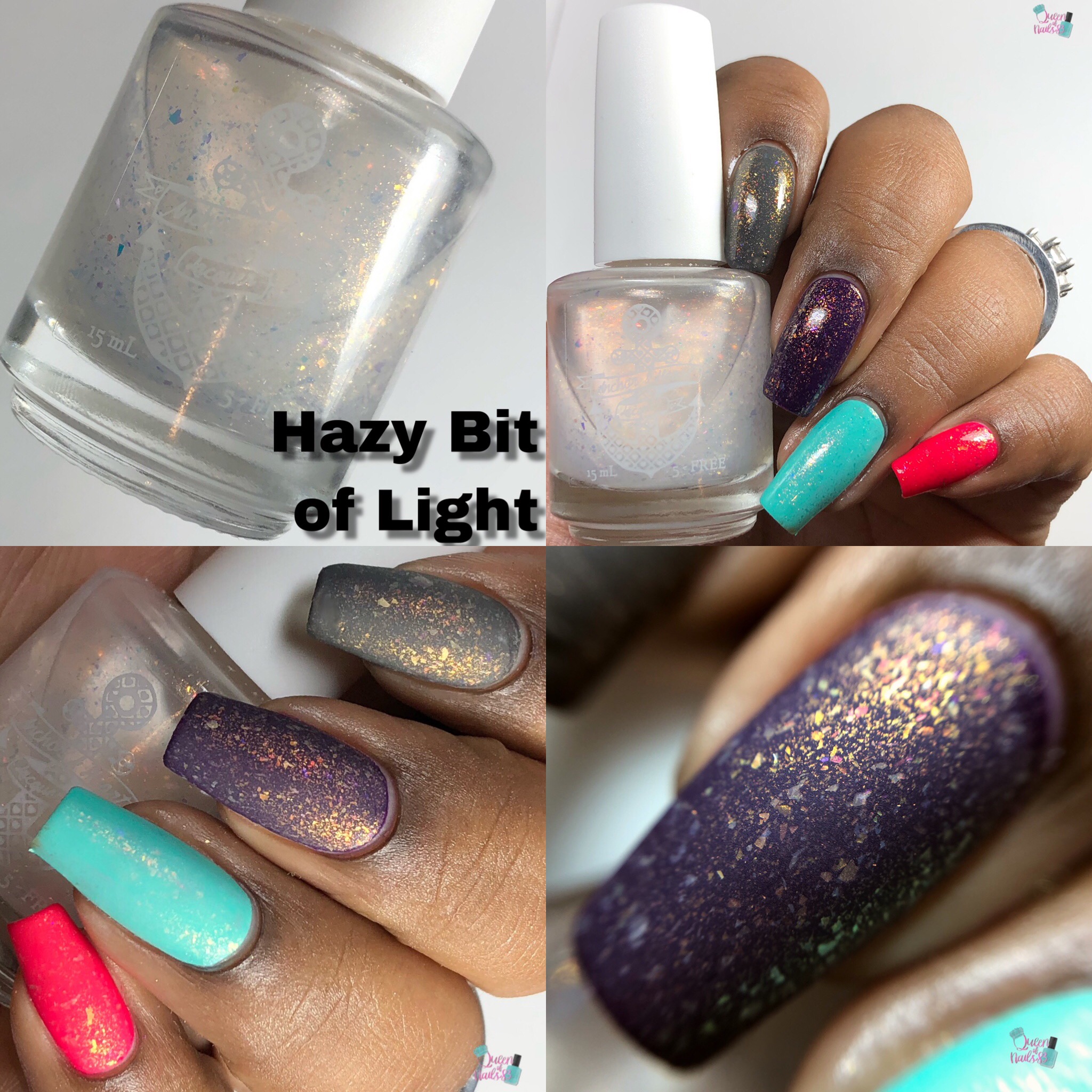 Maker: Sarah
Inspiration: a meme that always makes Sarah laugh about lightning striking 6 particular fish
Description: A pastel multichrome that shifts from pale green to a vivid blurple filled with holographic flakes to look like lightning
Price: $13 / Cap: NONE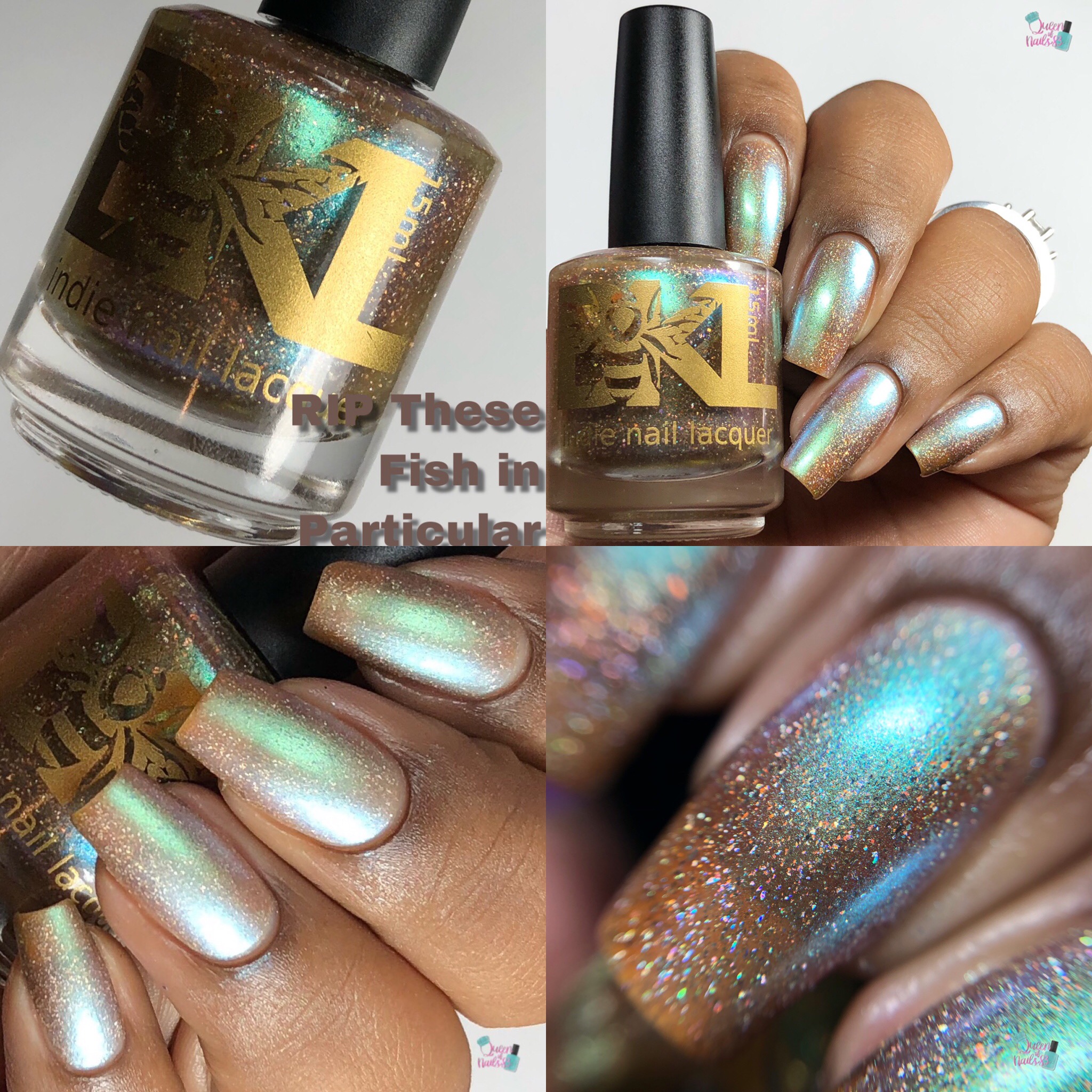 Maker: Shannon
Inspiration: A Moonbow (rainbow that appears at night)
Description: A charcoal navy toned base with a strong orange-gold-green shifting shimmer, linear holo pigment and holo flakes
Price: $12.50 / Cap: NONE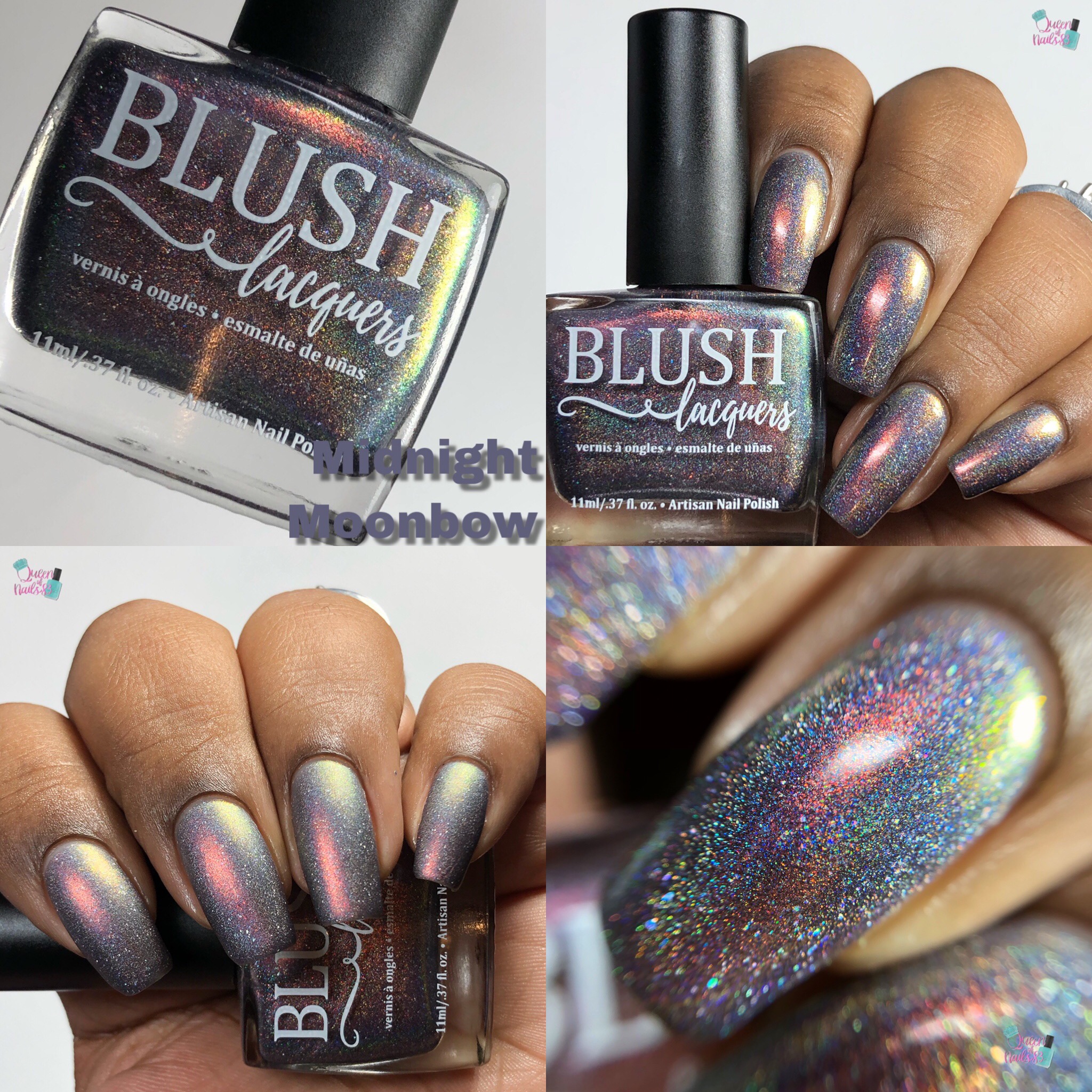 Maker: Meagan
Description: A lush forest green tinted base with a red, gold to green shimmer
Price: $12.50 / Cap: NONE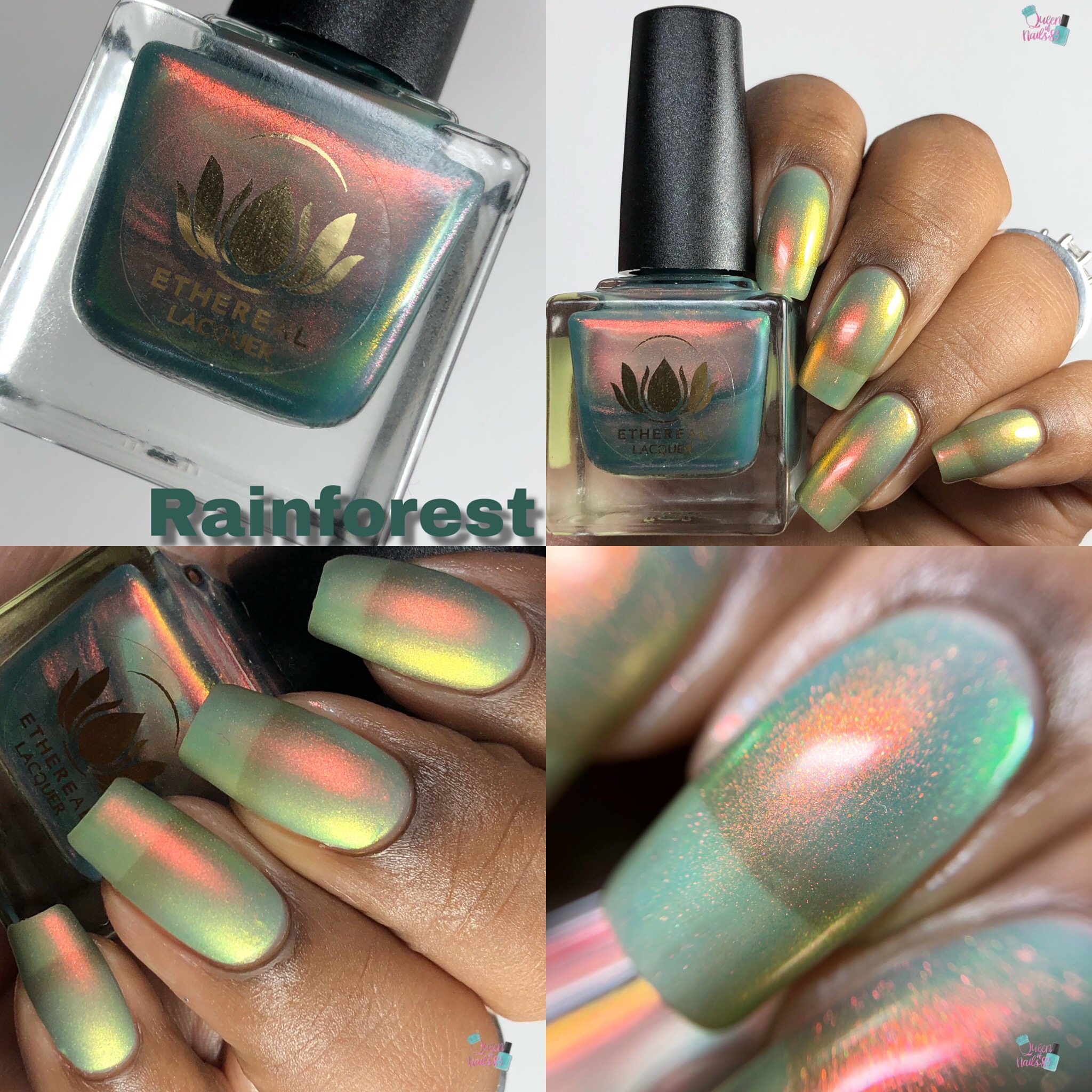 Maker: Sophie
Description: clear (warm) to teal (cold) thermal with golden shimmer, copper-green iridescence and gold-green-blue iridescent flakes
Price: $14 / Cap: NONE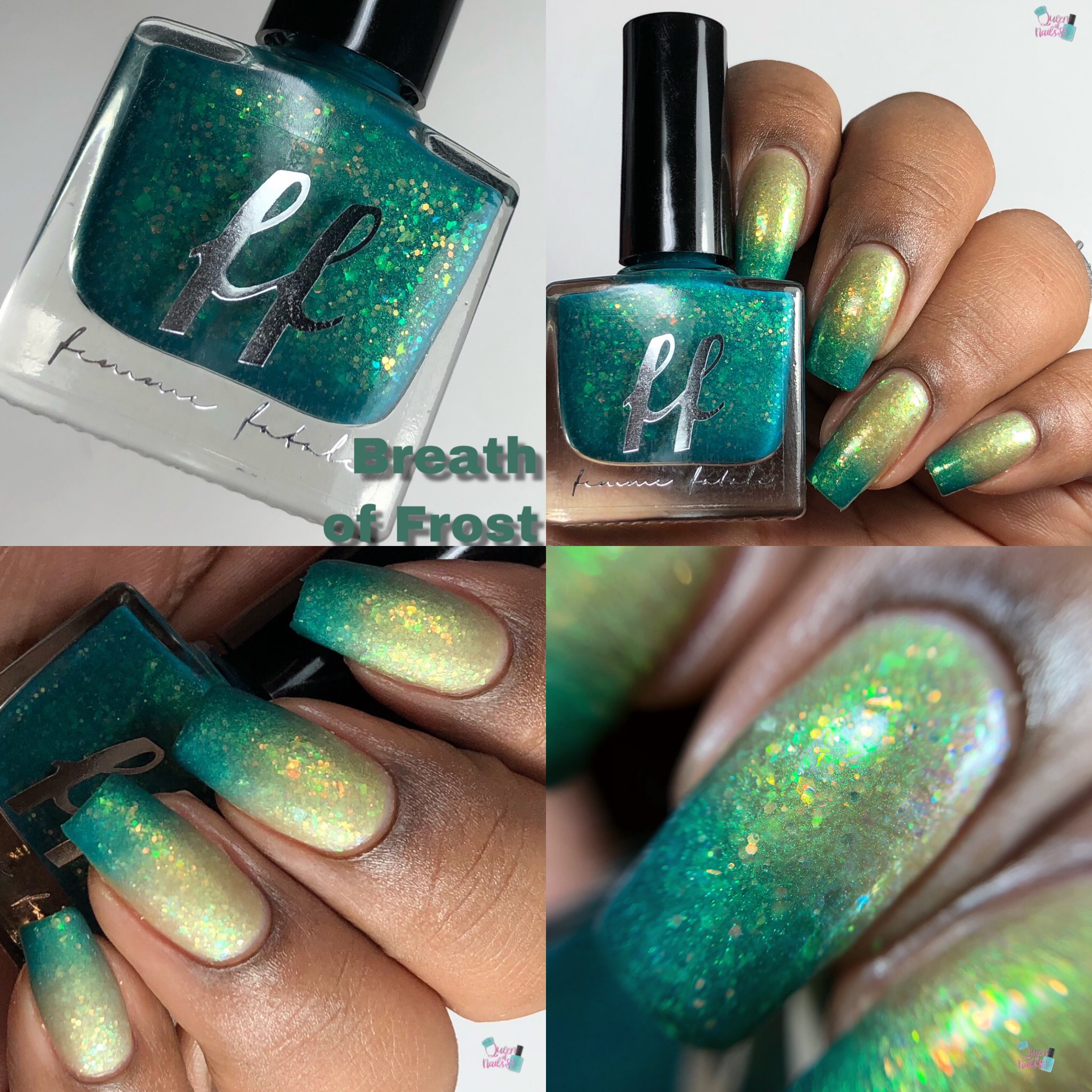 Glisten & Glow – Top Coat & Cuticle oil Pen
Maker: Jill
Description:
Top Coat – an award-winning fast dry top coat. Withing 2-4 minutes nails are completely dry, durable and polish is long-lasting with no tip wear or chipping. It's crystal clear finish leaves a shiny, glossy "wet/gel like" appearance. Protect you're manicure and nail art without smudging, smearing or shrinkage. Glisten & Glow Top Coat has an even consistency throughout the entire bottle.
Cuticle Oil Pen – contains jojoba oil, vitamin e oil, grape seed oil, sweet almond oil, sunflower oil, argan oil, castor oil, acai berry extract, tea tree oil and fragrance oil.  Misty Summer Morning is a refreshing custom blend of exotic fruits, fresh crisp morning air and a touch of morning's misty dew. The  convenient twist pen with brush applicator makes on-the-go nail care easy.
Price: $13.50 for both items / Cap: NONE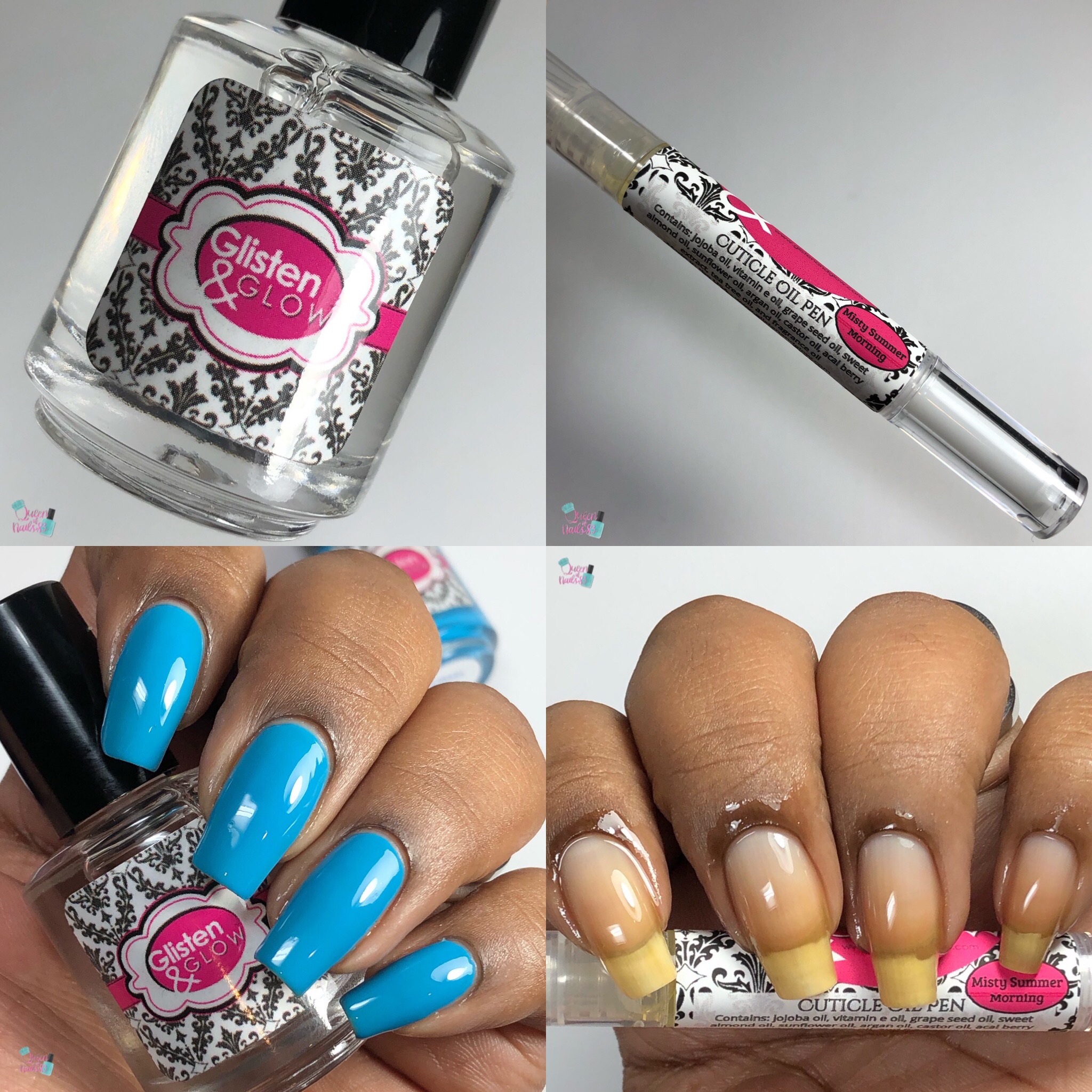 Maker: Mariah
Inspiration: Solar Storms. Solar storms have been known to interfere with satellite communications at times so Mariah had to go back to those old Verizon commercials.
Description: An aurora shimmer in a cobalt blue base shifting through green, teal, periwinkle, blue, and purple with sparks of pink overlaying all in the sun.
Price: $13 / Cap: NONE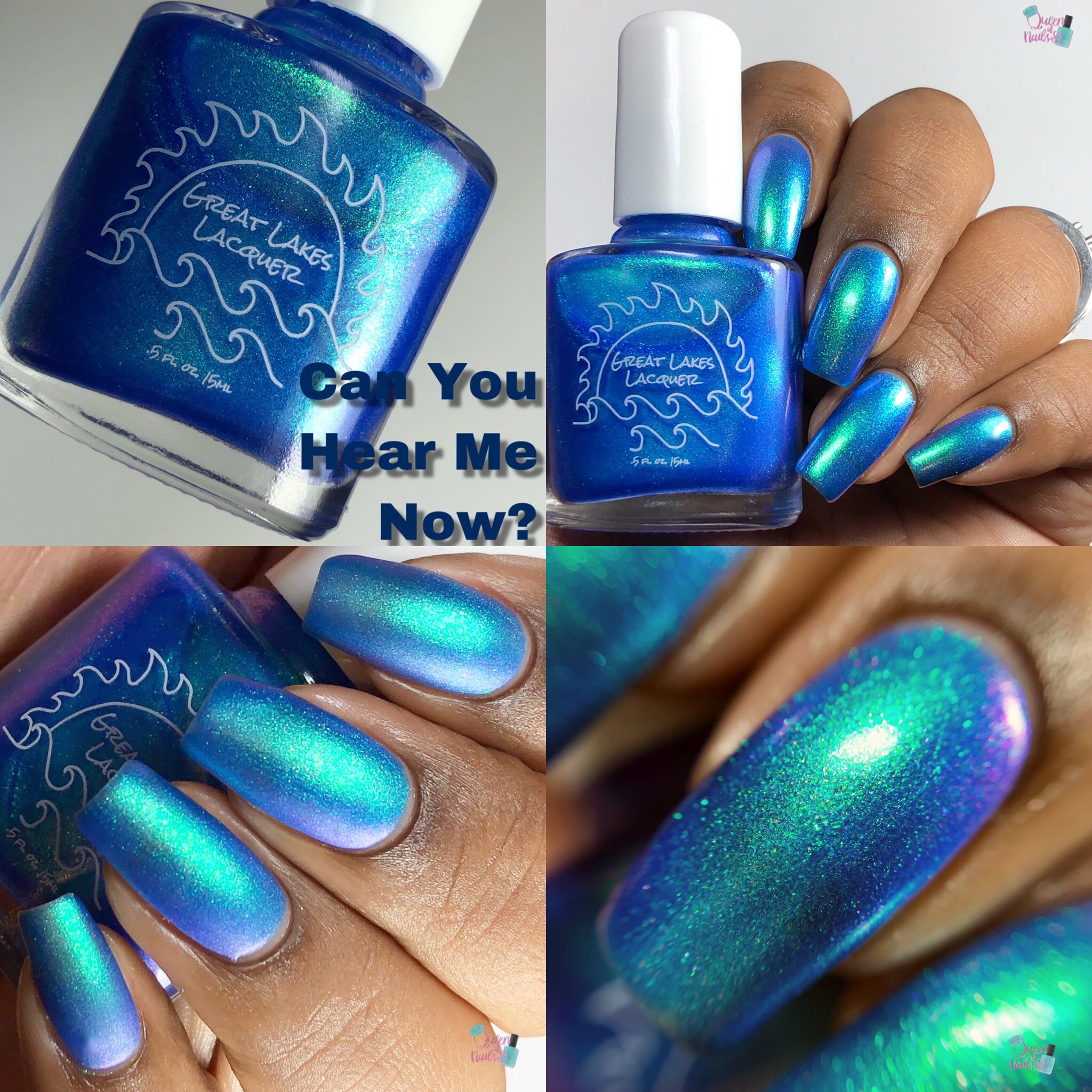 Maker: Vanessa
Description: A subtle periwinkle blue hole packed with holo micro flakies, tiny ultra holo glitters, red/green/gold multichrome pigment and a mix of iridescent flakies in purple/aqua, blue/green and pink/gold/green
Price: $13 / Cap: 300 bottles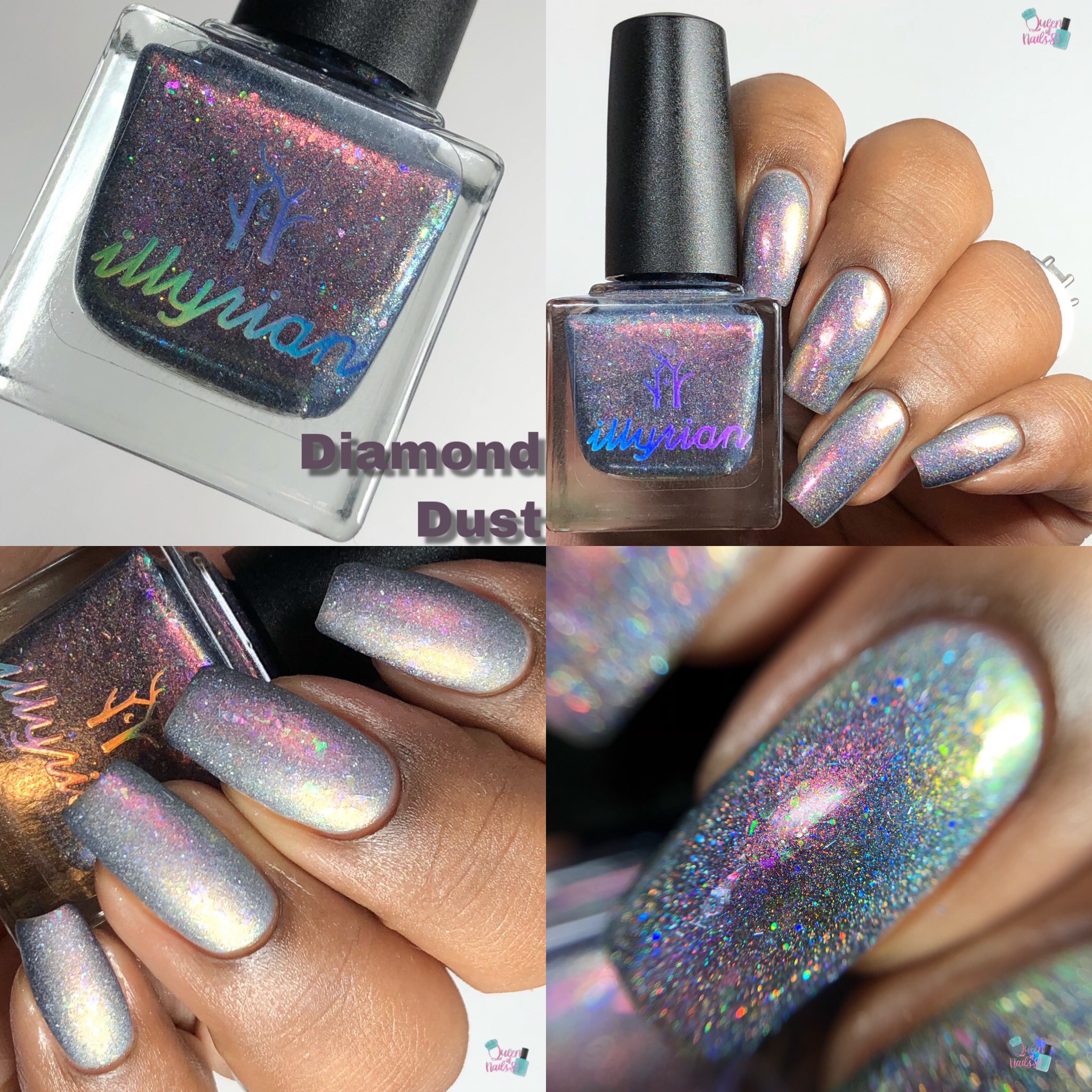 Maker: Sacha
Inspiration: my little pony Sonic Rainboom
Description: A jelly blurple aurora base filled with chameleon and color shifting flakes
Price: $12.50 / Cap: NONE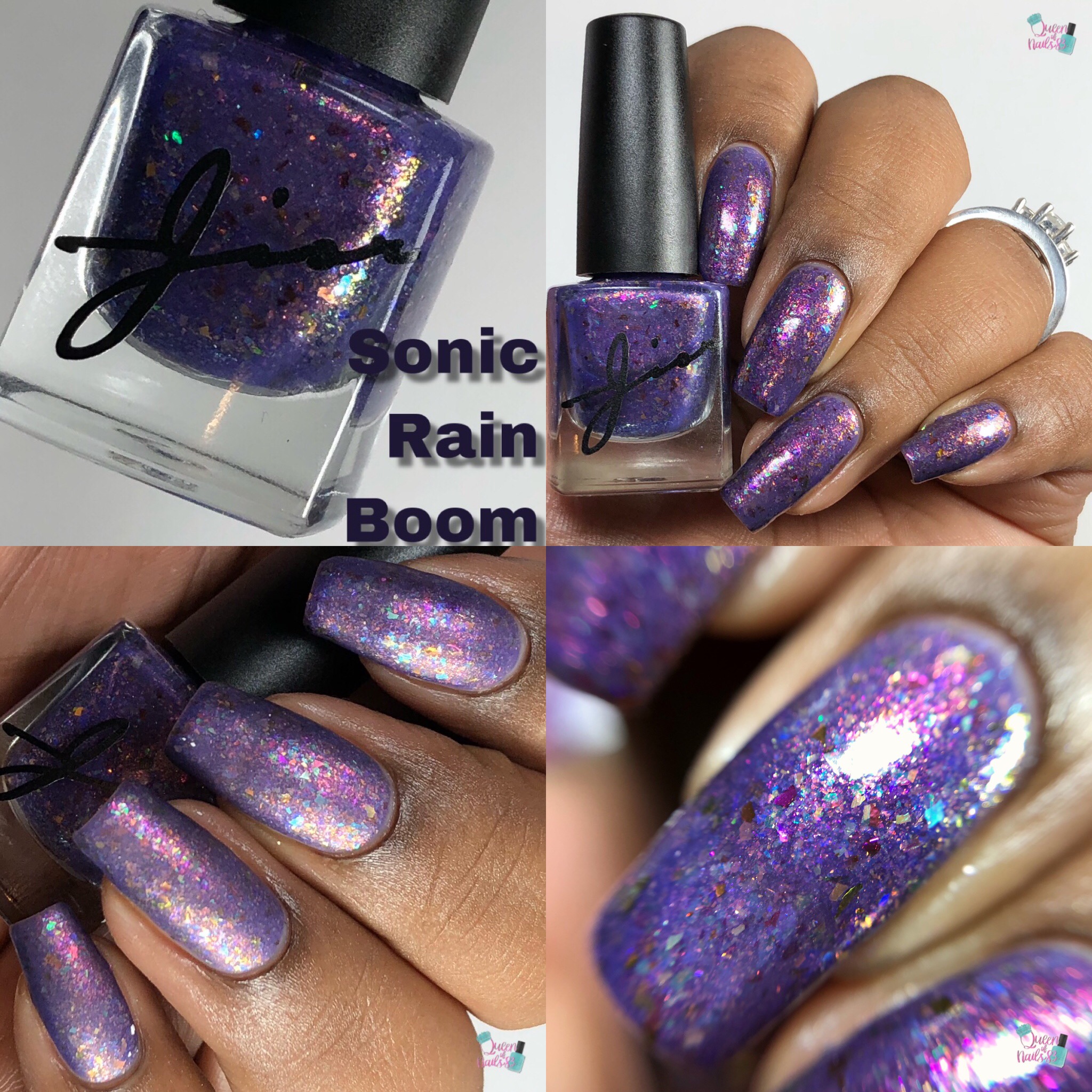 KBShimmer – What Does This Mean?
Maker: Christy
Inspiration: Christy's favorite view of this shade is under overcast skies, when the shimmer shows off its own gorgeous spectrum of hues that rivals even the beauty of a double rainbow!
Description: A dusty Caribbean blue base loaded with holo glow flakes for a bit of rain-like sparkle, red-to-green Aurora shimmer adds a colorful twist.
Price: $10 / Cap: NONE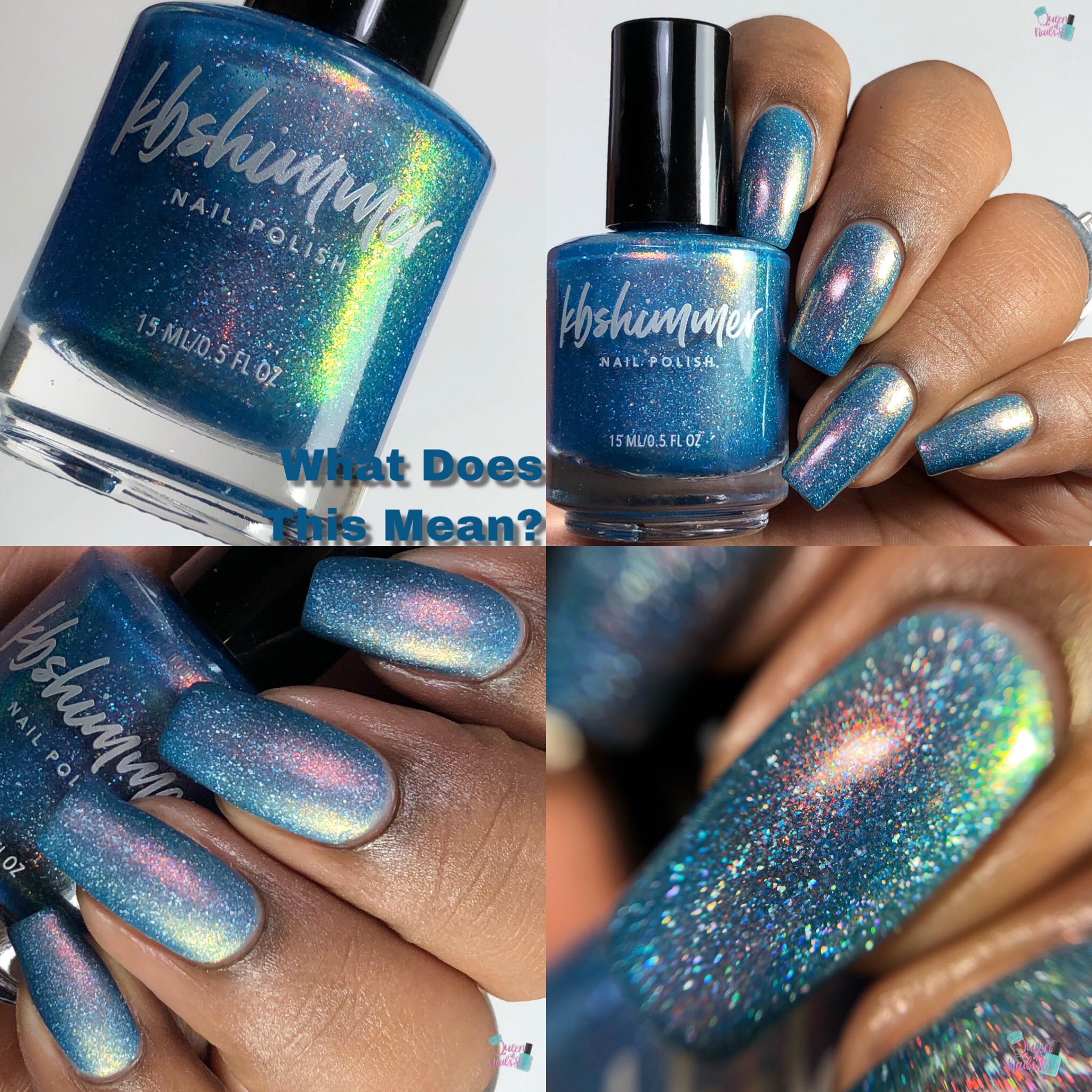 After The Rain Sugar Scrub
Boldly swirled with seven different colors, After The Rain sugar scrub is a blend of sweet melons, juicy raspberries, cool lemonade, fresh cracked coconut and raw sugarcane – if rainbows had a scent, I imagine they would smell like this!  
To Use: Scoop out desired amount. Rub in a circular motion to exfoliate, rinse with warm water. Discontinue use if irritation occurs. Use caution when exiting tub as floors may be slippery. Not for internal consumption.  For best results, do not introduce water into scrub and use within 24 months.  Storage in shower may reduce shelf life.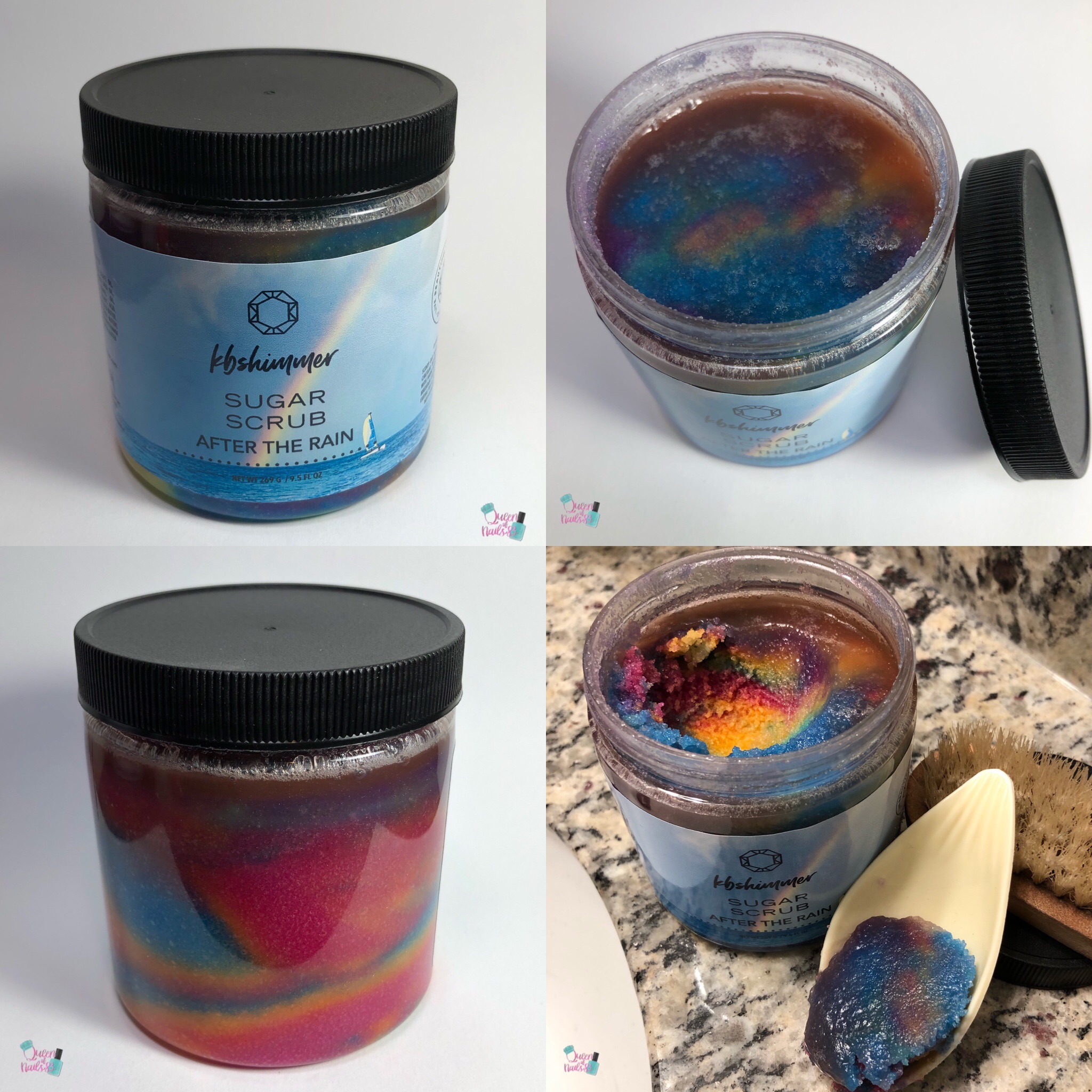 Maker: Cassie
Description: A dark blurple jelly with glittering blue shimmer, magnetic multichrome flakies shifting from green/gold/violet/blue
Price: $14 / Cap: 250 bottles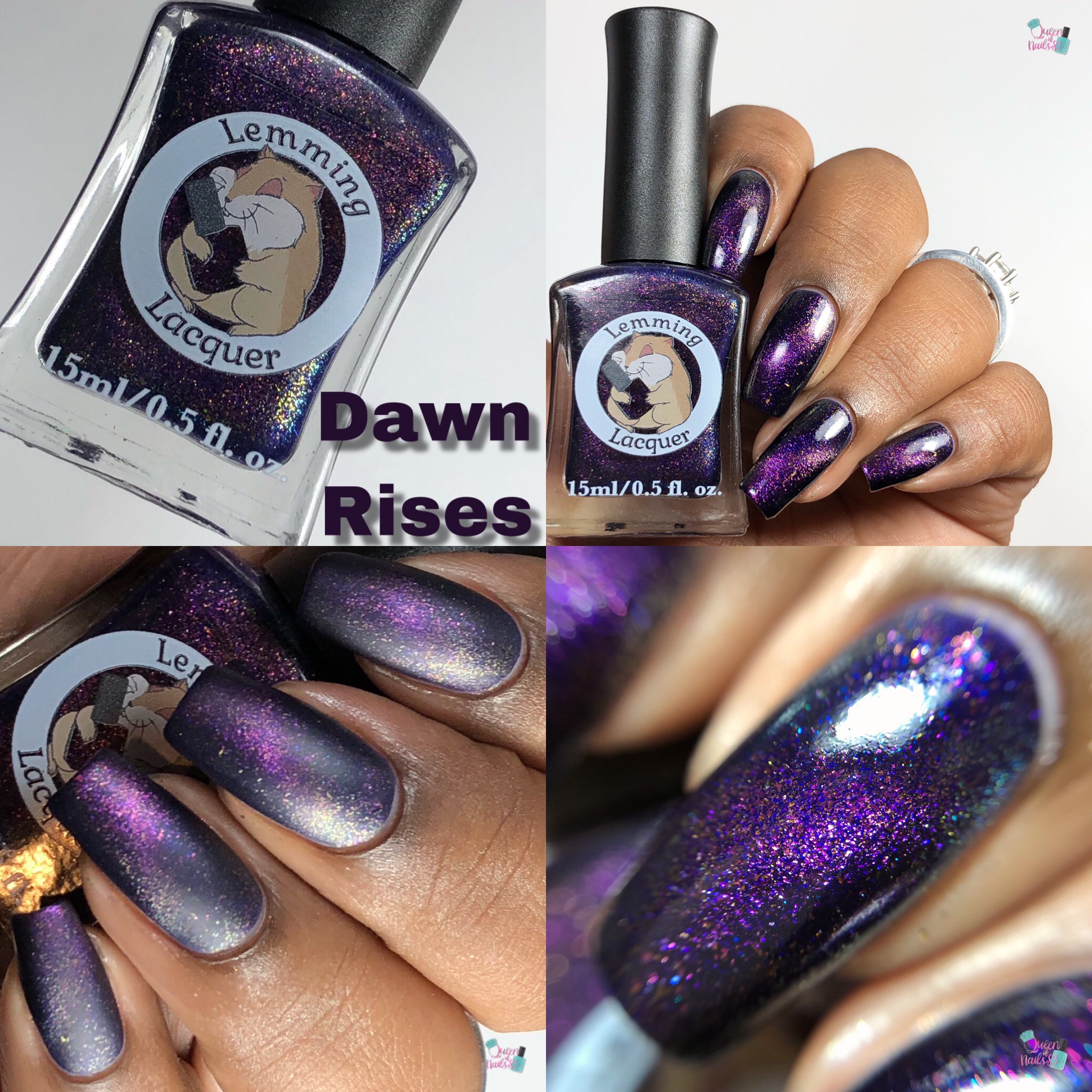 Maker: Jennalyn
Description: A lavender base with green to blue to pinky purple multichrome shimmer, linear holo, magic holo flakies and tiny rose pink  and green iridescent flakies
Price: $12 / Cap: 225 bottles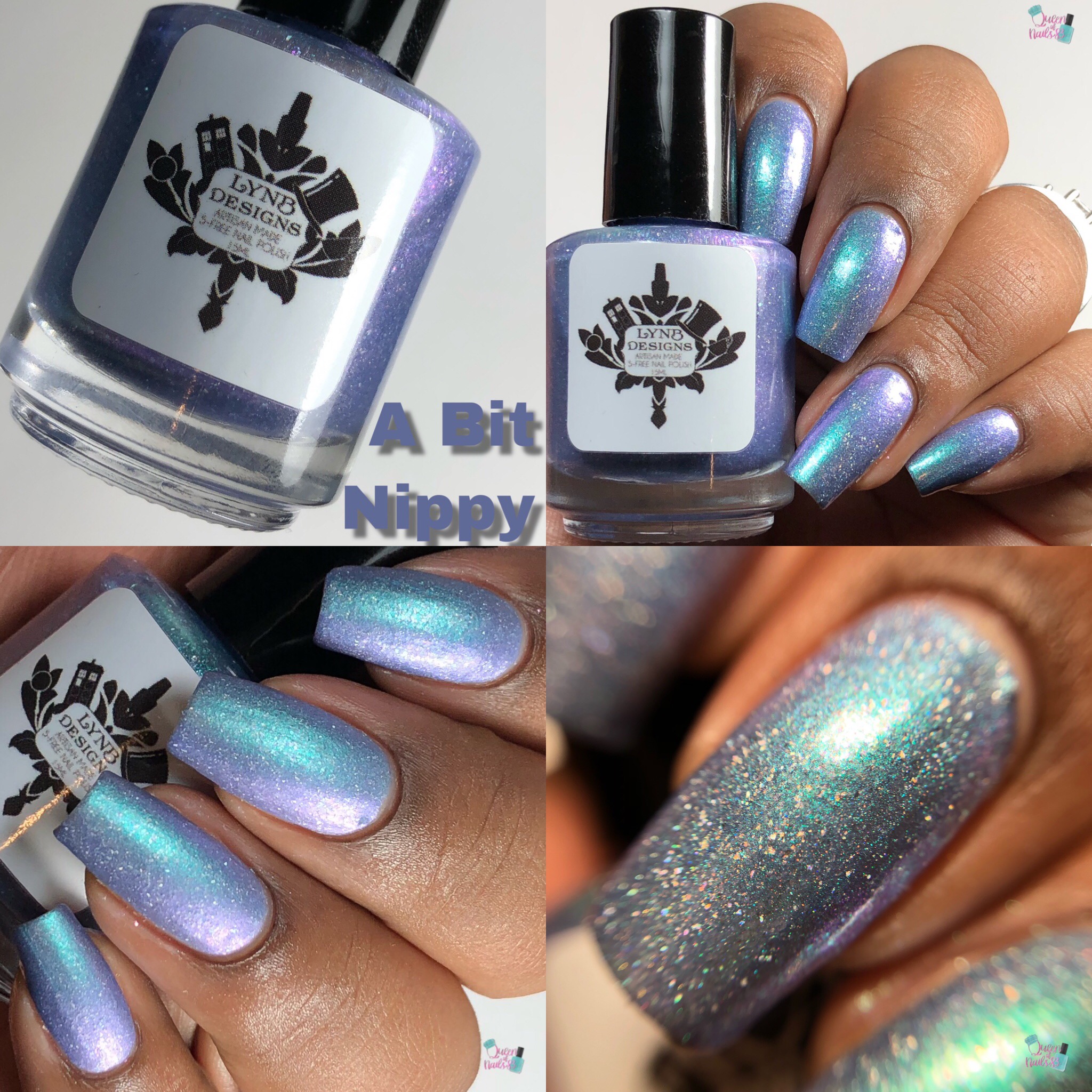 Maker: Virginia
Inspiration: a photograph taken in Northern Ontario of Light Pillars 
Description: purple leaning navy base in between a jelly and crelly, with violet to blue to green magnetic UCC flakes, a mix of 4 crystal chameleon flakies and red to green shifting Aurora pigment
Price: $13 / Cap: 126 bottles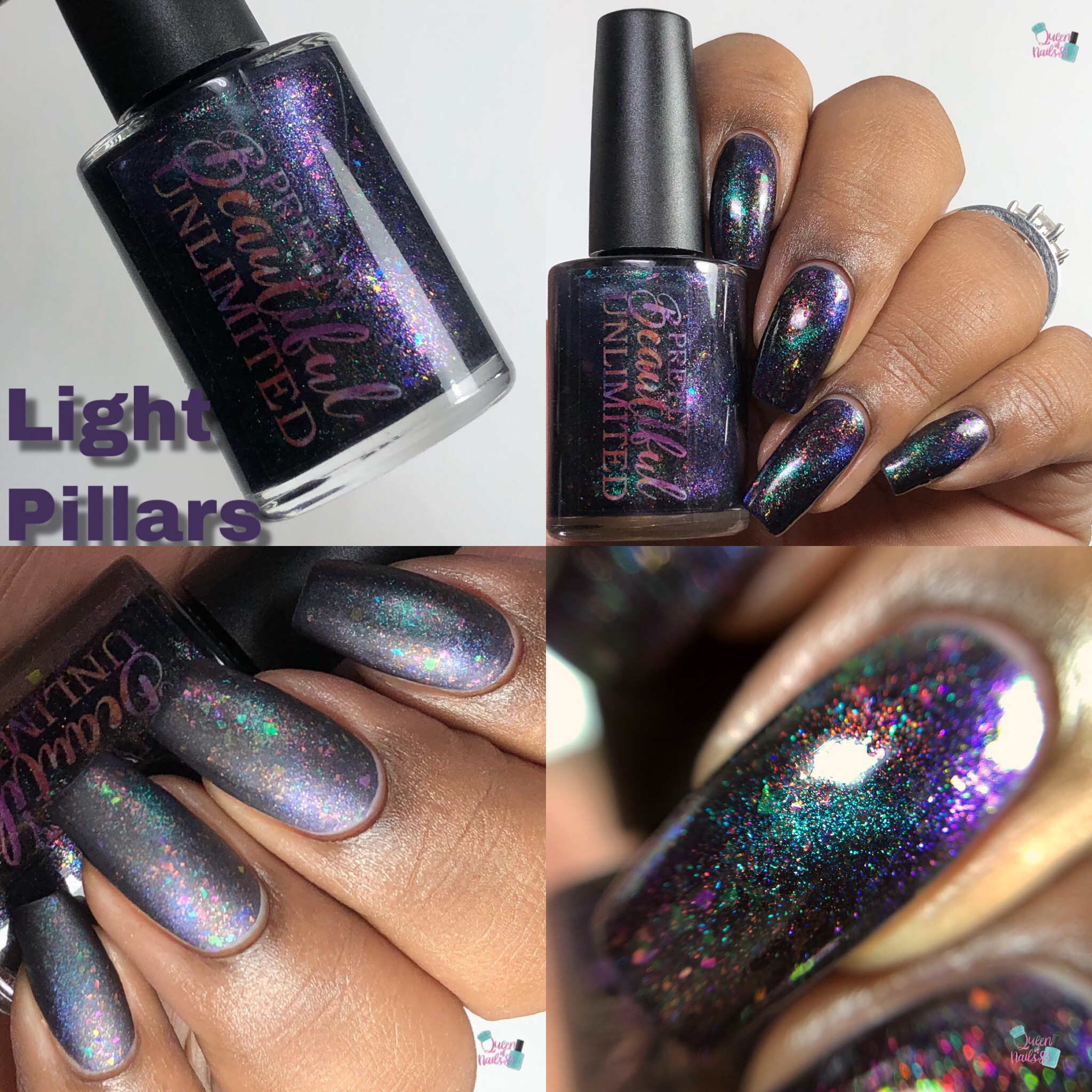 Maker: Rachel
Inspiration: phenomenon that occurs when sunlight passes through high-altitude cirrus clouds made of hexagonal plate ice crystals, which act as a prism and create a halo-like refraction of light similar to a rainbow.
Description: A pale blue grey with rainbow color shifting flakes and intense blue to purple aurora shimmer
Price: $12.50 / Cap: NONE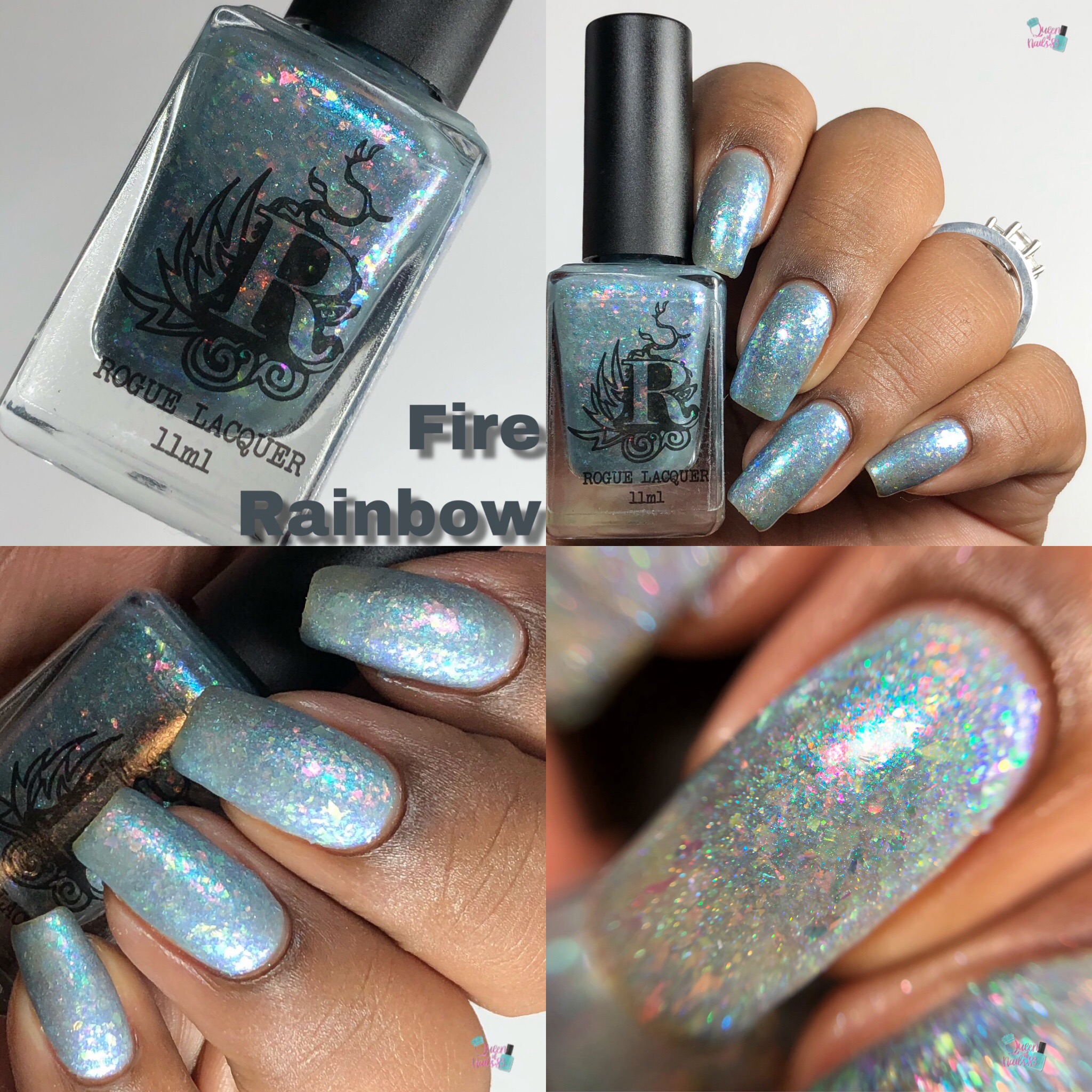 Maker: Angie
Description: A red/copper/gold chameleon shifting magnetic with blood red holographic flakies
Price: $12 / Cap: NONE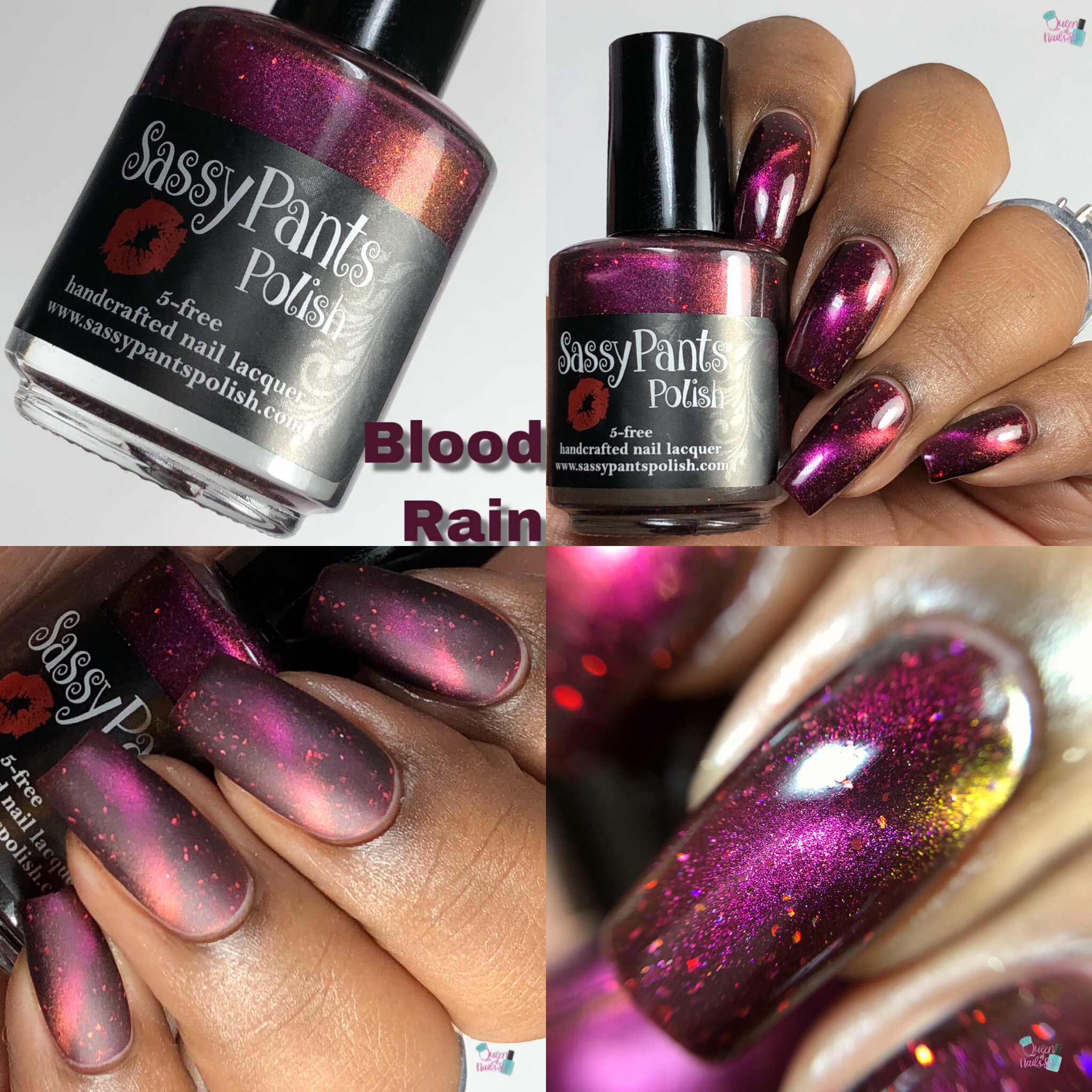 Sassy Sauce Polish – If U Want The Rainbow, U Have To Put Up With The Rain (M/T)
Maker: Carrie
Description: A blacken blue to clear thermal with magnetic and crystal shifting flakies.
Price: $14 / Cap: NONE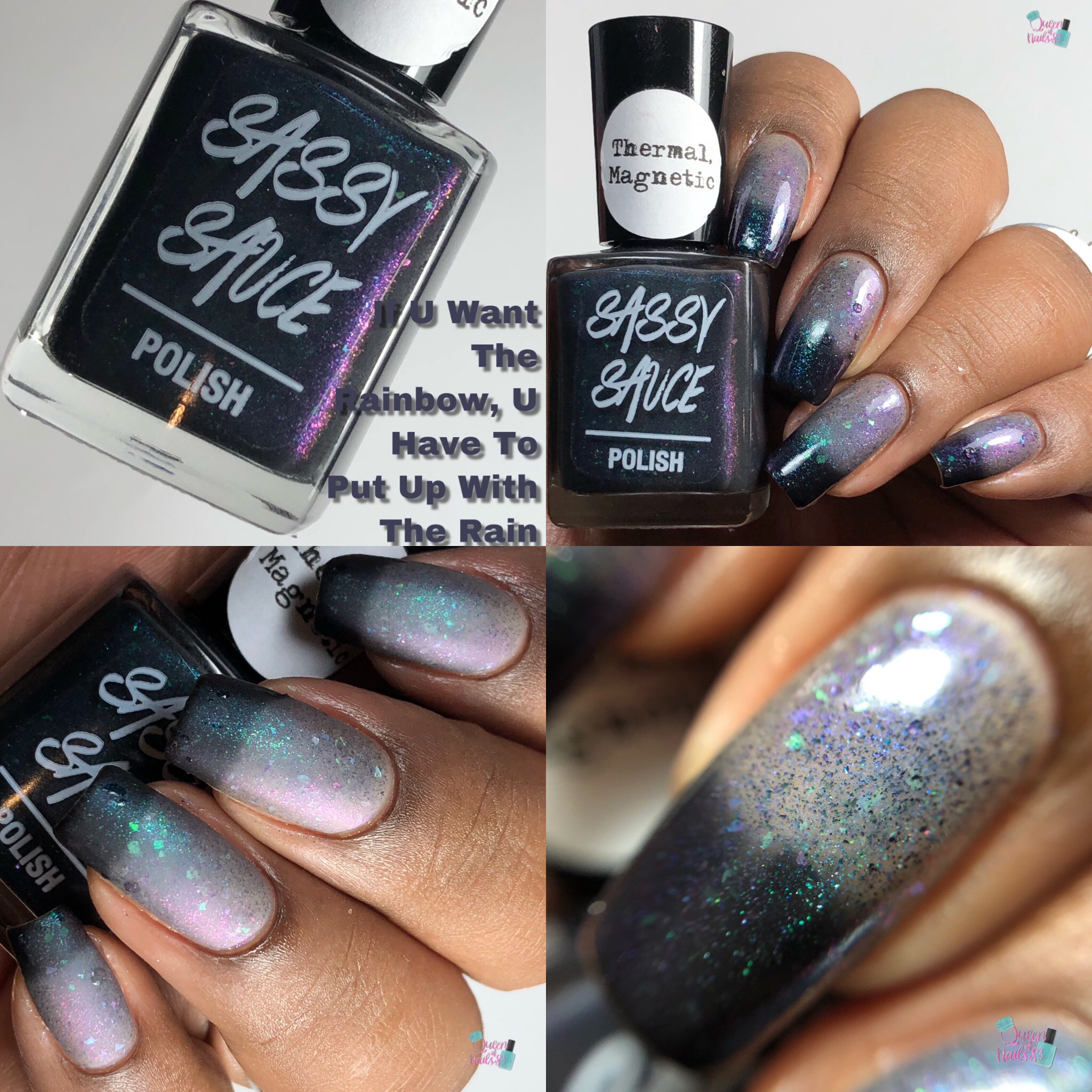 Maker: Finch
Description: A pastel yellow jelly filled with scattered holo, and microglitters in white and various shades of yellow
Price: $12.50 / Cap: NONE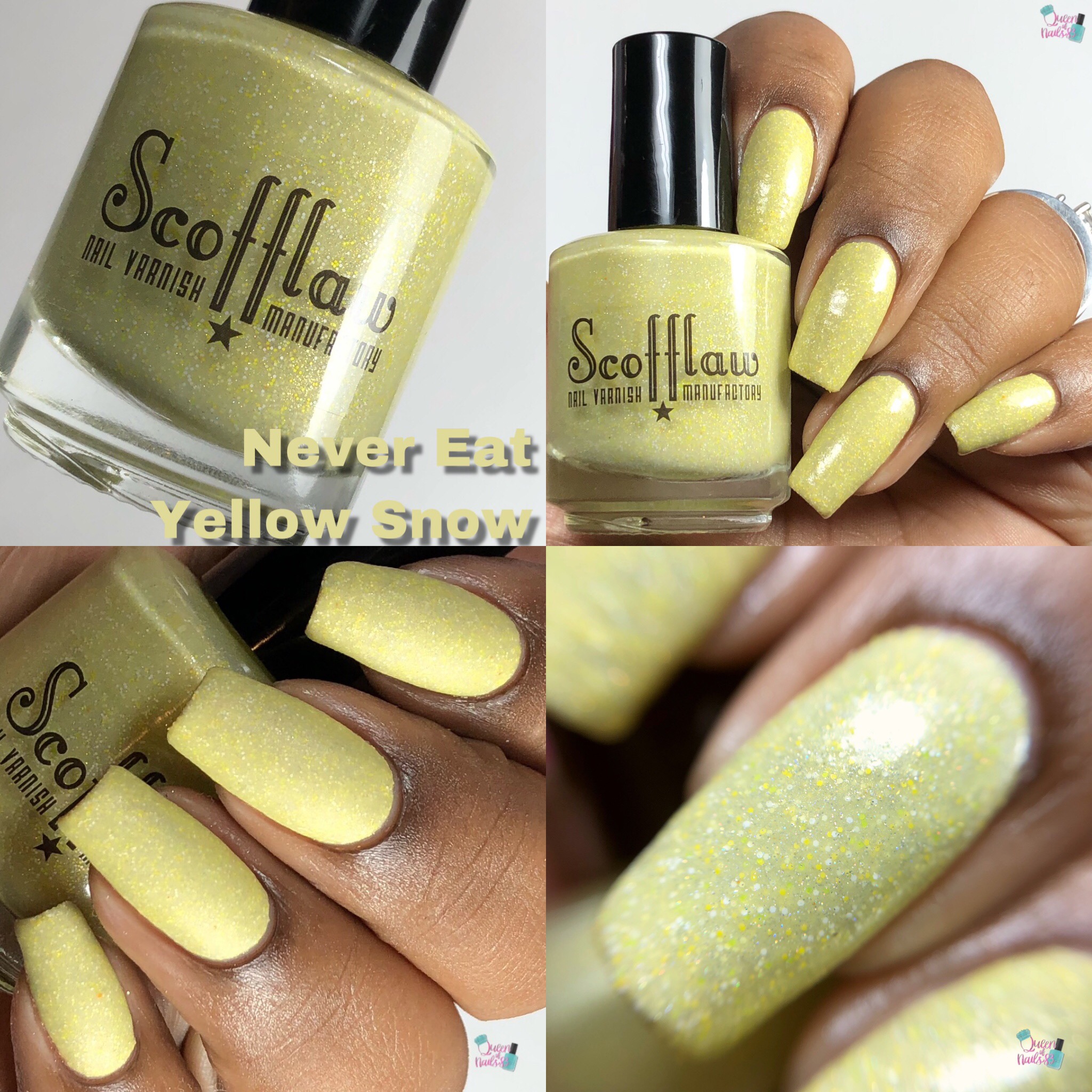 Maker: Chrissy
Description: A periwinkle holo with blue shimmer, silver holo micro glitter, purple/blue chameleon flakies and iridescent flakies
Price: $11 / Cap: 150 bottles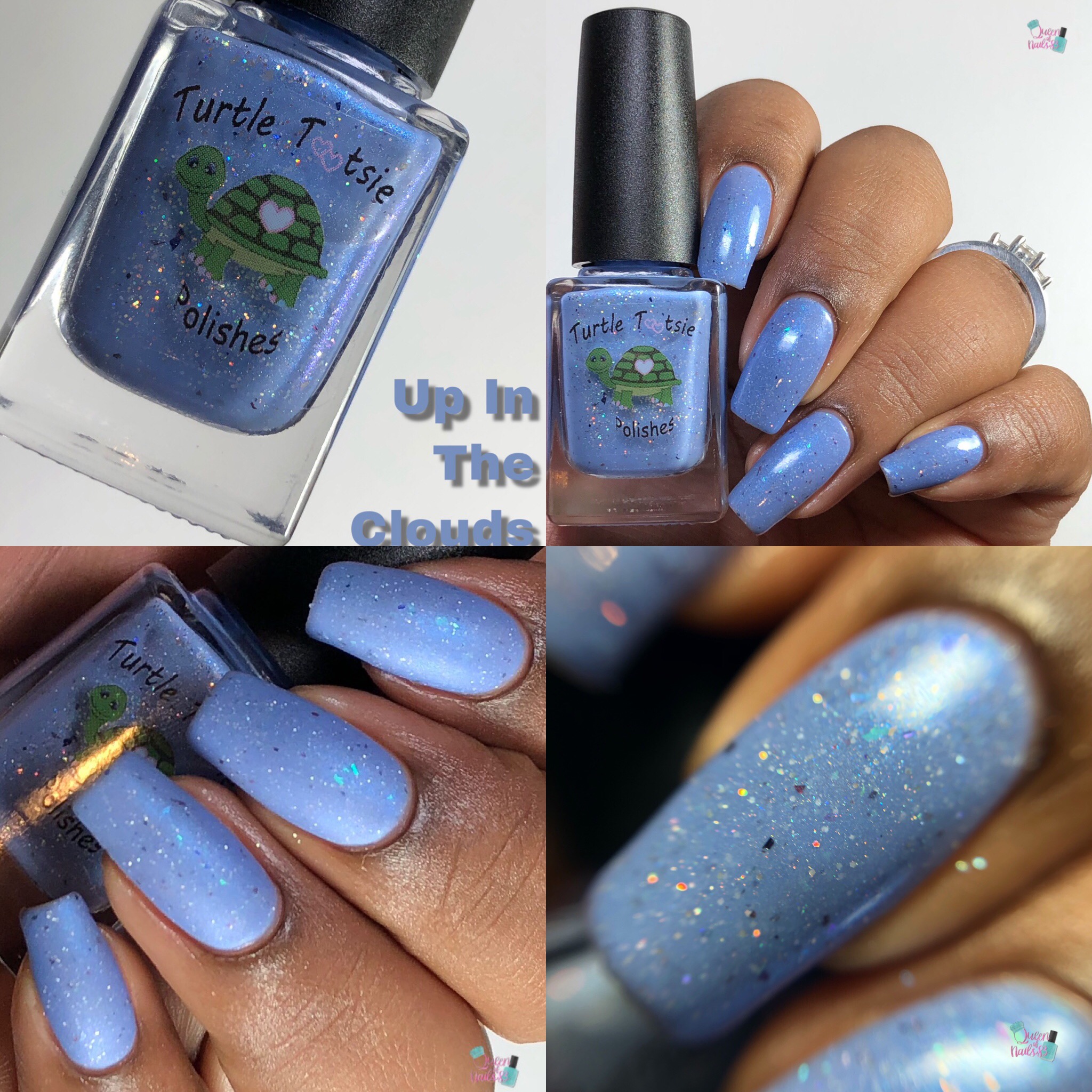 Available: Friday, June 7th @ 11am et – Monday, June 10th @ 11:59pm et!!!!
**Polish Pickup**
*Like, Comment and Subscribe*
Eat, Laugh, Polish, Repeat
Queen of Nails 83
💕