PLEASE NOTE – THIS POST DOES CONTAIN VIP BAG SWATCHES
Hey Sugas!!!! You may or may not have noticed a common theme from Kim of Aurora Nail Lacquer for Polish Con New Orleans Spring 2019. Her Road to Polish Con (RTPC) was called Are You Peacocking Me and now she has created a VIP, event exclusive and a LE trio reminiscent of the gorgeous colors found in the peacock feather. 
Here are a few fun facts: 
Peacocks (male) and Peahens (female) are know as peafowl which are members of the pheasant family.

There are two peafowl species: Indian or blue peafowl and green peafowl. Most people are familiar with the Indian peafowl, since that is the kind found in many zoos and parks.

A group of peafowl is called an ostentation, or a pride which is very appropriate given the large train for this showy bird.

There are several genetic color mutations of Indian peafowl, including white.

The Indian peafowl is the national bird of India and is protected in that country. To Hindus, the peafowl is a sacred bird; the spots on the peacock's train symbolize the eyes of the gods.
Prepare yourself for the staple of any masquerade ball, vibrantly beautiful and over-the-top majestic, jewel-toned, jaw-dropping, peacock inspired polishes. 
Enjoy….
**All swatches are done using liquid latex peel off base coat, glossy QDTC and matte topcoat. Swatch photos are taken using artificial lights.**
All Eyes on Me – VIP
A deep fuchsia polish with purple shimmer and turquoise/blue sparkle. As mesmerizing as the eyes on a peacock feather!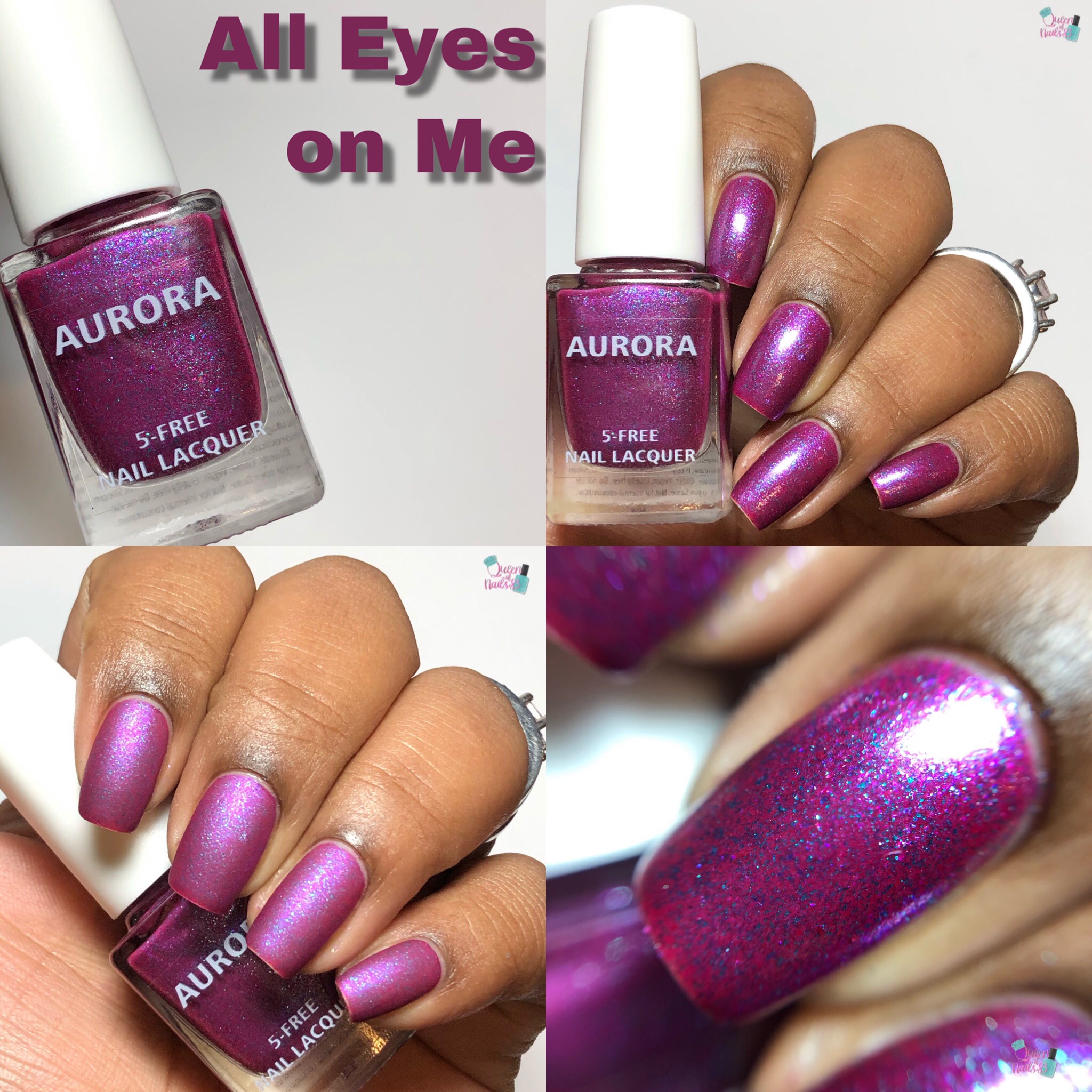 No Cock, No Fowl – Exclusive
A color shifting glitter polish that moves from teal to blue to purple with extra purple and turquoise flakies that packs all the glory and mystery of the peacock feather!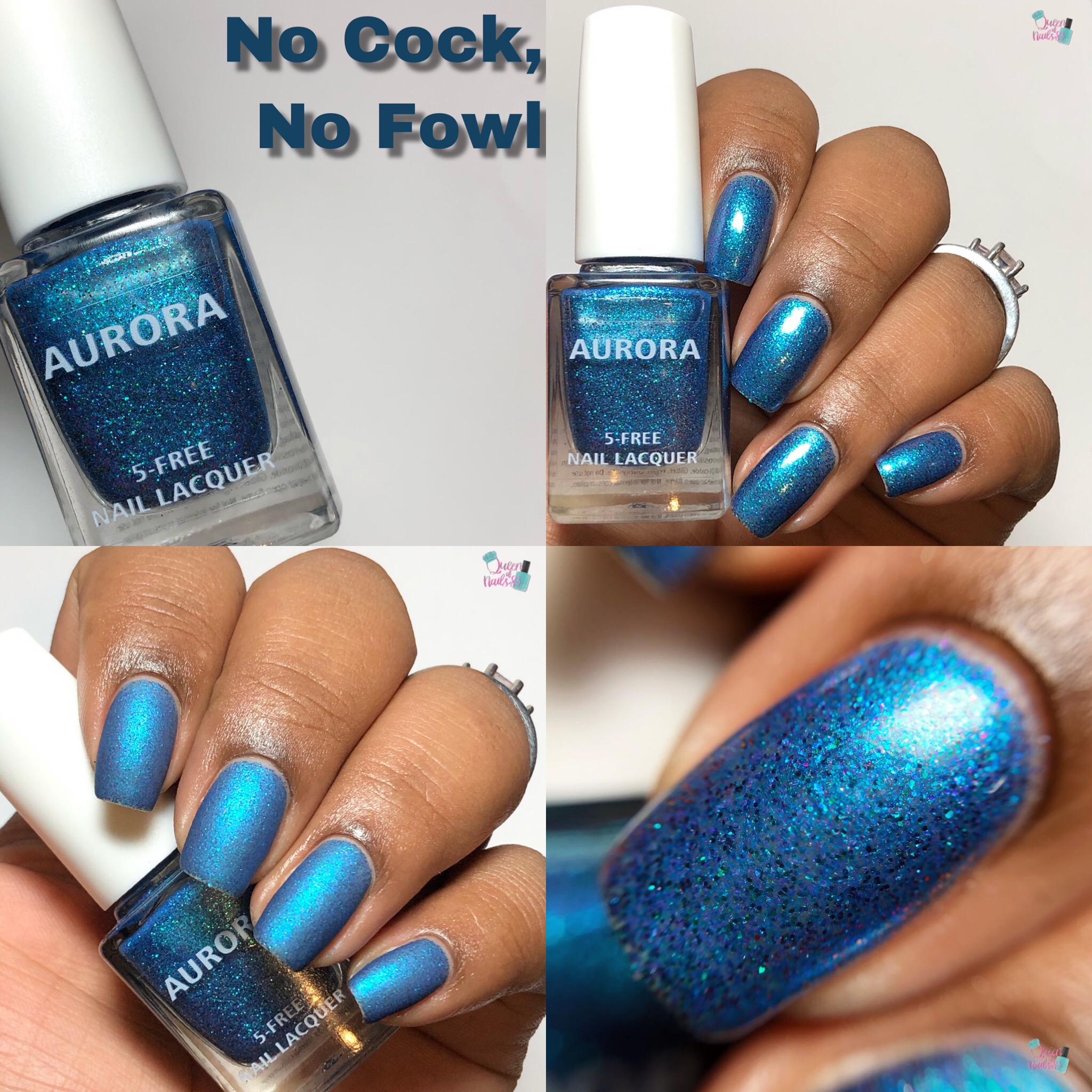 The Ostentatious Collection – Limited Edition Show Collection
Name: Without Feather Ado
A teal polish with turquoise metallic flakies.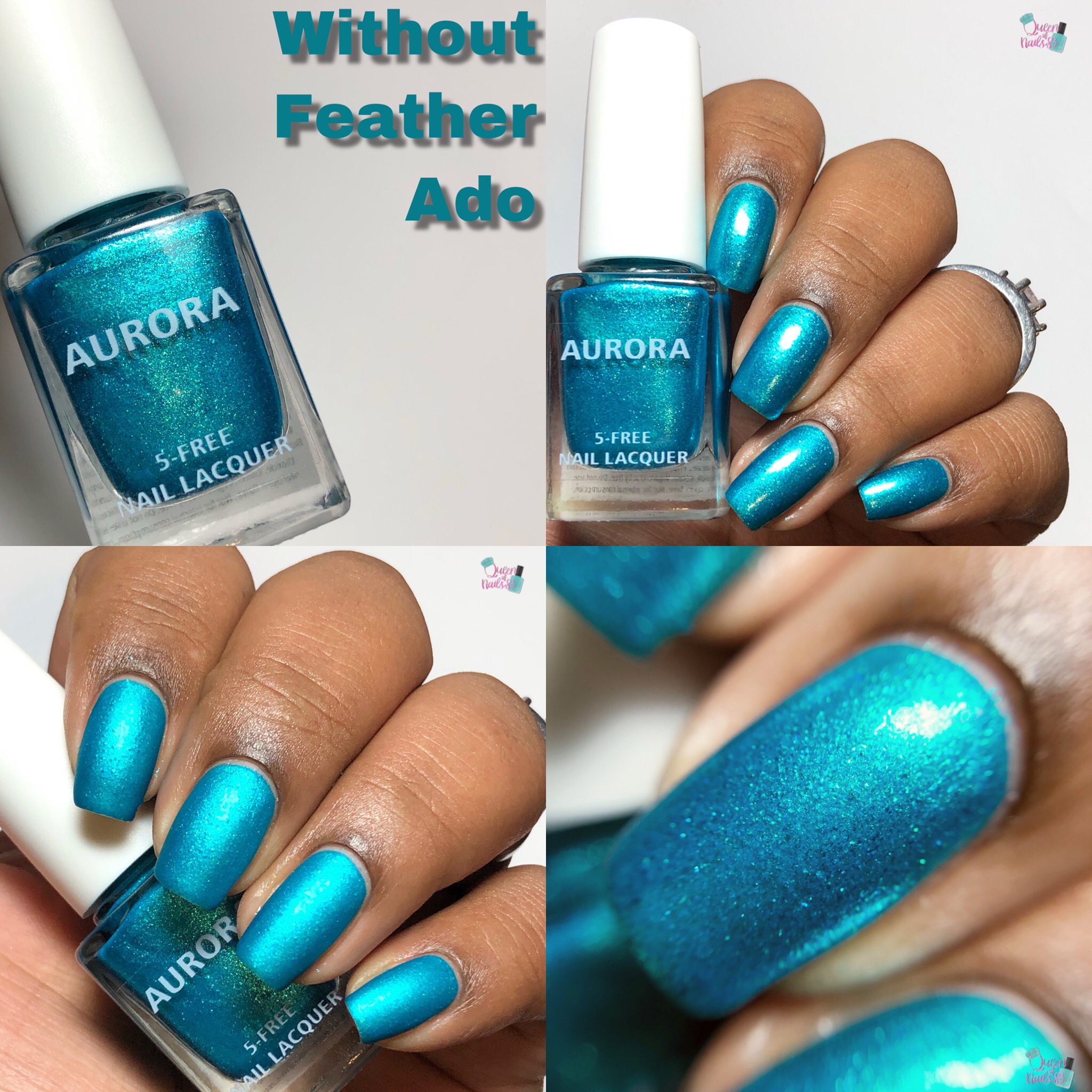 Name: Fancy as Flock
A purple polish with blue sparkle and purple metallic flakies.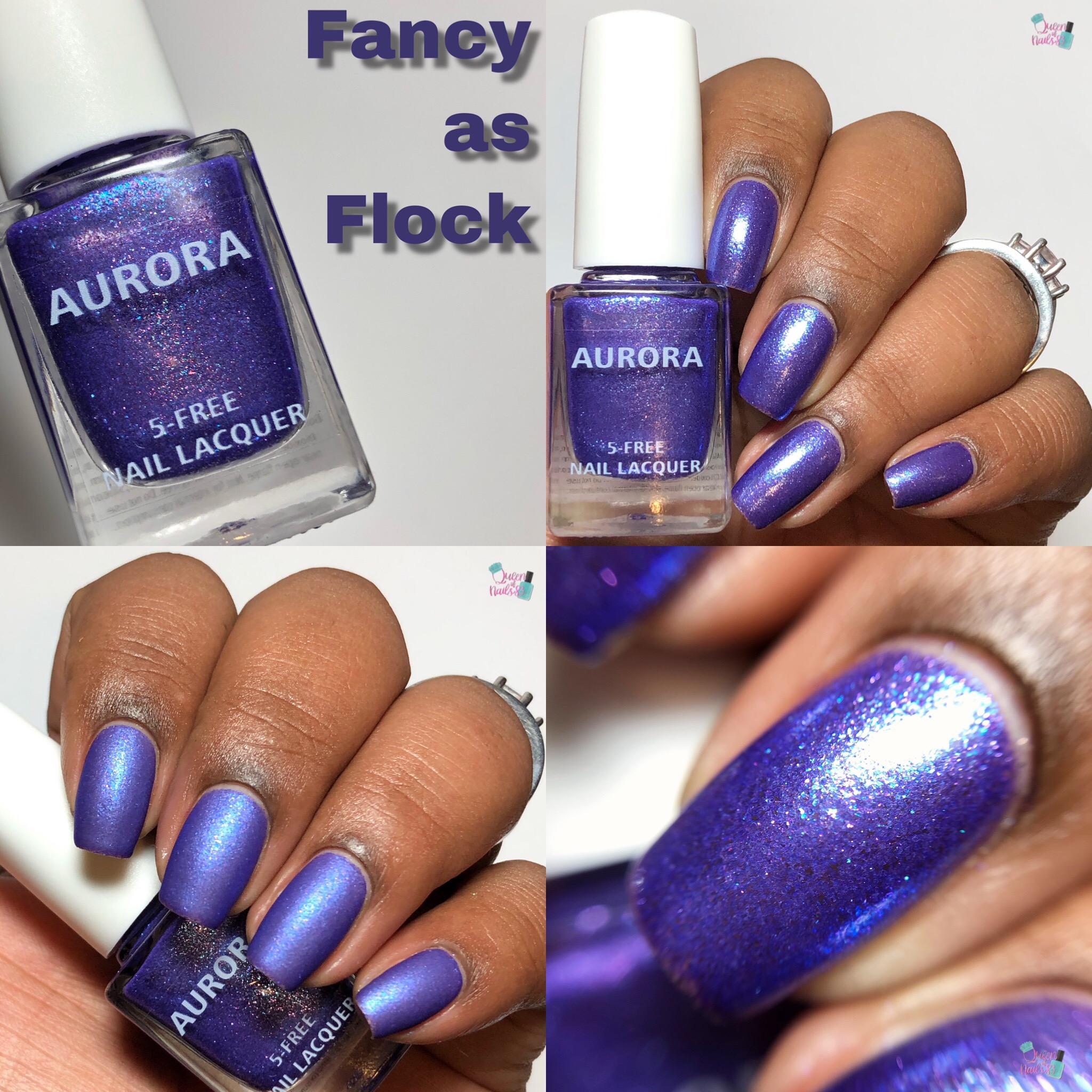 Name: The Nest Big Thing
A blue polish with blue metallic flakies.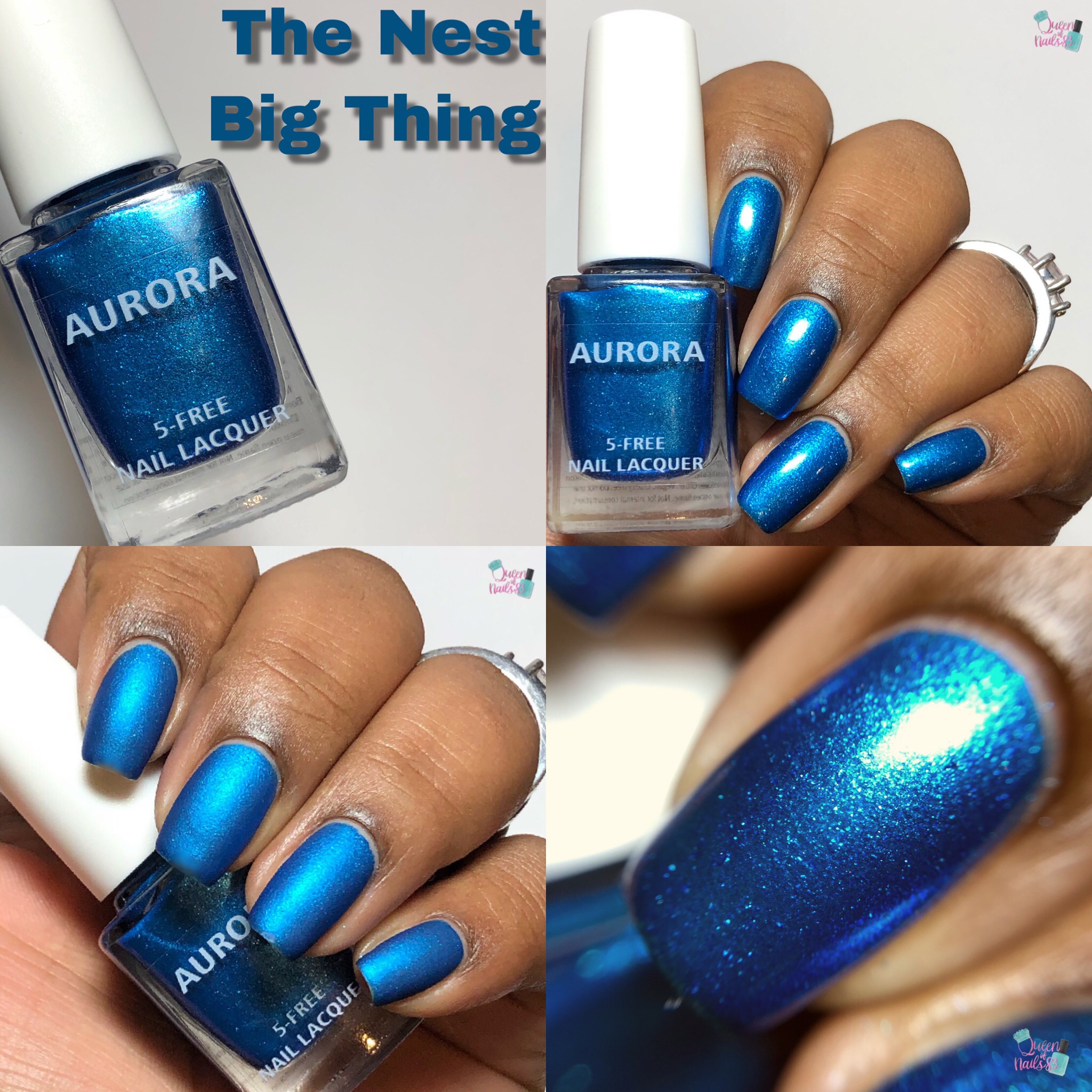 Aurora Nail Lacquer – Polish Con New Orleans 2019 and The Ostentatious Collection
Fairy Program: Yes
You may be wondering…. what is the FAIRY PROGRAM????
It's simple!!! It's a virtual shopping experience which allows those that are unable to attend Polish Con the opportunity to shop along and join the fun! Allow Polish Con Fairy, organized and fulfilled by the ladies of Fair Maiden (the founders of Polish Pickup) to be your one-stop shop for event overpours, RTPC (Road to Polish Con A & B), LEs, Exclusives, etc.
Upcoming Dates
3/30 – Wish list shopping will begin

4/6 – Shop opens at 1pm cst

4/9 – shop closes
Please join the Facebook Fan Group for more details and information. Please note – not all makers/brands will be participating in the is feature. 
Opacity: swatches shown in 3 coats
Price: $12 ($12 each or $30 for The Ostentatious Collection)
Availability: Saturday, April 6th at PCNOLA 2019 and online after event TBA. 
Aurora Nail Lacquer
To stay in the know of all things Polish Con, shop, like, join and follow
**Polish Con**
The Polish Convention New Orleans
Sat, April 6, 2019
1:00 PM – 6:00 PM CDT
Ponchatrain Convention & Civic Center
4545 Williams Blvd
Kenner, LA 70065
*Like, Comment and Subscribe*
Eat, Laugh, Polish, Repeat
Queen of Nails 83

💕